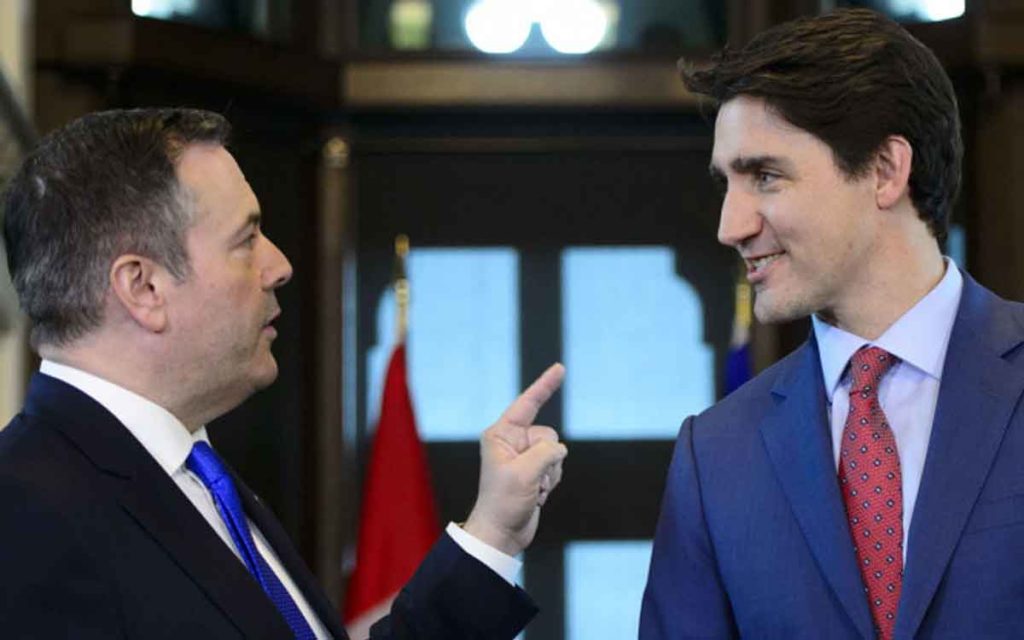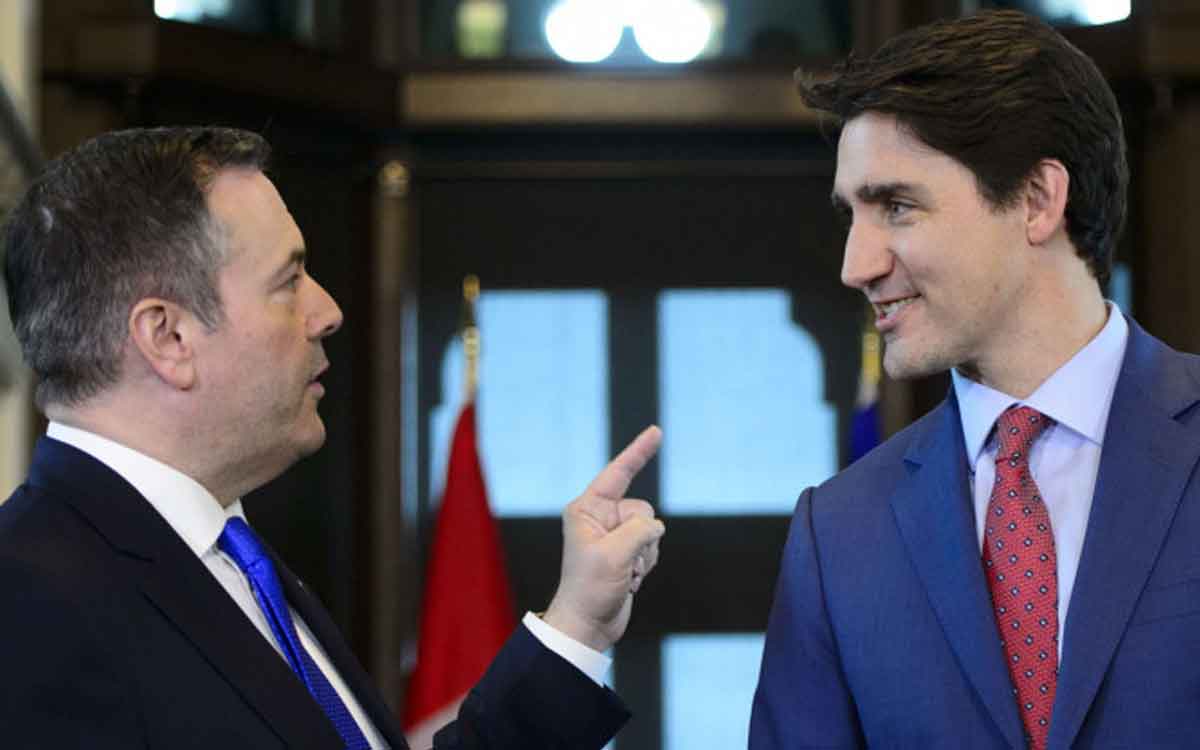 Alberta Premier Jason Kenney (left) and Prime Minister Justin Trudeau are at odds over the Teck Frontier mining project. Photo: Sean Kilpatrick/CP
In the last few weeks the federal government has stepped into a lively tango with Albertans over the fate of the natural resource development project Teck Frontier. The conflicting messages coming from Liberal Cabinet members – and the Prime Minister himself – have drawn into question (again) the government's ability to manage the country's resource sectors. When a Canadian mining company spends a decade and a billion dollars to successfully secure approval for a mine site from an arduous federal-provincial approval process, only to have its future hang in the balance of a federal cabinet meeting, what does this say about resource development opportunity in the country?
Teck describes its Frontier project as a "truck-and-shovel oil sands mine located between Fort McMurray and Fort Chipewyan in northeast Alberta." The project will consist of surface mining operations, a processing plant, tailings management facilities, water management facilities, and associated infrastructure and support facilities.
The size and scope of this enterprise is remarkable. The mine will have 40 years of anticipated production and economic contributions. Teck Frontier will directly employ up to 7,000 workers during construction and up to 2,500 workers during operation. It will generate $70 + Billion in revenues to governments — $55 Billion to Alberta to pay for services like healthcare and education and $12 Billion to Canada in taxes and royalties.
Responding to the environmental imperatives in Canada, Teck publicly commits to best practices for environmental protection, tailings management, water use and managing greenhouse gases.  The company has measured and quantified the project's carbon emissions. Officials report that the Frontier mine, once operational, would produce about four megatonnes of carbon a year – less than a single percentage point of Canada's current emissions (716 megatonnes in 2017) or of the country's 2030 Paris target (517 megatonnes).
Still, PM Justin Trudeau is being squeezed by Liberal Ministers and MPs to reject the project on the grounds that any development contributes to climate change and will hamper the government's attempt to obtain net-zero carbon emissions by 2050. Environmental lobbyists in Canada and abroad (most notable being former Greenpeace activist and now Cabinet Minister Steven Guilbeault) have been vocally supporting the anti-development Liberal policy stand.  In fact, they have been successful in "moving the goal posts" on the approval criteria for Teck.  In January Jim Carr, the Liberals' special Prairie representative, dictated a new criteria that the project must "get to zero emissions." In response, Teck announced its corporate objective to be carbon neutral across all operations and activities by 2050. In a news conference last week, the company detailed a plan to achieve carbon neutrality that includes alternative ways of moving materials at mine sites and using cleaner power sources, among other measures.
The Liberal Cabinet is proving tone-deaf when it comes to Albertans' aspirations. Last Friday it was leaked that federal officials were preparing a funding package for Alberta should the Cabinet deny the Frontier project. Alberta Environment Minister Jason Nixon was swift in his rebuke of any such aid: "Albertans are not looking for a Justin Trudeau handout. We're not interested in that. We want Justin Trudeau and the federal government to get out of Albertans' way, to let hard-working Albertans do what they do best, which is create prosperity for this province and create prosperity for this country."
To further exacerbate the issue, the Prime Minister mused that his Cabinet was in discussions to determine if approving the Teck Frontier mine project was in the "national interest." Trudeau commented that the project has implications across Canada and his Cabinet would "take a responsible decision."
The PM's posturing about the national interest succeeded in fueling the fires of regional divide. On Tuesday Alberta Premier Jason Kenney publicly questioned the PM's intent, "If this were about a $20-billion investment into an airplane factory in Quebec or a car plant in Ontario, the government would not try to link airplane or car emissions to approval, but would instead be falling all over itself to offer subsidies." In referring to a Quebec cement plant that the Trudeau Cabinet excused from an environmental review, Premier Kenney pointed out that the Quebec plant produces two megatons of CO2 emissions per year, which is half of what Teck Frontier will produce. "It's not about emissions. It's not about the environment. It appears to be about the West.
In the last few days there have been many who have made the case that, historically, the Albertan oilsands have been a cash cow for all of Canada. Teck Frontier is yet another magnificent natural resource development project that provides jobs, economic security, and unparalleled wealth generation for Albertans — and for all Canadians. Therefore, to reject Teck will be to reject Canada.
In an erudite editorial penned by journalist Spencer Fernando, he offered a sobering picture should the Liberal Cabinet reject the Frontier project, "They will be denying Alberta the chance to grow and prosper, and imposing a devastating economic blow on the province from their cloistered elitist bubbles in Ottawa, Toronto, and Montreal…. If the Liberals reject it, then they'll be deciding to push Alberta out of the country, ensuring that the Liberal 'legacy' is a nation torn apart, divided, broken, and at risk of collapse."
Such are the stakes with the impending decision on the Teck Frontier project and Canadians should be concerned on how this dance card may end. What for the Liberal Cabinet may be a "Trudeau Tango" atop the coffin of a natural resource project may very well result in an Albertan stomp over our country's crypt.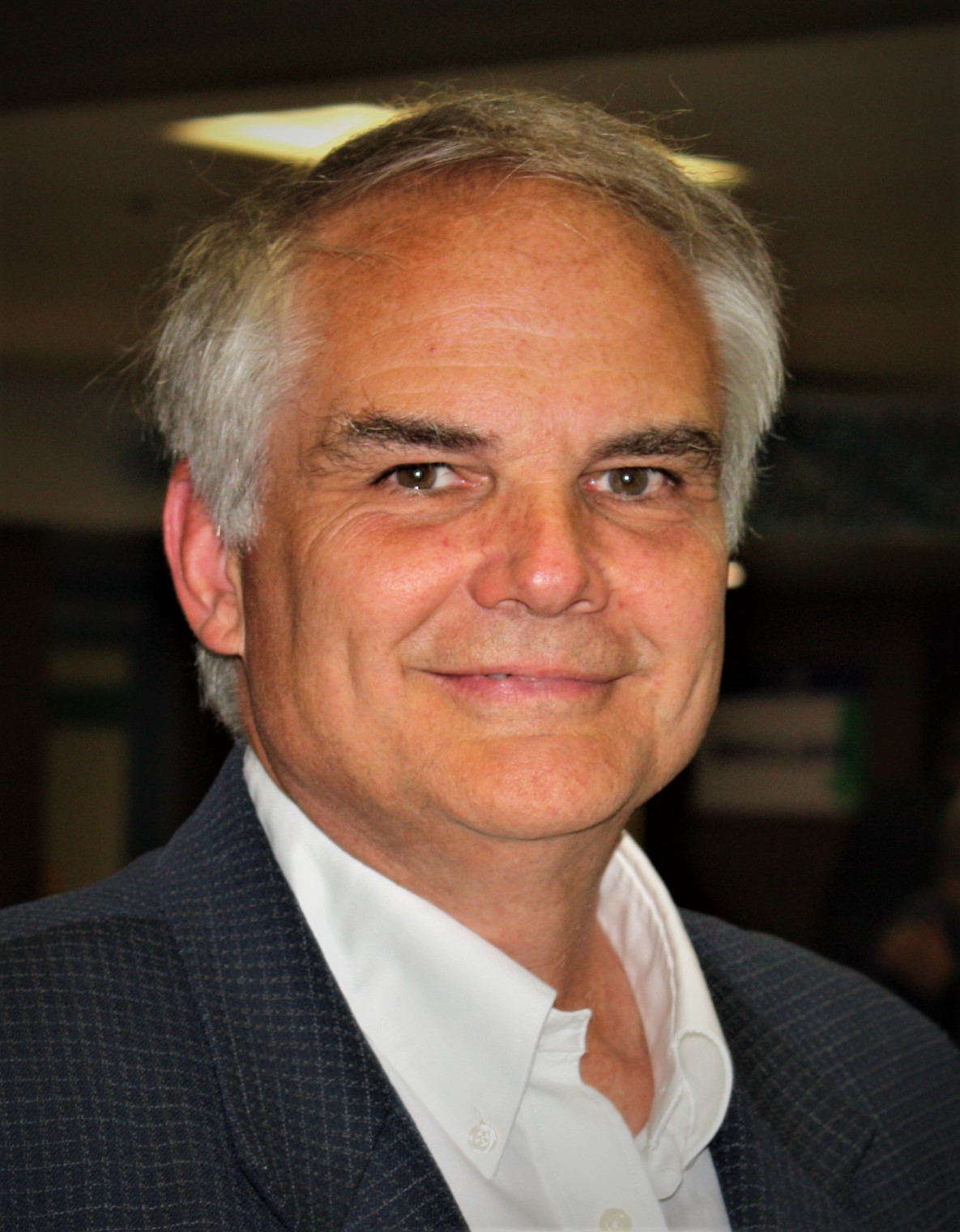 Chris George is an advocate, government relations advisor, and writer/copy editor. As president of a public relations firm established in 1994, Chris provides discreet counsel, tactical advice and management skills to CEOs/Presidents, Boards of Directors and senior executive teams in executing public and government relations campaigns and managing issues. Prior to this PR/GR career, Chris spent seven years on Parliament Hill on staffs of Cabinet Ministers and MPs. He has served in senior campaign positions for electoral and advocacy campaigns at every level of government. Today, Chris resides in Almonte, Ontario where he and his wife manage www.cgacommunications.com. Contact Chris at chrisg.george@gmail.com.