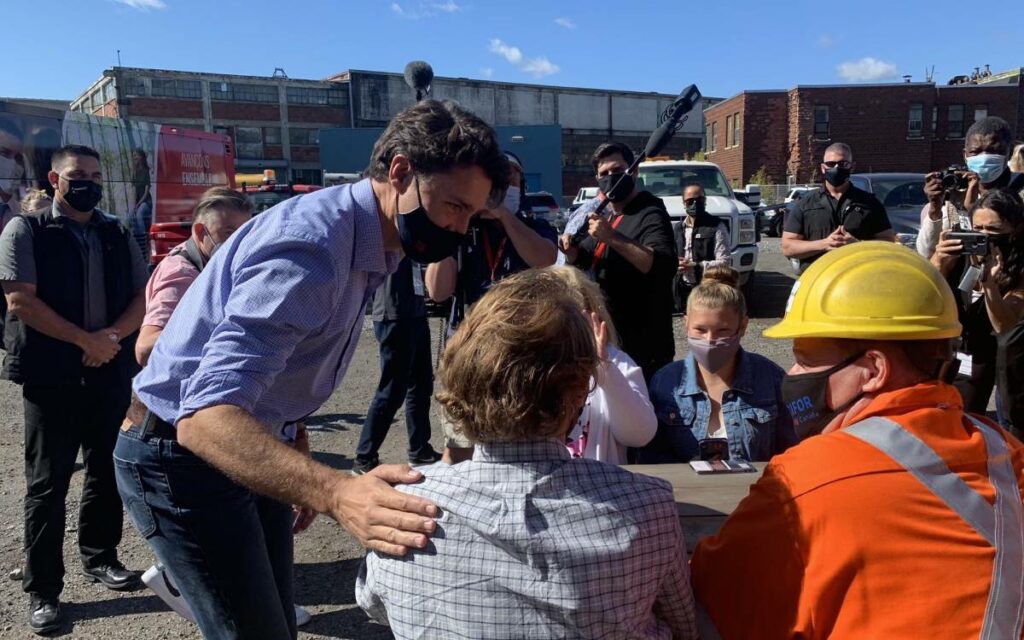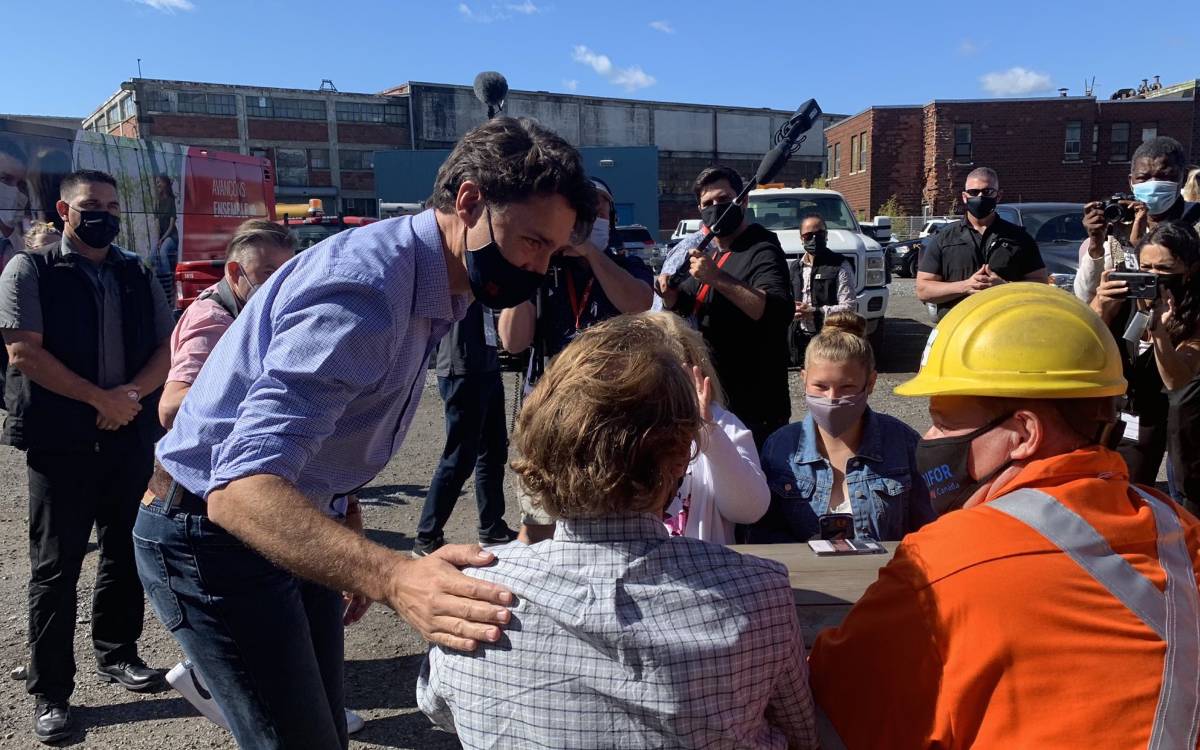 Trudeau chats with local workers at Valbruna ASW in Welland, Sept. 6, 2021. Photo credit: CBC Radio Canada/Laurence Martin
Liberal Party leader Justin Trudeau and University-Rosedale candidate Chrystia Freeland were in Welland for a Labour Day campaign stop on Monday. 
Speaking from the factory floor of Centre Street's Valbruna ASW, Trudeau pledged that if re-elected he would introduce legislation providing legal protection for businesses asking for proof of vaccination from customers and employees. 
The pledge, part of the party's recently released platform, served as an opportunity for the Liberal leader to take pot-shots at his primary opponent Erin O'Toole, who continues to best the two-term prime minister in the polls. 
With his typical hushed cadence, Trudeau said that O'Toole was a weak leader and attempted to tie the head of the Conservative Party to the "far-right", "fringe" elements of Canadian politics – an odd statement, seeing as O'Toole has gone to great lengths to modernize the party since becoming leader last year.
Rather than anything O'Toole has said or done, the comments by Trudeau seemed to be more fueled by frustration with the throngs of protestors that have shadowed his campaign to date. In Welland on Monday, several hundred "far-right" protestors donned explicit signs and yelled through megaphones as Trudeau held his press conference inside Valbruna. 
A number of social media posts from attendees and reporters on site show countless placards and flags calling for "freedom", opposing vaccination, and personally attacking the Liberal leader.
However, one thing that was entirely absent from the large gathering, despite Trudeau's attempts to link O'Toole and his party with the "far-right", "fringe" elements of Canadian politics, was Conservative Party representation. The gathering appeared to have been attended and orchestrated almost wholly by People's Party of Canada (PPC) supporters. 
As the PPC Association of St. Catharines tweeted out on Monday, "Lots of [PPC] purple on display in Welland as hundreds protest Trudeau. Conservative blue??? Not so much. Erin O'Toole doesn't want his supporters to hurt Justin's feelings."
Indeed, the majority of attendees were wearing purple shirts and appeared to be holding purple PPC signs. 
At least two local Niagara PPC candidates were on hand for the Labour Day demonstration. 
In an impassioned speech to those gathered, Niagara Falls PPC candidate Peter Taras said that he believed in "a Canada that is willing to stand up" and not accept "tyranny". While, St. Catharines PPC candidate Rebecca Hahn urged all listening to "never comply with these ridiculous rules" and to "keep fighting the good fight". 
After the Liberal leader's short stop in Welland, Trudeau travelled west to Brantford where he was met by another large group of purple-clad protestors. 
Trudeau then finished the day off Monday in London where yet more demonstrators, again, many appearing to be PPC stalwarts, shouted him down and shot middle fingers as he departed. In fact, just as Trudeau was entering his bus to leave, protestors appeared to hurl small rocks at the Liberal leader. He was unharmed in the incident. 
To catch a glimpse of the Welland protest, check out the video posted here.