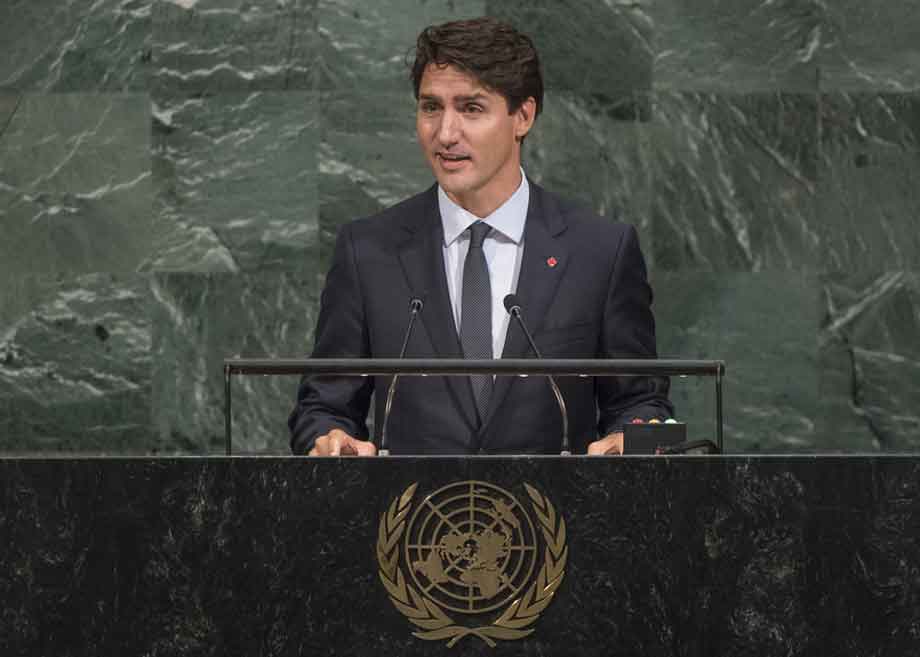 Prime Minister Justin Trudeau delivers a speech at the General Debate of the 71st session of the UN General Assembly at the United Nations headquarters in New York on Tuesday, Sept. 20, 2016. UN Photo. 
On June 21st we will know whether "Canada is back" sitting in one of the two available seats at the United Nations Security Council table. Since the Liberal Government was first elected in 2015, Prime Minister Justin Trudeau has coveted this seat on the Security Council and set about on a costly campaign to have our country back at the table. Trudeau has inserted himself into the bid – trekking across the African continent in February and more recently participating in UN video conferences – doubling down on what appears to be an obsessive, personal mission that critics observe is more style than substance.
The Security Council "maintains international peace and security in accordance with the principles and purposes of the United Nations." It is a body that monitors situations threatening world peace – such as the current troubles in Syria and Hong Kong – and is charged with leveling economic sanctions to restore stability. The Security Council has five permanent members – United States, Britain, France, Russia and China – and is comprised of a rotating cast of 10 non-permanent members who serve terms of two years. Today, countries like St. Vincent and the Grenadines, Estonia, Niger, and Tunisia have chairs at the table.
On Thursday PM Trudeau took part in his third international summit in a week to discuss the UN's response to the coronavirus pandemic. The PM joined leaders from 50 countries and major organizations, along with billionaire philanthropists Bill and Melinda Gates, to discuss ensuring all poorer nations will have timely access to the eventual COVID-19 vaccine. The summit was another of the UN's pledging conferences to raise $10 billion for GAVI, an international vaccine alliance. PM Trudeau is a welcomed participant of this alliance having already announced Canada's five-year, $600-million pledge to GAVI.
Trudeau's attendance at the GAVI meeting came 24 hours after Trudeau delivered a speech at a virtual summit of the Organization of African, Caribbean and Pacific States in which he promised Canada would champion the developing countries request for debt relief in the face of their pandemic crises. And both these meetings were preceded a week ago with Trudeau co-hosting an UN meeting that explored the possibilities of coordinating post-pandemic economic recovery plans. At that event, Trudeau pledged Canada's support and urged all countries to accept the United Nations, the World Bank, and the International Monetary Fund as the institutions to lead the international recovery efforts.
Apart from these UN meetings, in the past few weeks PM Trudeau has held numerous virtual meetings with representatives from eastern European countries, from Asia-Pacific countries, and from Arab countries all concerning Canada's candidacy for the Security Council seat. Trudeau also called the heads of government from Mozambique, Barbados, and Germany's Angela Merkel and France's Emmanuel Macron to have private chats with no fixed itinerary.
Canadians might expect the PM's pitch in his private conversations to sound a lot like his statement during one of his recent daily Rideau Cottage appearances. Trudeau explained that Canada needs to be at the table to have a say in how the world recovers from the pandemic.
"… we have another crisis that is comparable in scale to that Second World War, and I think there need to be real reflections on how we move forward as a world, how we update and adjust our various multilateral institutions to better respond to the world we're becoming part of right now in a post-COVID era. Canada's voice is going to be really important, as it was around the forming of the Bretton Woods Institutions, as it will be as we create a better, more prosperous, fairer world for everyone. And Canada having a voice at the UN Security Council will allow us to continue to be at the heart of those discussions as we move forward as a planet."
The CBC has filed many stories on the PM's bid, covering it much like some boxing match. Our state-funded news organization's prediction: it's "a close contest." The CBC reveals "Canada is in a tight fight with Norway and Ireland… Most experts think Norway has a lock on one of those seats, leaving Ireland and Canada to duke it out for the other one." The tale of the tape: Canada requires 128 votes from the 198 UN member nations to secure one of two seats that are open.
Our federal government representatives are optimistic that Canada's international standing has grown in 2020 with the PM taking a leading role in the UN's efforts to respond to the pandemic. However, there are two core items that are sure to factor greatly in the choice for the Security Council membership and Canada has proven to be sorely deficient in them both.
First, Canada's peacekeeping commitment is embarrassing when considering today the UN has 83, 000 men and women in service around the world. Canada currently has just 35 personnel involved in UN peacekeeping, the lowest number of "Blue Berets" since 1956. By comparison, Norway had 66 active peacekeepers and Ireland has 533 peacekeepers contributing to UN operations.
Second, Canada's record on the UN's foreign aid commitments is shameful. Canada ranks very low among the 30 richest countries spending only 0.28 per cent of its gross national income (GNI) in 2019 on foreign aid – about a third of the UN's target spending of 0.7 per cent. In comparison with its competitors, Ireland spends 0.35 per cent of its GNI and is committing to increase that figure. Norway contributes more than one per cent of its GNI to international assistance.
On the latter point, Canada has recently pledged sizeable amounts of money for UN efforts. Trudeau promised $850 million in post-pandemic relief funds and Government officials have stated that "It's only the beginning." Indeed it might prove to be as this week the UN upped its global appeal for pandemic humanitarian aid to $6.7 billion (U.S.) – and this figure is in addition to the urgent appeal for $2.4 billion (U.S.) to help the war torn Yemen.
Stephen Lewis, a former Canadian ambassador to the UN, is closely following the country's bid for the Security Council seat and he is doubtful of Canada's chances. He believes the Liberal Government has not matched its "rhetoric with performance." Lewis states: "The government espouses generosity: in fact, they're begrudging pretenders." Lewis assesses the Canadian efforts to schmooze foreign leaders for their country's vote as "a bit of a sham."
National Post news reporter David Akin concludes much of the same: the Prime Minister is betting he will win the UN Security Council seat on the strength of his own personal brand and his courting exercises of the past few months: "Trudeau is binding himself — and himself only — to the success or failure of the bid."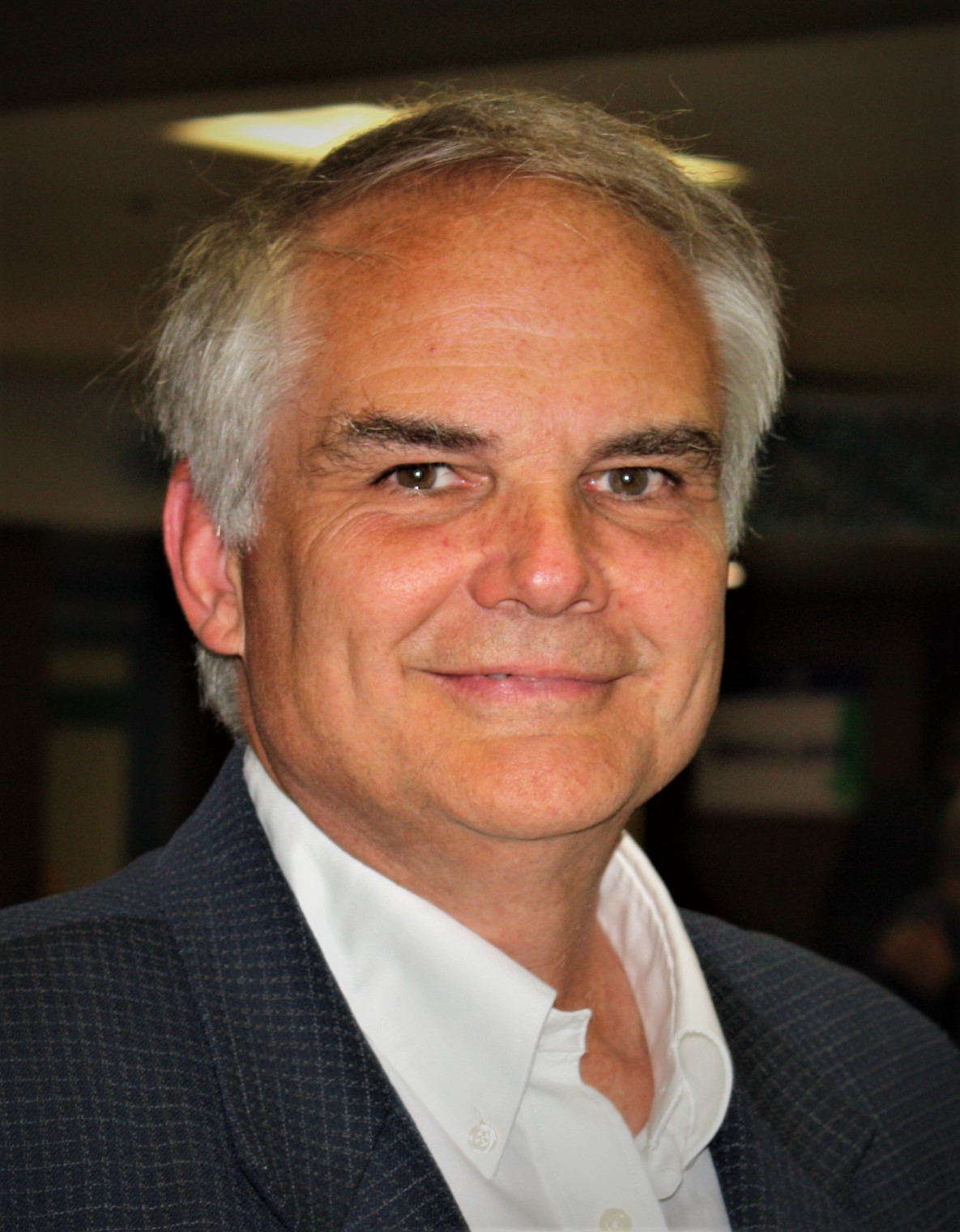 Chris George is an advocate, government relations advisor, and writer/copy editor. As president of a public relations firm established in 1994, Chris provides discreet counsel, tactical advice and management skills to CEOs/Presidents, Boards of Directors and senior executive teams in executing public and government relations campaigns and managing issues. Prior to this PR/GR career, Chris spent seven years on Parliament Hill on staffs of Cabinet Ministers and MPs. He has served in senior campaign positions for electoral and advocacy campaigns at every level of government. Today, Chris resides in Almonte, Ontario where he and his wife manage www.cgacommunications.com. Contact Chris at chrisg.george@gmail.com.