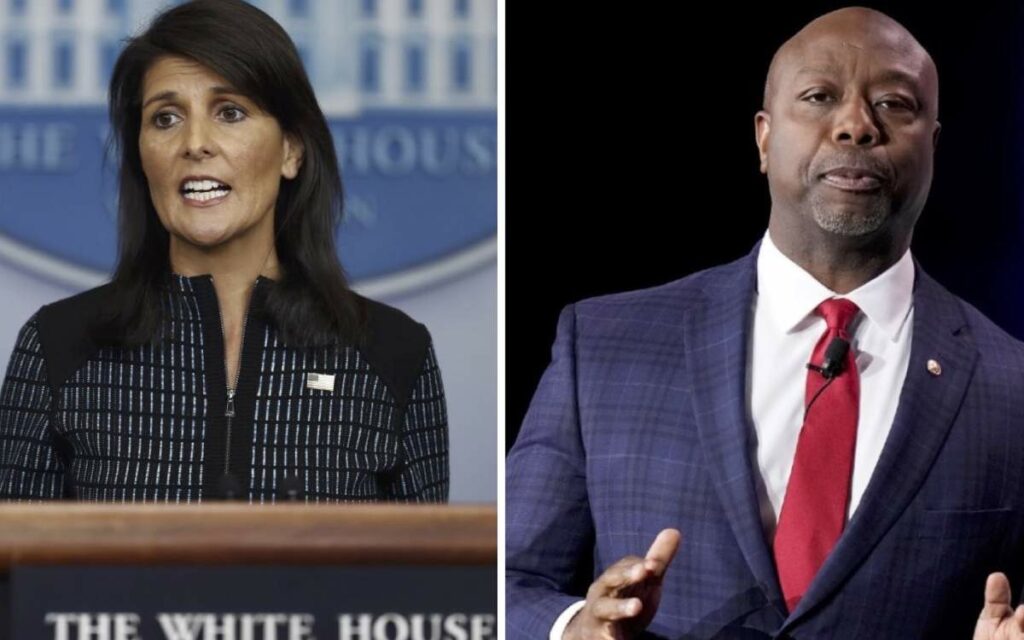 Former governor Nikki Haley (left) officially entered the Republican Party nomination race one month ago. Senator Tim Scott (right) is currently strongly considering a bid. Photo credit: AP/Carolyn Kaster and AP/John Locher 
Having spent five years in South Carolina in the 1980s and still in touch with those who know a bit about the political ground war in the state, I view with great interest the two South Carolinian candidates for president, one declared, the other thinking about it. 
I speak first of Nikki Haley, former governor of South Carolina, who entered the race for the Republican nomination on February 15. Ms. Haley comes with her brand, a woman of colour, relatively youthful at 51 (with no apologies to Don Lemon, the sexist and bigoted CNN commentator who should have been fired long before he suggested Ms. Haley was over the hill), and both a member of the Trump orbit and an institutional foreign policy adherent. 
Haley served as Governor of South Carolina from 2011 to 2017 before taking a job with the Trump administration as its United Nations ambassador. Her story reflects America in all its generosity, its opportunity, and its hope. Haley herself promotes America as a place where anyone can succeed, rise to great offices, and achieve their potential. 
Her optimistic take does not sit well with many on the Trump right of the party because she removed the Confederate flag from the state capitol, bought the Bubba Wallace story about a noose hanging in his garage stall at Talladega Superspeedway, and supports the war in Ukraine. 
As an example, take Kurt Schlichter's critique of Haley, comparing her to Vice-President Harris, "If you ever want to know what Nikki Haley will do, you need but put a finger to the breeze and thereby know which way she will go. She is a human windsock, a consultant-driven conventional wisdom advocate who spews tired 'Let's build bridges to a better tomorrow'-type dross from circa 2005. She always seems on the verge of demanding that you conservative ruffians keep it down and let the adults talk." 
This does not tell the whole story, however, and Ms. Haley exhibits both the values and characteristics that could make her a formidable candidate in the Republican nomination fight. If winning matters, Haley must be considered a front-tier candidate. Her experience as a governor of a growing and prosperous state, her appeal to the middle-of-the-road voters, and her willingness to sell an optimistic story about America sell well on the hustings. 
Regardless of efforts on the left to dismiss her as some sort of toady to white America, her candidacy would once again obliterate the Democratic nonsense that Republicans are misogynistic, racist, or too backward in their thinking. Haley's story includes her husband Michael Haley, who is a Captain in the US Army National Guard and served in Afghanistan for a year. In her role as UN ambassador for the Trump administration, she managed to gain the respect of even those traditionally critical of Republican officials. 
The NY Times, the Washington Post, Politico, Buzzfeed, and Foreign Policy all wrote favourably about her leadership at the UN, finding common ground in the Times' comment that, "many United Nations diplomats valued Ms. Haley as a pragmatic envoy who could explain the president to a world confused by the chaos in Washington," and it praised her efforts to reform the U.N. bureaucracy and building consensus for "tough new sanctions on North Korea." 
She consistently displays the courage to stand up to entrenched forces and speak truth to power. Anyone underestimating Ms. Haley may find themselves surprised at her effectiveness and elegant strength. 
As for South Carolina's second contribution to the nomination fight, Senator Tim Scott's story deserves a hearing. As the first senator of colour to represent South Carolina, Scott's rise through the Republican ranks began on his local city council. Scott served at all levels of government, proving himself to be a natural politician, one who most voters, regardless of party usually like on the spot. Still a bachelor, Scott does not exude the kind of brash politics that Donald Trump welcomes, but his beliefs are strong, his commitment to a traditional American ethic unwavering. 
Raised in working-class poverty, his parents divorced when he was seven. Scott speaks from experience when he talks about his care for working families and his brand of conservatism reminds one of the late Jack Kemp's optimistic belief that America and the free market ideals open doors, grant opportunities, and make it possible for anyone to succeed. 
In an article published on the CNN opinion page, John Avlon speaks to Scott's positive vision, writing, "As the only Black Republican Senator, Scott sees his remarkable rise as evidence of American exceptionalism and our success in forming a more perfect union. And as inherently unique as it is, Scott's story cannot simply be dismissed out of hand." As Avlon goes on to say, Scott offers a twist on the usual Republican fare which complains about 'American carnage' and raises fears about things like identity politics. 
He does not shy away from America's racist past, reminding voters at a Lincoln Day dinner in Iowa recently, "…of how his beloved grandfather, born in 1921, was taught to step aside on the sidewalk to let a white man pass and never make eye contact. This was deep in the Jim Crow South. "So when I talk about our history, I'm not whitewashing it," Scott said. But he added that his grandfather told him "you can be bitter – or you can be better. I chose better." 
Scott's place in this race will undoubtedly displease the former president. While he often sounds like Trump on certain issues, his approach and tenor make him likable. Long-time political observers have commented that no one who spends time with Scott comes away with a negative impression and most confess they like him, regardless of whether they agree with him. South Carolina's contribution to the presidential race in 2024 may result in a nomination and a presidency, but even if it does not, the political system and the country will be better served to have either one or both in the debate, adding diversity, fresh ideas, and bullish prospects for a nation badly in need of some inspiration.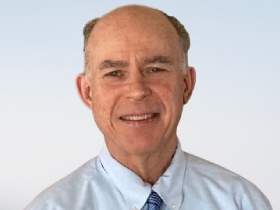 Dave Redekop is a retired elementary resource teacher who now works part-time at the St. Catharines Courthouse as a Registrar. He has worked on political campaigns since high school and attended university in South Carolina for five years, where he earned a Master's in American History with a specialization in Civil Rights. Dave loves reading biographies.