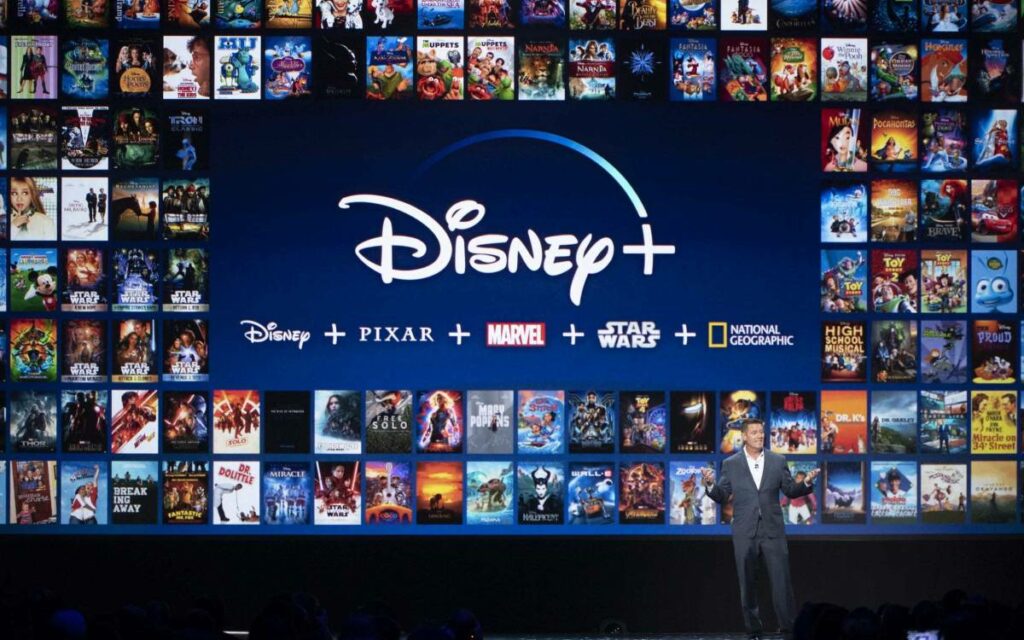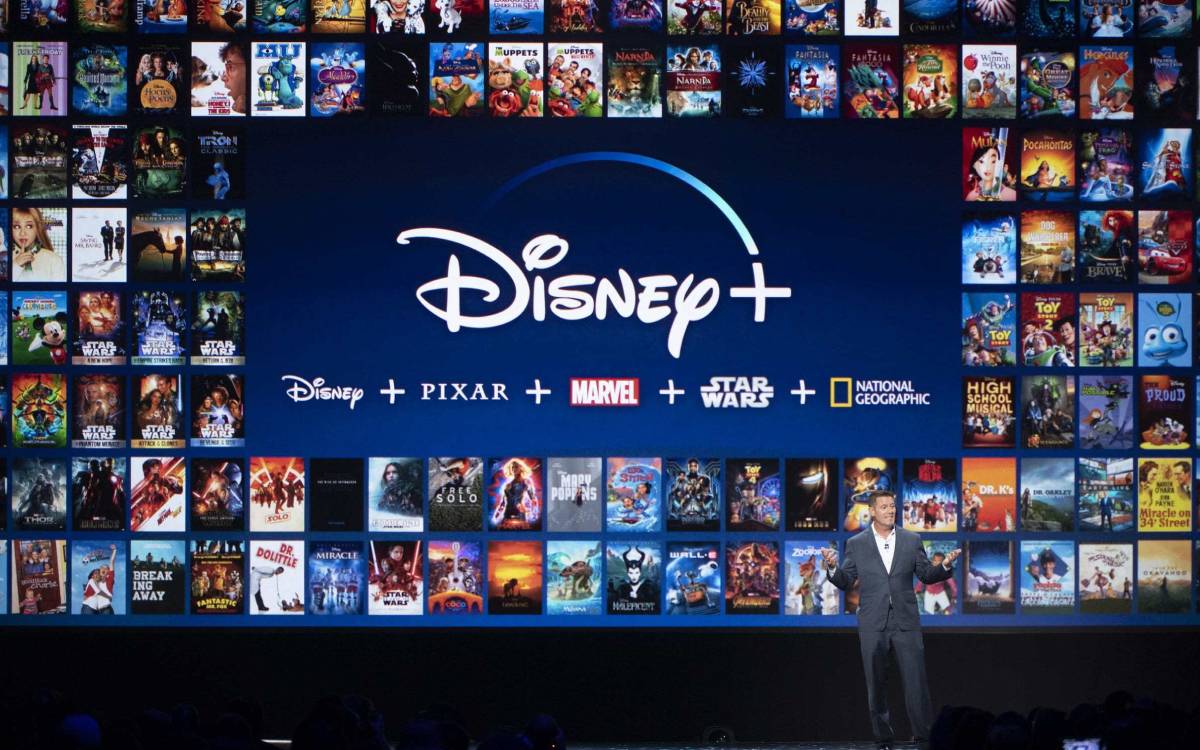 Former chairman of Walt Disney's Direct-to-Consumer and International division Kevin Mayer delivers address at the D23 Expo in August 2019. Disney opened pre-subscriptions to its new streaming service at the expo. Disney+ officially launched on Nov. 12, 2019, two years ago last Friday. Photo credit: Disney 
Disney is a company that can never be accused of not capitalizing on marketing significant dates. A visit to any of the Disney theme parks, pretty much at any time, involves a magical celebration of some anniversary. This year marked the 50th anniversary of Walt Disney World in Florida. Next year is the 40th year anniversary of the opening of Epcot and the 30th anniversary of Disneyland Paris. So, it should come as no surprise that Nov. 12 is now the newly created 'Disney+ Day', set aside to observe the creation of Disney's streaming service two years ago. 
This year's Disney+ Day focused on movies, features and subscription deals related to the platform.  There was the drop of high-profile movies on the platform including the recent Marvel movie "Shang-Chi" and "Jungle Book", based on the popular theme park attraction. There were a number of teasers for upcoming new content heavily focused on Marvel and Star Wars narratives. 
The event itself received mixed to negative reviews. Critics were quick to point out that some of this teaser content was only accessible through Disney+, which meant in order to see it, individuals had to already be Disney+ subscribers. From a marketing perspective, Disney chose to focus mainly on a Twitter strategy (supported by Instagram), largely ignoring social media platform YouTube (owned by Google) as a way to amplify its message. The Twitter strategy was also fraught with mistimed tweets and wrongly tagged accounts – a rare misstep for a company usually on the top of its promotion game.        
It was a prescient move in November 2019 when Disney launched Disney+ in light of the subsequent global pandemic in March 2020 that made the world homebound. Disney was very competitively priced compared to Netflix and unlike Apple TV+ which commenced its streaming service at a similar time, Disney+ started immediately with a deep content library. In a surprising move, it made its entire animation portfolio available, a significant departure from its past practice of strategically releasing animated classics for a limited time and then putting them back into "the vault".  
Disney's acquisition of 20th Century Fox helped populate a diversity of additional content (including the long-running animated series "The Simpsons"); however, cross-border regulatory restrictions related to domestic content has limited Disney's ability to take full advantage of its Hulu library globally. In Canada, a Disney+ subscription now gives subscribers access to "Star", the international (and inferior) version of Hulu which is being built up to include access to legacy movies and television shows.    
Unfortunately, much of the excitement and hoopla around Disney+ Day was stripped away by the release of Disney's fourth-quarter earnings for 2021 on Nov. 10, 2021. Disney felt it met its internal conservative estimates of adding 2.1 million subscribers to Disney+ in the fourth quarter, for a total of 118.1 million for 2021. Unfortunately, Wall Street had higher expectations, predicting 9.4 million subscribers in the fourth-quarter for an annual total of 125.4 million. Disney's earnings announcement after the close of markets missed Wall Street estimates across the board, resulting in shares dropping as much as 9 per cent.
Since Netflix started its transition from a hard copy DVD company to a streaming service in 2007, the world of streaming has changed. While there remain some services that are purely content delivery (e.g., Crave in Canada), the large streaming services including Netflix, Amazon, Disney, and Apple are also content providers which they later exclusively stream. Disney should have the strongest internal infrastructure to do this given its historic movie business and its ownership of ABC and ESPN.        
As some consolation to Disney, it is not alone in this stagnation in streaming growth. There are a finite number of individuals who are willing, interested and can afford to subscribe to streaming services, and the competitive landscape is becoming increasingly competitive. Newer streaming services like Disney and Apple can pacify investors in the short-term by emphasizing new content development and global expansion. Netflix has a similar issue with tapping out with new subscriber numbers. 
So how does Disney+ fix its growth problem? Its current (short-term) strategy is to offer an almost free one-month trial of $1.99 per month, followed by a longer-term strategy of augmenting popular, proprietary content (think Marvel and Star Wars). But as it adds new pieces to the core Disney+ offering, subscription prices have risen and Disney does not have Apple's ability to bundle services or offer a free subscription with high margin electronic purchases like iPads and Macs. And while it began with an impressive content library, ironically Disney has not been as aggressive as Netflix in terms of new production and content addition.  
Looking ahead, it is uncertain whether the promise of a steady stream of new content will be enough of a lure to allow Disney to reach its internal target of 230 to 260 million subscribers by 2024. If it does not, Disney+ Day in 2024 may not be much of a magical celebration.
Karin Schnarr is associate professor of policy and law at Wilfrid Laurier's Lazaridis School of Business and Economics, where she is also director of the school's MBA program. Schnarr is currently involved in research related to women entrepreneurs, AI in strategic decision-making, and case-learning in entrepreneurship education. Schnarr was named chair of the Ontario government's Task Force on Women and the Economy in June. Prior to academia, she served as chief of staff at several provincial ministries, including Health and Long-Term Care, Environment, Attorney General, and Transportation. Schnarr holds both an MBA and PhD in Strategic Management from Western University's Ivey School of Business.