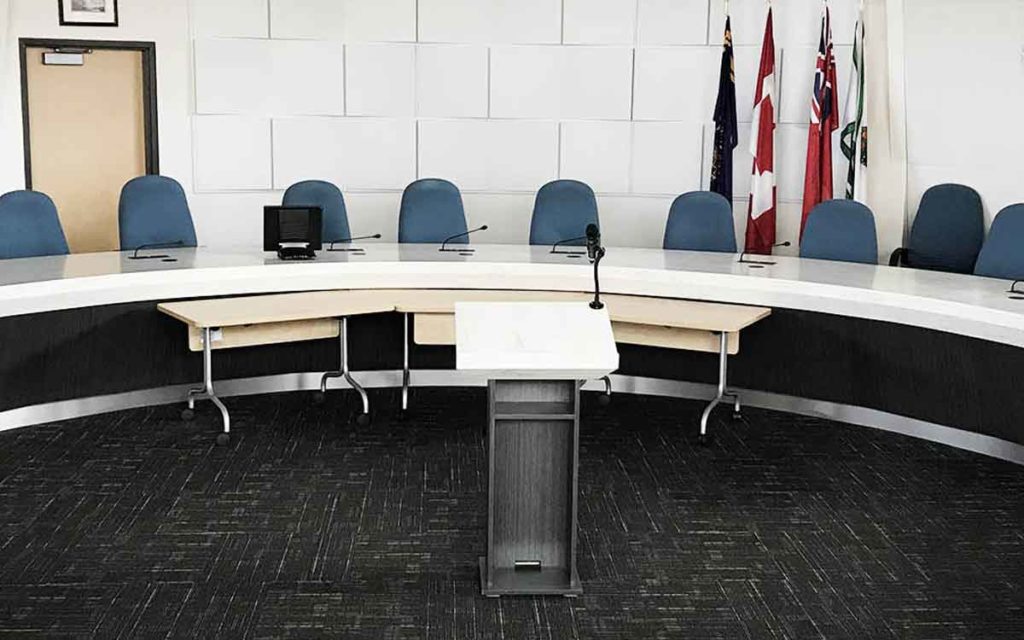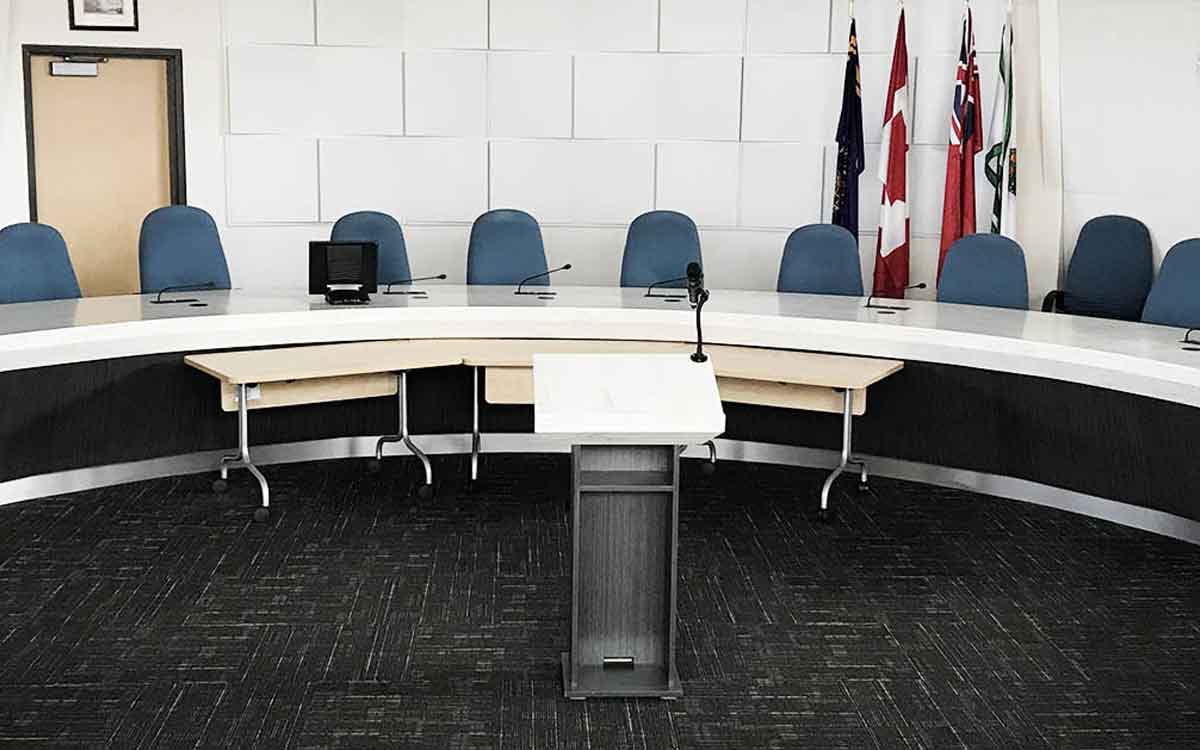 Grimsby Town Hall council chambers.
The past week has highlighted a significant divide on Grimsby's Town Council over their support of their CAO, Harry Schlange.  Schlange has been with the Town for just 5 months.
Last week, Mayor Jeff Jordan placed Schlange on administrative leave and scheduled a special council meeting to deal with the matter.  A majority of councillors did not attend the meeting despite confirming their availability earlier that day.  It is not known what prompted the Mayor to place Schlange on leave.
Council finally met on Monday where they narrowly decided to reverse the Mayor's decision and reinstated Schlange by a vote of 5-4.  A public apology was also issued to Schlange with Council confirming that "CAO Harry Schlange was not being investigated nor is he being accused of any misconduct". The five who voted in favour of reinstating Schlange and issuing an apology have been dubbed locally as the "Grimsby 5". The five include: councillors Dave Sharpe, Dave Kadwell, Randy Vaine, John Dunstall and Kevin Ritchie.
According to west Niagara's weekly newspaper, NewsNow, Councillor Sharpe arrived at the meeting with the motion to reinstate Schlange already written before hearing from the labour relations legal experts that were on hand and apparently ignored. Reporter Mike Williscraft has reported that there are in fact several formal written complaints about Schlange at the town.
In a weird twist, Council later directed the Town Clerk to hire a third party investigator to look into "allegations that may arise from this matter".
It is not known what "this matter" refers to.
It is also unclear whether Schlange is under investigation as a result of this motion.
What is clear is that whatever "this matter" is, it has exposed a deep divide on Council over their support of Schlange.  Councillors Dorothy Bothwell, Reg Freake and Lianne Vardy all chose to reject the reinstatement of Schlange and the issuing of an apology.  Vardy, when voting, issued an "emphatic nay". Jordan, who as Mayor works closest with Schlange during the operation of Town business, remained steadfast and rejected the reinstatement and apology.
The vote now leaves the Town of Grimsby divided on their apparent support of Schlange.
The situation is similar to Schlange's previous position as Niagara Region's former CAO.  In early 2016, Regional Council considered a motion to direct former Regional Chair Alan Caslin to dismiss Schlange.  It was never disclosed what prompted the motion to be put before Regional Council at that time.  Schlange narrowly survived and a taskforce was struck to improve Caslin and Schlange's relationship. Only a few months later, Schlange resigned to become CAO of Brampton.
Since then, Brampton opted to part ways with Schlange in 2018.  He served as interim CAO in Norfolk County for a period of three months prior to being appointed CAO of Grimsby.