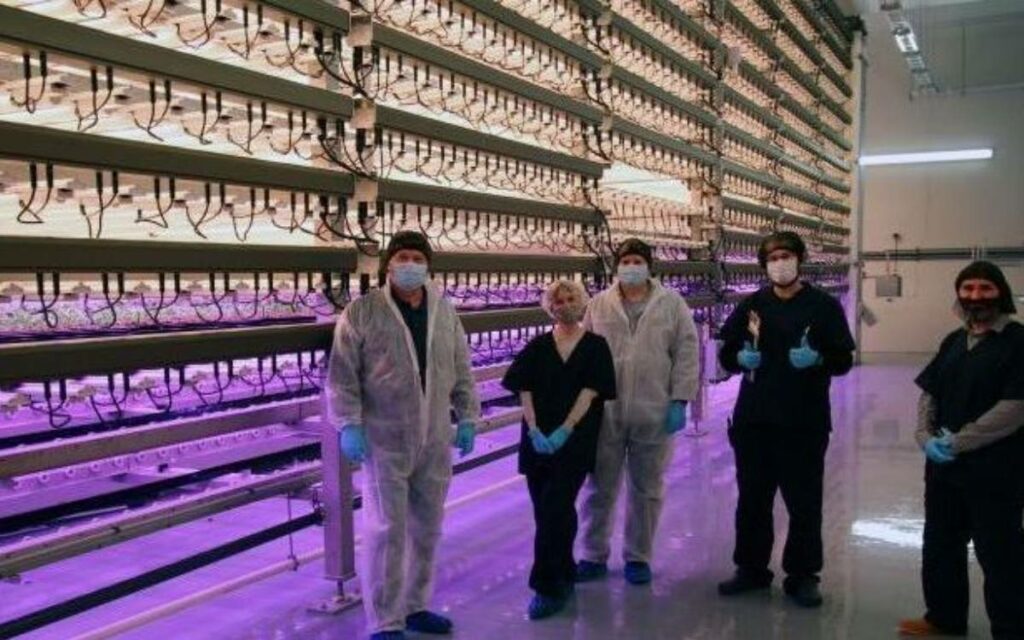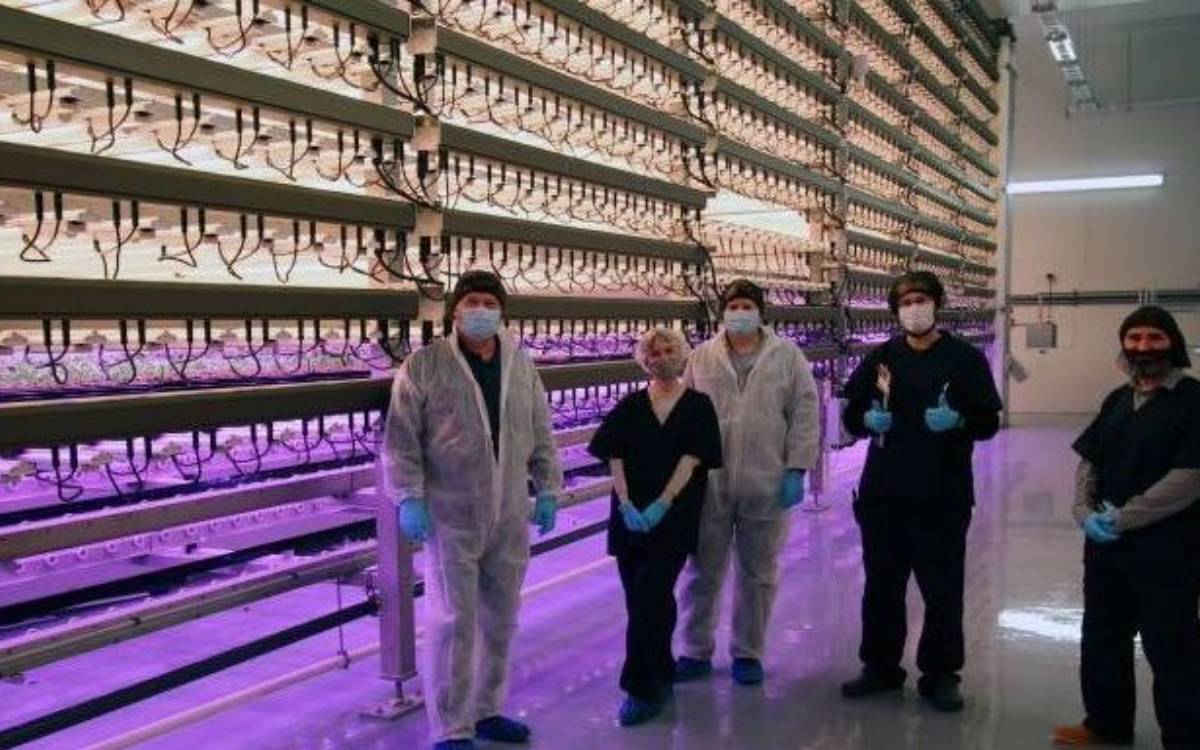 Employees stand in front of stacked rows of lettuce at Vision Greens' vertical farm facility in Welland. The company just raised $7 million to build out the other half of its current production system, the first of five full systems the start-up intends to construct before 2024. Photo credit: Mama Earth/Vision Greens
Canada is the fifth largest importer of fresh vegetables worldwide by volume. 
Per government data, in 2020 alone the Canadian market took in 1,724,860 metric tons of cross-border vegetables – with lettuce accounting for the largest share of imports at around 260,000 metric tons. 
Each year, the vast majority of this imported lettuce comes from California and Mexico, travelling as much as 3,000 kilometres from soil to store. It can take weeks to reach the end buyer, contributing to quality issues and expense. 
In an effort to provide Canadian consumers with reliable, fresh, affordable lettuce harvested at home, Welland-based Vision Greens is utilizing University of Guelph designed, NASA-leveraged hydroponic technology to grow hundreds of thousands of pounds of pesticide-free produce year-round via vertical indoor farming.
According to Vision Greens CEO Lenny Louis, vertical farming – wherein crops are grown in stacked format inside a controlled-environment – has the potential to upend conventional agriculture, given its efficiency and sustainability. 
"It uses a fraction of the water and land," Louis told The Niagara Independent over the phone Wednesday. "It's the future of farming, that's really what it is." 
The innovative approach, as employed by producers like Vision Greens, takes advantage of specialized LED lighting and soilless farming techniques to row crops in upright layers inside a controlled-environment, as opposed to spreading them across wide areas either outside exposed to the elements or in greenhouses. 
The idea of vertical farming emerged in the 1990s, but only became economically viable in recent years following technological innovation and significant government investment. 
Vision Greens (in one corporate iteration or another) began construction of its state-of-the-art Welland farm facility on Enterprise Dr. in 2019, becoming operational and soft launching its leafy vegetables to local retailers in May 2021. 
"We wanted to first make sure we could make a great product," said Louis. "Once we found out we could consistently make great product, and that we had great unit economics and customers were becoming repeat customers, we knew we had something."
The lettuce producer – which decided on Welland to set up operations due to the city's proximity to the border, political support from local mayor Frank Campion, and Niagara's established history as an agricultural hub – gradually ramped up production over 2021 and 2022, eventually expanding into numerous grocery stores in the southern GTA. 
Having proven its concept with only half a production system, Vision Greens was recently able to raise $7 million in non-brokered funds from a small group of "curated" investors to build out a full system capable of producing 700,000 pounds of saleable produce annually. 
Louis predicts the full system will be complete in the next few months and, should all things go well, kickstart the company's big plans for further expansion. 
"We have five acres in Welland. So, we'll complete this one in the coming months and then immediately after we're going to embark on building four more."
Louis said the company hopes to have three systems up and operational in the next 18 months, with all five complete by the end of 2024. 
But five systems is only the beginning, according to Louis. 
"The demand is high," said the former Microsoft and Telsa director. "Canada imports over 500 million pounds of lettuce annually. Even after we build these five systems, we're only going to be doing 3.5 million pounds of volume. So, it sounds like a lot, but in the grand scheme of things we still have a long way to go."
Through Vision Greens and its flagship Welland location, Louis ultimately hopes to disrupt the multi-billion-dollar produce import industry and make locally grown lettuce the standard at kitchen tables across Canada.
"That's the goal: use Canadian innovation to make Canada a centre for excellence in vertical farming." 
Anyone interested in trying the company's lineup of six leafy greens can do so locally in Niagara Falls at Lococo's or Commisso's and in Welland at Pupo's Food Market. Products retail for between $3.99 to $4.99 per unit.