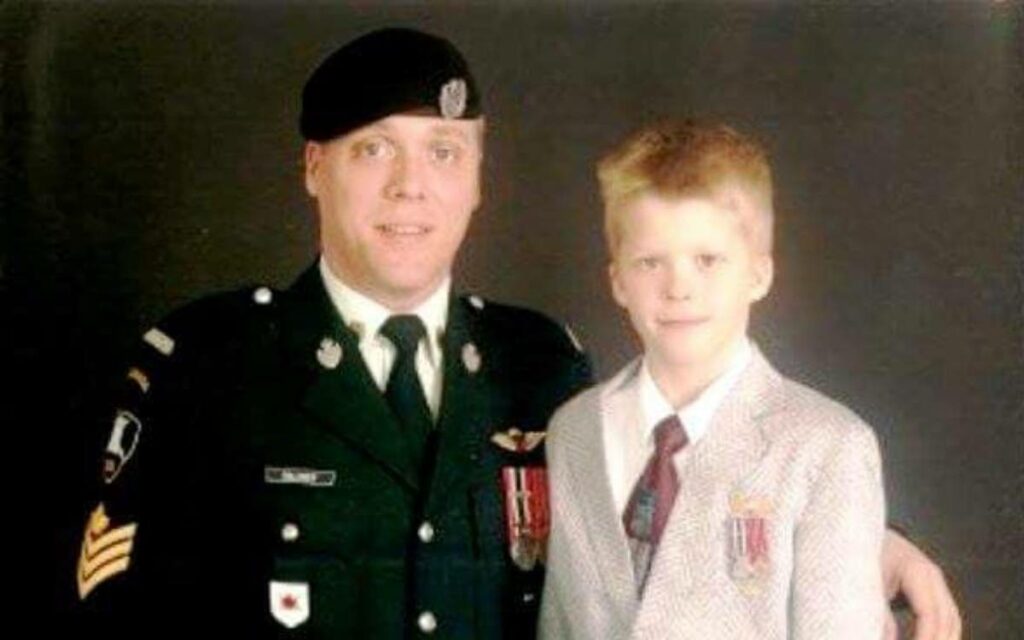 Retired Sergeant Garrick Halinen with his son Justin in this 1998 photo
For 26 years, Retired Sergeant Garrick Halinen would keep all of the symptoms of Post Traumatic Stress Disorder (PTSD) to himself. It wasn't until last year that his sister and her family came to his rescue and sought out the necessary help and medical treatment.
"I was overtaken" stated Halinen. Having to witness three friends and fellow Canadian soldiers dying in his arms during his time of service had finally taken its toll.
"It does have an affect on a human being, especially when you are trying to save their lives," he added. For one of those traumatic events he was awarded with the Canadian Armed Forces Chief of Defence Staff Commendation for Courage and Professionalism.
Halinen, who now lives in Welland, served 18 years in the Royal Canadian Armoured Corps and was posted in the Special Service Forces. The 55-year-old veteran says "PTSD is something so many service people and veterans have to deal with."
In 2004, Halinen's best friend, whom he met in basic training, took his own life. "At the time, we had no idea what would lead him to make that decision, but in hindsight, we recognize that is was from PTSD."
In his own battle with the mental illness, Halinen's 10-year marriage would dissolve in 2012, and within seven years following that, he was homeless, living in a trailer beside a horse barn in Pelham. "I was so far down the rabbit hole that I definitely needed to get help. If I did not get it then, I may not be here today because of how physically debilitating the stress was on my body" said Halinen.
After six straight days of experiencing panic attacks and extremely high heart rates, his sister Alana rushed him to the emergency of Niagara Health in St. Catharines. It was there that Halinen would receive the PTSD diagnosis, and begin the proper treatment.
During this time, he was also put in touch with VETS (Veteran Emergency Transition Services) Canada, a non-profit, volunteer organization that offers help to homeless and at-risk veterans. The charity was started in 2010 by Jim Lowther, a former veteran from Halifax, Nova Scotia, who saw many veterans falling through the cracks while trying to reintegrate into civilian life.
Halinen says, "There are at least 23 known veterans without housing in the St. Catharines area."
To help tackle this issue, it is Halinen who wants to give back and help VETS Canada by holding fundraisers that will hopefully turn into annual events around the time of Remembrance Day.
An evening of big band music titled "Live Jazz for Veterans" will take place on Sunday, Nov. 8 at 3 p.m. at The Greg Frewin Theatre in Niagara Falls.
The event will feature live music from the award-winning Jimmy Stahl Big Band featuring local artist Geneviève-Renée Bisson and Canadian crooner Michael Vanhevel.
A limited number of tickets (approximately 200) will be sold to adhere to COVID-19 protocols.
Tickets range between $40 – $60 and are available through the Greg Frewin Theatre website or by calling the box office at 905-356-0777.
Money raised during the event will be used to support VETS Canada efforts to help homeless veterans and other veterans facing difficulties of any kind.