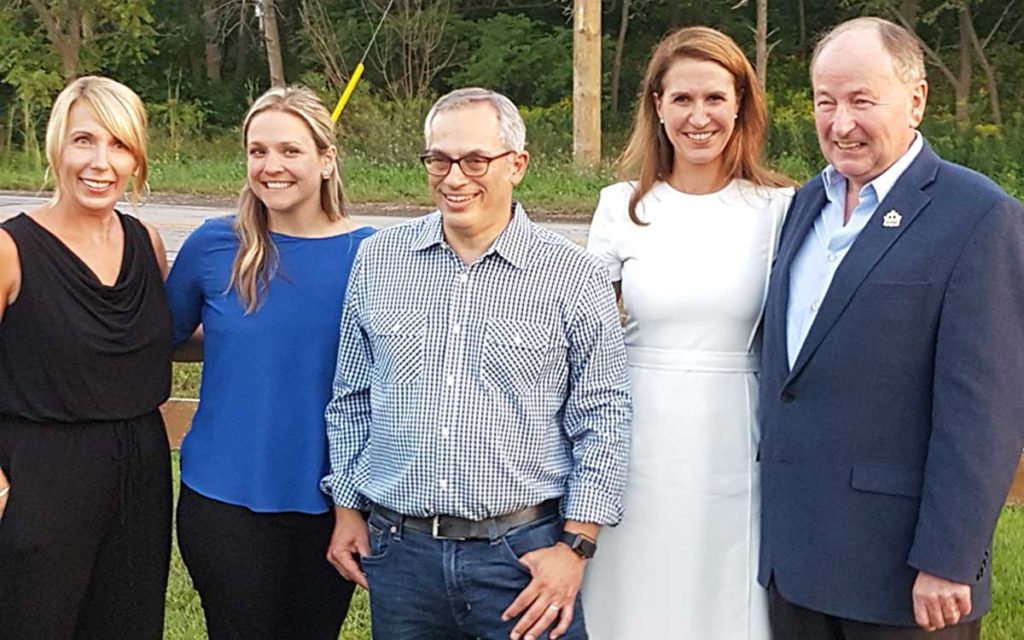 From left: Candidates April Jeffs and Krystina Waler join Tony Clement MP, Attorney General Caroline Mulroney MPP and Rob Nicholson MP at Henry of Pelham Winery.
A large crowd gathered at Henry of Pelham Winery last night to meet the province's Attorney General, Caroline Mulroney, along with the woman who will be carrying the Conservative Party flag in the 2019 federal election, Krystina Waler.
In addition to Mulroney and Waler, there was a host of prominent Conservative politicians including; Niagara Falls MP Rob Nicholson, Parry Sound-Muskoka MP Tony Clement, federal candidate April Jeffs and former MPP Bart Maves.
Both Clement and Mulroney had high praise for the political hopeful, commenting on her work ethic and smarts in their remarks. Minister Mulroney said in her remarks; "We need a change and Krystina offers that change. She is a breath of fresh air. She has a background in humanitarian aid and health policy which is exactly the kind of person you want to get involved in politics."
It certainly wasn't your conventional path to politics that lead Waler to be the Conservative candidate in her home riding for the upcoming federal election.
In her early twenties, the St. Catharines native volunteered her time helping to run camps for orphans in the Ukraine. At one point she had helped secure 50,000 pairs of shoes to distribute throughout the country to those in need. The shoes were held up at the border as the corrupt government at the time demanded money in order for the footwear to be released. At the same time the Ukraine revolution started. It was an eye-opening experience for Waler to say the least.
John Baird was Canada's Minister of Foreign Affairs at the time all this was going on and he made an unofficial visit to the Ukraine. Baird asked Waler for her thoughts and advice on the situation and she became somewhat of an adviser to the Minister on the situation that was taking place in the Ukraine. Baird made a return visit once the revolution was over and Waler was invited to go along in a more official capacity.
"It was at that point that I really started getting more involved in politics and particularly with the Conservative Party," she said. "Prime Minister Harper visited the Ukraine in 2015 and he asked me to be a part of his delegation. It was a great honour."
During this time Waler was working towards her master's degree from the University of Toronto. She will graduate this November. "I have been approached to run federally in Toronto but I always said to myself that if I do run it will be in St. Catharines," Waler said. "St. Catharines has helped shape who I am and it is a great opportunity to give back. It felt like the perfect time."
She says she gets the same question many women get who are affiliated with the Conservative party – How can you be a woman and a conservative? "Being a conservative woman doesn't mean you are less of a feminist or somehow misguided," Waler states.
Waler attended this past weekend's convention and said there was lots of energy, different points of view and friendly debate. She supported current Conservative Leader Andrew Scheer during the leadership run and feels his values are aligned with hers.
As there are just over 400 days to the election, Waler and her team are busy getting things in place in preparation for what is expected to be a hotly contested battle in St. Catharines. Liberal Chris Bittle currently holds the seat.
"I'm looking forward to meeting with the people of the riding, business leaders and community leaders to hear their issues and concerns," said Waler. "We have a lot of momentum on our side and we want to keep that going. Events like this one tonight certainly help with that. I am so grateful to my team for all their hard work."