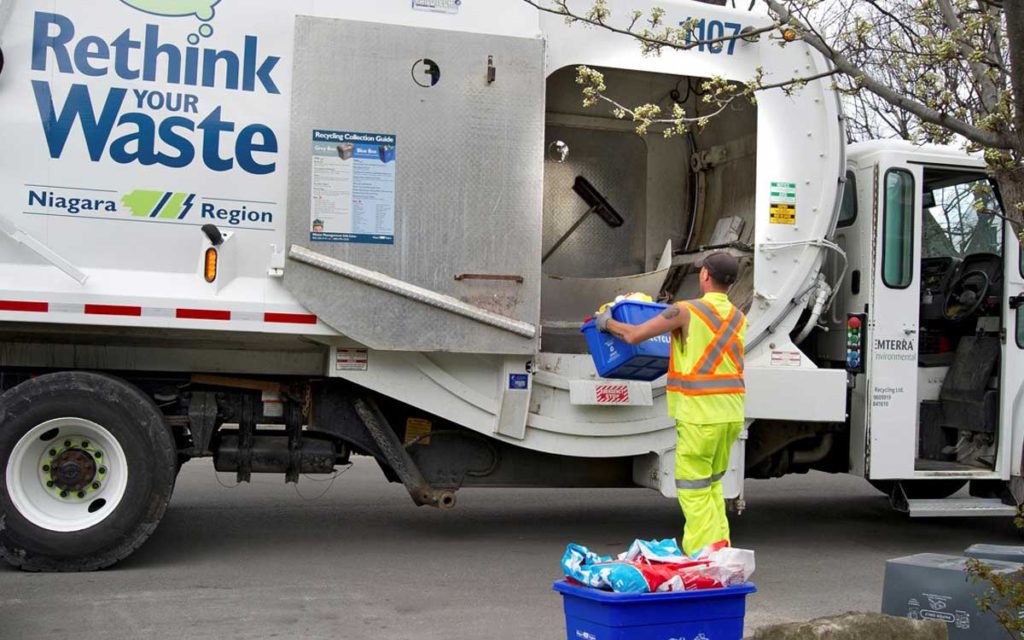 In the worst weather last winter, and again this past summer during the heatwave, many Niagara residents were frustrated by not having their garbage or recycling picked up on the appointed day.
The Region re-tendered garbage and recycling collection several years ago, and current operator Emterra Environmental won the bid. In fact, their contract saves the Region's taxpayers over $4 million per year.
Bart Maves, Chair of the Public Works Committee at the Region explains, "Emterra has actually done a spectacular job over most of the life of their contract with the Region. It is only over the last year that they have had some issues. The core of the problem has been aging trucks that they are trying to refurbish while maintaining service, some staff turnover, and other staff issues like people calling in sick on the hottest or coldest days of the year."
The Region can take mitigating measures when waste isn't collected by 5:00pm by fining Emterra $5,000 on each occasion, which they've done. However, those levies may just be making it more difficult for Emterra to complete their corrective measures, like refurbishing their fleet. "People really don't care if their garbage gets picked up at noon or 5:00pm or 7:00pm – they just want it to be picked up on the day they put it out," says Maves.
Unfortunately, waste management is often something that goes completely unnoticed – until something goes wrong.
Being a waste collector is often a thankless job, despite the fact that it's high-risk – ranking among the top 10 most dangerous in Canada, according to The Globe and Mail. These individuals work hard collecting what most people wouldn't want to touch.
Curbside collection is physically demanding, sometimes requires long hours, and involves handling waste in all weather conditions, despite Canada's unpredictable climate.
"Extreme weather conditions can effect collections. Safety and collection crews are having to adjust on the fly," explains Maves, "So there needs to be some recognition and flexibility in the system."
Fluctuating temperatures significantly impact waste collection, making it difficult to maintain the speed of service that many residents have become accustomed to.
"On a hot and humid day in July, the temperature is hitting 36 degrees with no breeze to speak of, but your waste, organics and recyclables will still be collected," assures Graham Wathen, VP Operations, Ontario for Emterra. He adds, "same goes for those frigid winter months, curbside collection will likely take longer, in order to do it safely, but our collection crews will get there."
Residential collection in Niagara Region is tightly scheduled. Trucks need to be off the roads by the same time daily, and most landfills and recycling facilities have pre-determined operating hours.
Bruce Martin, Operations Manager for Emterra Environmental in Niagara, says despite the planning that happens behind the scenes, it's often difficult to meet deadlines day in and day out.
"If weather conditions are severe and our employees' health is at risk, collection crews have to take breaks until it is safe to continue," explains Martin. "Then, there are unforeseen circumstances, like unusually heavy traffic, truck breakdowns, and unpredictable volumes at the curb – especially around the spring and fall seasons, as well as Christmas and New Year."
There is currently a shortage of drivers in Ontario and across North America. The Canadian Trucking Alliance (CTA) reports that Canada could experience a shortage of 25,000 to 33,000 for-hire truck drivers by 2020, yet there are no real solutions in sight. With such a small pool of available drivers, everyone is competing for the same talent.
With an extensive truck refurbishment program in the works, Emterra is also looking to continue their cost-saving efforts in the Region, while also giving back to the community. Emterra's Community Care Program – Make Your Contribution at the Curb™ – has been a huge success since 2011, encouraging residents to recycle by donating $1 for every tonne collected.
In 2017, Emterra donated $38,510 to Niagara Health's Walker Family Cancer Centre, bringing their total to date up to $273,970.
"Our waste collectors are out every day, no matter the weather, doing their best to keep our community clean," explains Wathen. "Next time you see our crews, please feel free to give them a wave and smile. They would certainly appreciate the gesture."