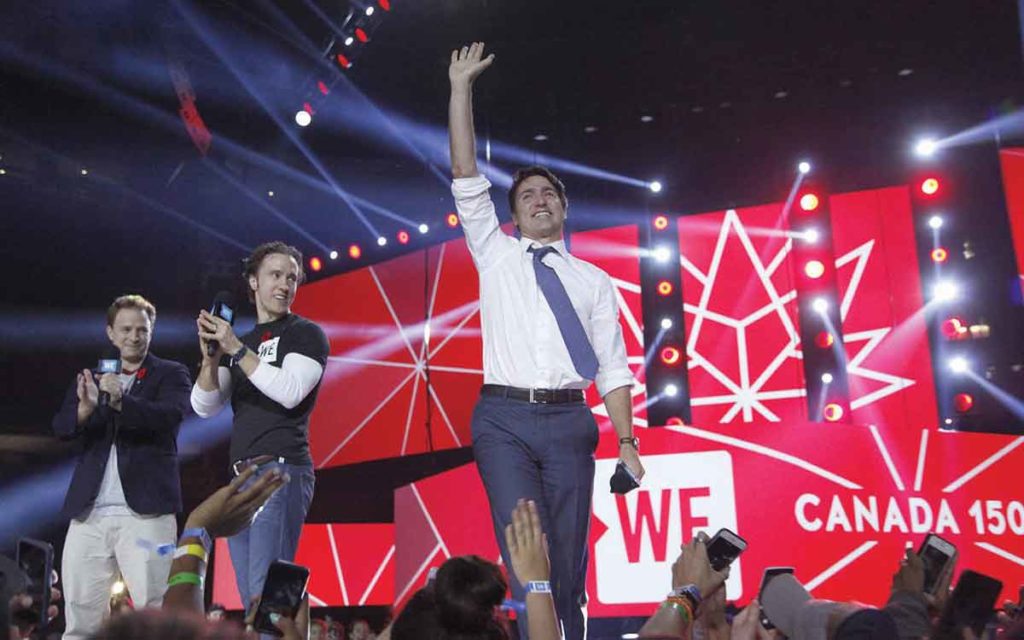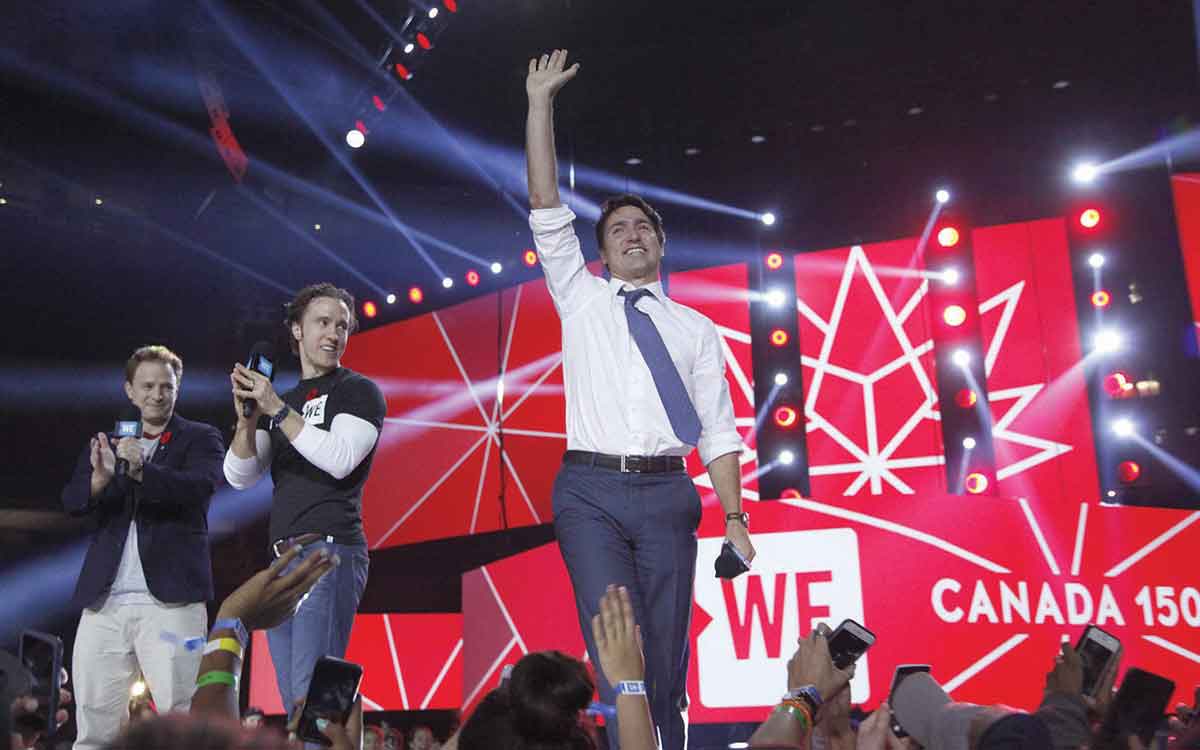 "It is hard not to feel disappointed in your government when everyday there is a new scandal" – Justin Trudeau
Of course the quote above was when the now prime minister was an opposition critic for youth, a position he no doubt held in part because of his close ties to something called WE.
WE as every news outlet in the country will tell you is the now embattled charitable organization founded by brothers Craig and Marc Kielburger in about 1995 and will now forever be inextricable linked with the COVID-19.
The Kielburger brothers have been financial supporters of both the Federal and Ontario Provincial Liberal parties.
Not a significant amount of money mind you, but they have made individual personal donations to the Ontario Liberal Party, the Liberal Party of Canada and two Federal Liberal Leadership candidates the first being Scott Brison and the second Justin Trudeau – according to the National Post's political donations database.
While the total dollars are not significant the fact that the brothers founded and run a charity and make donations just might be.
Here is an excerpt from CRA Guidance on Political Activities – CPS-022
"6.1 What are prohibited activities?A charity may not take part in an illegal activity or a partisan political activity. A partisan political activity is one that involves direct or indirect support of, or opposition to, any political party or candidate for public office.
Now once again the Kielburgers made their donations years ago so the connection to the $500,000 and $1 million dollar grants in 2017, the $3 million in 2019 and the $912 million COVID-19 related program may be argued as negligible.
But the connection between the Trudeaus and WE isn't.
Go back nearly 15 years ago when the then Liberal candidate for Papineau – Justin Trudeau – appeared via video – at the first ever WE Day Event October 2007.
During the taped-to-air video Justin Trudeau was quoted to say, "We don't need you to be leaders of tomorrow. The only way to make a difference tomorrow is to start today," a quote and theme that has resonated through his political career, in fact frames his career.
As both an opposition Member of Parliament and Prime Minister, Mr. Trudeau has appeared at a multitude of WE events. His wife Sophie Grégoire-Trudeau has hosted and spoke at events.
In 2018, during the WE day in Vancouver, she announced her ambassador role with the WE Well-being Initiative to promote positive mental health. A few months later Craig Kielburger was announced as a member of the advisory board of the Leader's Debate Commission for the 2019 Canadian Election.
Now let's fast-forward to March and the tip of the COVID-19 iceberg.
Idris Alba, voted by People Magazine's "sexiest man alive" for 2018, said he believes he contracted COVID while attending a WE gala in London, England in March. Stringer Bell – his famous character from HBO hit The Wire – said he got tested after news reports of a fellow gala attendee testing positive of the virus.
Many believe that fellow attendee was none other than Canada's first lady Mrs. Grégoire-Trudeau. She is said to have contracted COVID at the same event and there are photos of her hugging Mr. Alba.
Now there is nothing nefarious about this, but the fact that Mrs. Grégoire-Trudeau was also on stage at the event points to her value to the WE Charity. After all there is another famous photo from the gala that shows her, Mr. Alba and Lewis Hamilton together.
Mr. Hamilton is a six-time Formula One Champion on the verge of setting the record for most F1 championships in history and is about as famous as a few Brits named Windsor right now.
Aside from this illustrating the lifestyles of the super-rich and famous, Ms. Grégoire-Trudeau contraction of COVID is also significant because it lead to the ongoing "Cottage Talks." These are the daily briefings the prime minister gives on the status of COVID-19 in Canada and whatever other hobbyhorse he is riding that day.
These talks would simply be benign, somewhat informative, if they were not painfully scripted and being used as rationale to avoid parliamentary scrutiny. The same scrutiny that could have, you guessed it, prevented Mr. Trudeau from signing off on $912 million for the WE group; Or at least allowed for a proper review of the program and questions about his and his wife's personal ties to the group.
This isn't like the emergency grants, gifts and loan programs needed to keep people with roofs over their heads and food in their stomachs and were understandably rushed out. This is a group with close, very close ties to the Trudeau family that were given a sole contract of a nearly $1 billion.
Simply put they are the only charity in Canada that would have been allowed to dole out nearly one billion of taxpayers' dollars with what appears to be no oversight.
Unless there is proof the program organizers lobbied the Trudeaus they too have done nothing nefarious – even the donations, though that might be argued.
The WE Charity isn't a bad organization and what they purport to do has real value not only in Canada, also around the world. The soul contract to dole out a $912 million government program when charities across Canada are hurting and being shut out of other government programs – including things like Canadian Emergency Business Account loans – is.
Thankfully Ethics Commissioner Mario Dion is going to probe the Prime Ministers shadiness for a third time. The first finding of guilt was pretty much ignored, the second – SNC Lavaline – lead to his party being reduced to minority status.
The third, who knows? Yes he was helping a charity, but others charities were shut out. Charities that are struggling in the face of COVID-19 and that is just wrong.
Mr. Trudeau is clearly playing favourites with charities and helping one he and his family have very close ties to.
I think WE can all agree that is wrong.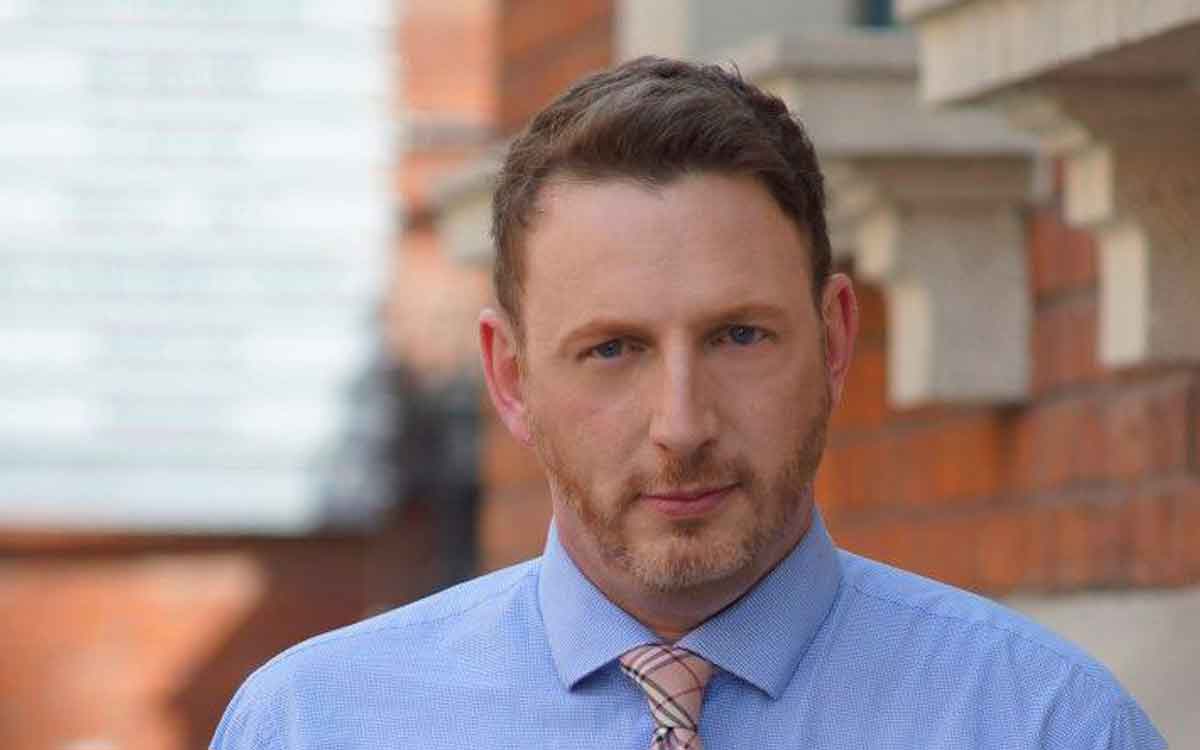 Kelly Harris is Principal of Harris Public Affairs. He is a regular commentator on Global News Radio 640. He has spent the last decade working with Canada's credit unions and served as Director on the Board of the Canadian Credit Union Association. An internationally published journalist, he has held senior positions in the Gordon Campbell government in British Columbia and Tim Hudak's opposition at Queen's Park. An avid traveller, cyclist, member of Bills Mafia and die-hard fan of the Toronto Maple Leafs.