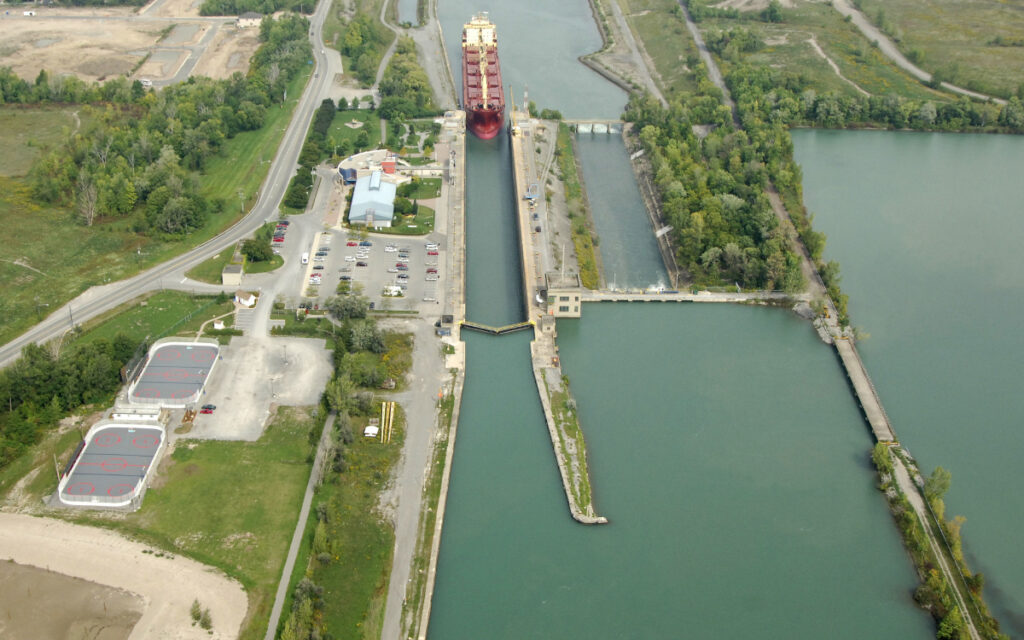 No vessels passing through multiple-billion-dollar shipping corridor. Photo credit: Marinas.com 
A growing number of ships are marooned at either side of the Welland Canal, as the vital passageway remains closed due to workers walking off the job this weekend.
In a press release on Sunday, the St. Lawrence Seaway Management Corporation (SLSMC) – which operates the system of locks and channels connecting Lake Erie to Montreal, including the Welland Canal – said it was at an "impasse" with UNIFOR and was unable to reach a deal before strike deadline.
The two parties have reportedly been negotiating since June. 
"The parties are at an impasse as UNIFOR continues to insist on wage increases inspired by automotive-type negotiations, while the SLSMC works to find a fair and competitive labour agreement that balances wage demands and market realities."
The canal will remain closed until an agreement can be reached. 
SLSMC President and CEO Terence Bowles said the corporation was "fully dedicated to finding a resolution." 
"In these economically and geopolitically critical times," said Bowles, "it is important that the Seaway remains a reliable transportation route for the efficient movement of essential cargoes between North America and the remainder of the world." 
As first reported by 610 CKTB, in a joint call to the involved parties on Monday, the four Niagara mayors representing municipalities along the Welland Canal's route urged the SLSMC and UNIFOR to return to the negotiating table.
"It is easy to take for granted the St. Lawrence Seaway, a vital artery that connects communities and economies along its shores," Mayor of Welland Frank Campion is quoted as saying.
"With open communication, a willingness to negotiate, and a shared goal of ensuring the flow of goods along this waterway continues to meet the needs of millions, the current labour dispute can be short-lived. But it is up to all parties involved to continue working together, communicating, and sourcing a fair and expedient outcome to a work stoppage that could have long-lasting consequences."
According to the SLSMC, the corporation is awaiting a response to its Canada Industrial Relations Board application, seeking a ruling under the Canada Labour Code for the union to provide employees during a strike to ensure vessels engaged in the movement of grain continue transiting the system.
Last year's shipping season saw more than 36 million tonnes of cargo transit the canal. Since 1959, over three billion tonnes of cargo have passed through the Niagara waterway.