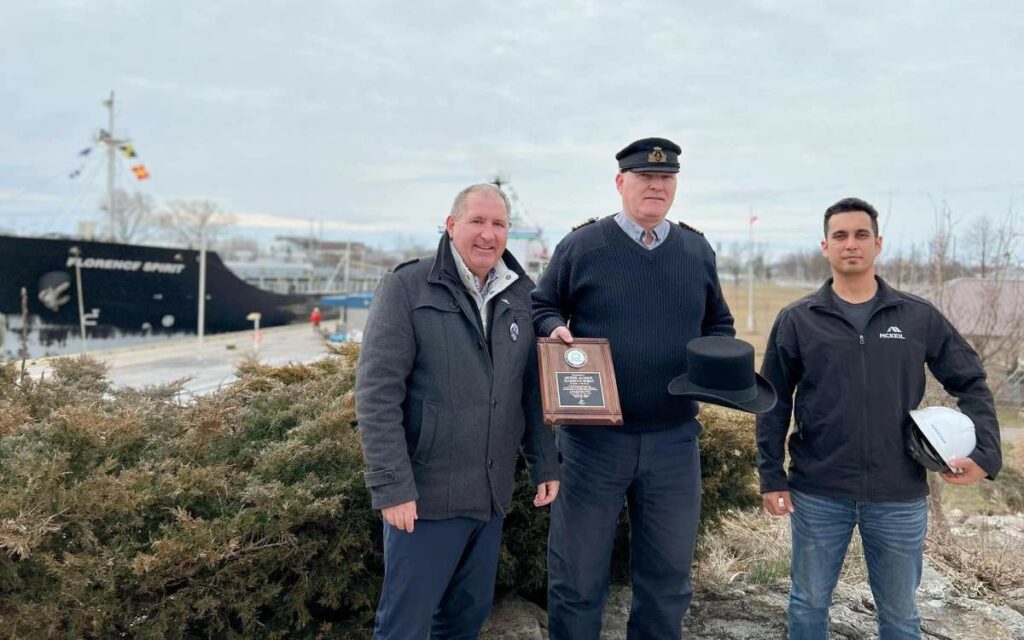 Mayor of Port Colborne Bill Steele (left) presents Captain Michael Rodaway (centre) with the 2023 ceremonial top hat. Captain Rodaway's ship, the Florence Spirit, was the first downward vessel of the 65th navigation season to pass through the Welland Canal on Wednesday, March 22. Photo credit: Facebook/City of Port Colborne
At its annual top hat ceremony on Wednesday, Port Colborne welcomed the first downward vessel of the 65th shipping season through the Welland Canal.
Speaking to a small gathering of dignitaries, stakeholders, and residents at Lock 8 Gateway Park, Regional Councillor Fred Davies spoke of how essential the Welland Canal is and has been to the local economy throughout the decades.  
"This canal built Port Colborne, in fact it built most of the Niagara Region," said Davies, who grew up in the lakeside community and served as its first-ever economic development officer in the mid-1980s. 
"We have a lot to be proud of in our marine heritage, the businesses that continue to thrive in Port Colborne, and the jobs that are created (from the canal). Our town has an enormous history that we need to protect, enhance, and promote."
The present Welland Canal, which connects Lake Erie in the south to Lake Ontario in the north, is the fourth of four channels to bisect the Niagara Peninsula and was officially opened in 1932. The first canal was opened in 1833.
Port Colborne began hosting a top hat ceremony to celebrate the seasonal opening of the shipping lane in the 1970s under Mayor John Buscarino.
Current Mayor of Port Colborne Bill Steele emceed the ceremony this week. Brief remarks were delivered by representatives from the local museum, provincial and federal governments, St. Lawrence Seaway Management Corporation, and Mayor of Wainfleet Brian Grant.
Mayor Grant wished everyone who uses the canal this year a "safe and prosperous" shipping season and, like Davies, spoke about the "huge benefits" provided by the waterway, calling it the region's "economic life-blood."
Per the City of Port Colborne, there are two caps involved in the annual top hat ceremony. 
The first hat is loaned for ceremonial purposes only from the Port Colborne Historical and Marine Museum. It's a turn-of-the-century Tress & Co beaver felt fur hat that was anonymously donated to the museum. When not being used for the canal opening, the hat is stored in an acid-free box at the climate-controlled Captain John W. Sharpe Heritage Resource Centre.
The second top hat is a keepsake for the captain of the first downward-bound vessel. It's embroidered on the inside with a special message and the date.  
Last year's shipping season saw more than 36 million tonnes of cargo transit the canal. Since 1959, over three billion tonnes of cargo have passed through the Niagara waterway.