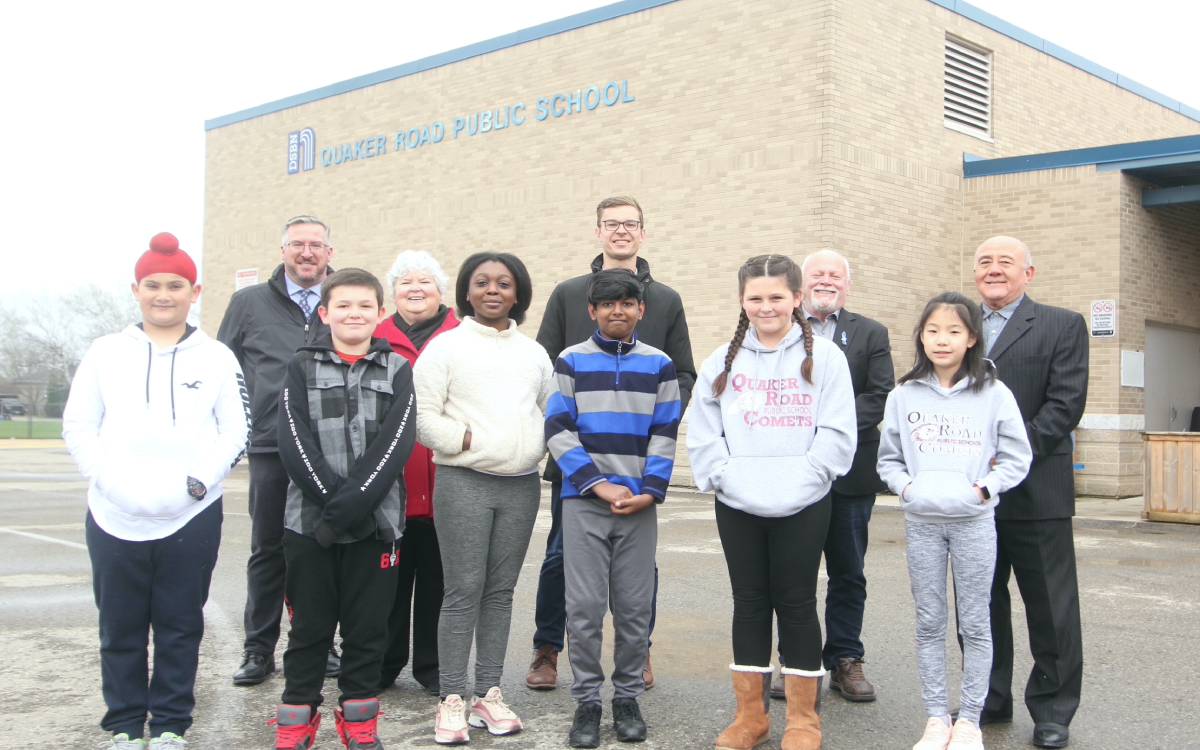 Back row left to right: Paul O'Melia, Principal, Quaker Road Public School; Sue Barnett, Trustee for Welland and Chair, District School Board of Niagara; Sam Oosterhoff, Parliamentary Assistant to the Minister of Education and MPP for Niagara West; Frank Campion, Mayor, City of Welland; and Warren Hoshizaki, Director of Education, District School Board of Niagara. Front row are elementary students enrolled at Quaker Road Public School.
On Wednesday, Parliamentary Assistant to the Minister of Education and MPP for Niagara West Sam Oosterhoff announced a $10.4 million investment in the District School Board of Niagara (DSBN) for an addition to Welland's Quaker Road Public School. 
The funds will support the creation of 331 new student spaces, 49 licensed childcare spaces, and a new gymnasium. 
"The new addition at Quaker Road Public School in Welland is great news for Niagara," said MPP Oosterhoff.
"This investment will provide choice and flexibility for families and new opportunities for the children of Welland. Our government remains strongly committed to investing in our schools to ensure that hard-working parents are supported, and our young people acquire the knowledge and skills they need to achieve lifelong success."
The Quaker Road project is part of a provincewide investment of nearly $500 million in new student and childcare spaces. The overall investment supports the creation of 37 school related projects, including 23 childcare centres. 
In total, the funding will add nearly 15,700 new student spaces and 1,502 licensed childcare spaces at schools across Ontario.
"Welland is home to thousands of wonderful people, with much of our growing city made up of families who have just moved here – and soon, Welland will be home to many more families who are expected to come," said trustee for Welland and chair of the District School Board of Niagara Sue Barnett.
"We are grateful to the province for helping us provide our school community with the facilities they deserve, and for investing in Quaker Road Public School, and in Welland."
Welland has experienced immense growth in recent years.  
Between 2016 and 2021, the municipality's population grew by 6.6 per cent. Over 55,000 residents now call the Rose City home.
Last year, Welland issued a record 1,108 building permits, of which 759 were for new dwelling starts, with an estimated construction value around $240 million.
On pace for another strong year, in the first quarter of 2022 (when weather conditions typically moderate new construction) 173 building permits were issued by the city. 
"The City of Welland is growing quickly and steadily," said DSBN Director of Education Warren Hoshizaki.
"At Quaker Road, a school that served 353 students just two years ago in 2019, is now serving almost 570 students. By adding 15 modern classrooms and a sparkling new gymnasium, we are also adding more opportunity for students to learn, engage and thrive in an excellent environment."
In the next few years, the northwest corner of Welland adjacent to the school could see as many 2,000 new residential units built due to expansion of the municipality's urban boundary.