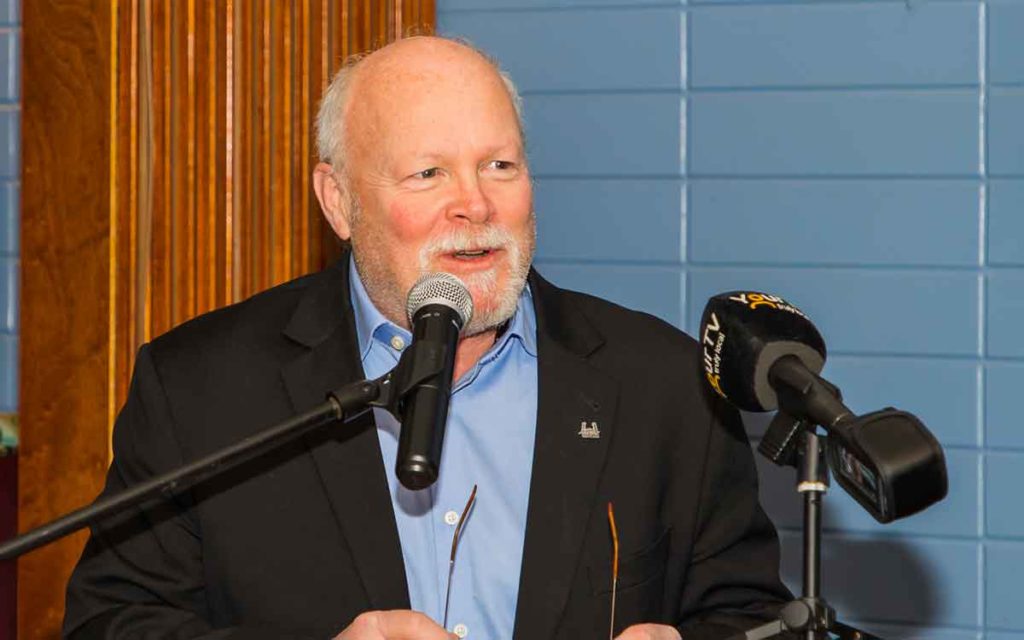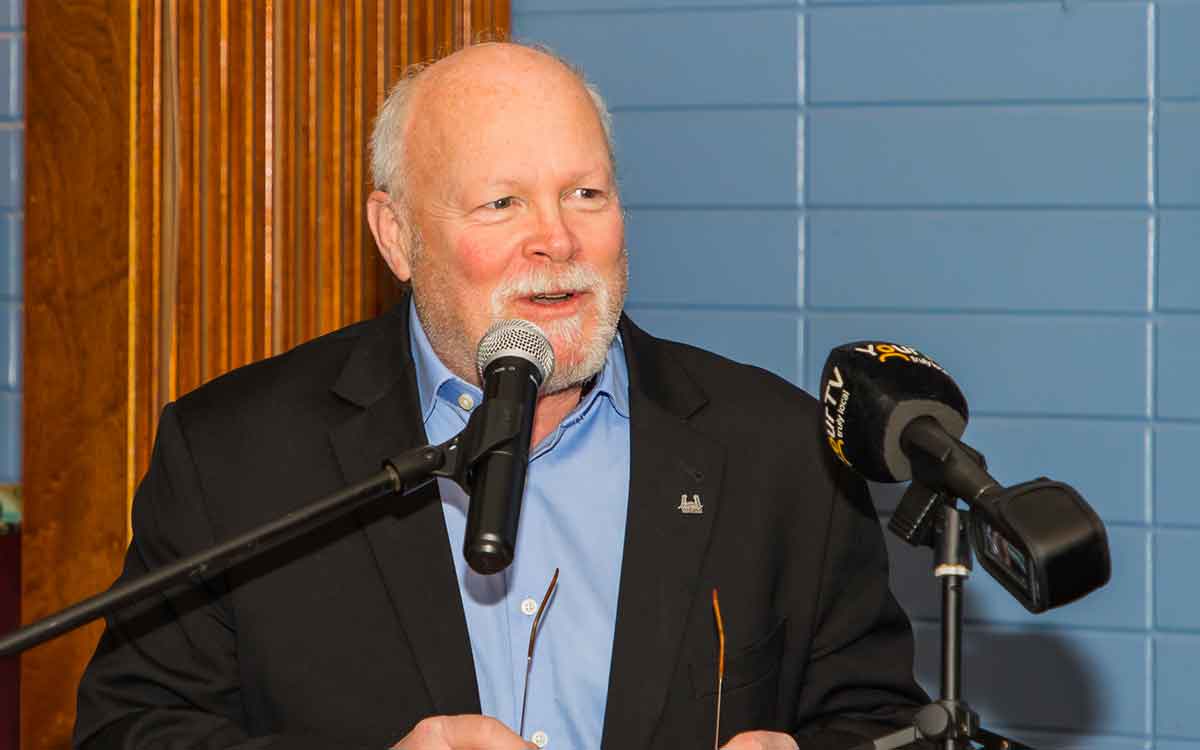 Welland Mayor Frank Campion. Photo: Anthony Gallaccio.
Contrary to some municipalities in Niagara, Welland's mayor, council and staff aren't afraid of the 'D'-word. Development in the Rose City set records in 2019 and there's no sign it will slow down in 2020.
Whether it's new home construction, redeveloping old industrial land or attracting new manufacturing businesses Welland has not shied away from growing it's one time stagnate, in fact declining, city. Mayor Frank Campion, who recently delivered his annual state of the city address, told The Niagara Independent that job growth and prosperity are keys to growing his community.
While Campion said there certainly needs to be a balance between the social needs of a municipality and economic initiatives, "More jobs means more money in the community which helps support social programs. You can't do one without the other," said the Mayor. He said more people living in Welland and more new businesses opening up means a larger tax base which results in lower property taxes for residents. Welland actually decreased their taxes this year which is in stark contrast to many other Niagara municipalities which saw sharp increases in taxes as well as a huge tax increase from the Region.
In other towns and cities across Niagara with left-leaning councils, "development" has become a dirty word and a "closed for business" reputation has emerged from those communities. Campion makes no apologies for going after new development. "We're very aggressive with our approach," he explained.
The approach to attract more development and new business started about five years ago when Campion and staff started having roundtables with developers. "I was told by staff that we were going to hear bad news. I told them we need to hear the good and the bad so we know what we need to improve." Not long after that the city launched a program to indentify surplus properties. "There was the low-hanging fruit that we could easily sell and then we looked at which lands we could repurpose and improve."
Campion is also a strong believer in the Community Improvement Program (CIP). He and his fellow Mayoral counterparts Jim Diodati in Niagara Falls and Wayne Redekop in Fort Erie, fought for the Region to keep it in the last budget saying that coupled with the municipal CIPs it leads to strong investments. "The CIP is a very important tool for us. It gives us an advantage over other cities in Ontario and also allows us to compete with U.S. cities," said Campion. He went on to reinforce the fact that despite ill-informed lobbying from those opposed to such a program, it doesn't actually cost tax payers money nor is the city handing over money to developers. "We're just setting back taxes for five or 10 years. After that we've created a significant new tax base and created jobs during the construction phase."
Chuck McShane of the Niagara Homebuilders Association said he and his members are very pleased with the approach Welland has taken to development. "The team in Welland really understands the value of good development that fits a community," said McShane. "The problems start when there's no dialogue between the development community and the municipality. Problems and delays just add costs." McShane said Welland is very honest and open in their communication.
Ed Lucchetta of Lucchetta Homes also had high praise for what the City of Welland is doing. "Their planning department is very efficient and forward thinking." Lucchetta said Welland has a lot of serviceable land that is costs effective. "There are a lot of great opportunities." He said that Welland's council is certainly more pro-development than some other Niagara municipal councils. "In Welland it's a win-win-win."
Campion, who has lived in Welland all his life, has seen the ups and downs of the local economy. "I've been through the cycle. We can't make it the same as it used to be in terms of one or two large plants that employ thousands. We need to have a diversified economy, that's where we are trying to go."
While creating more jobs and having more housing available are both great for the city, the mayor said the city is also focusing now on adding social aspects that are attractive for people relocating from other areas like Hamilton or Toronto. "We are also building that recreational infrastructure so we can create a lifestyle. We have events and concerts as well as the recreational and sporting activities," said Campion.
"We want jobs and development but we want people to live here too."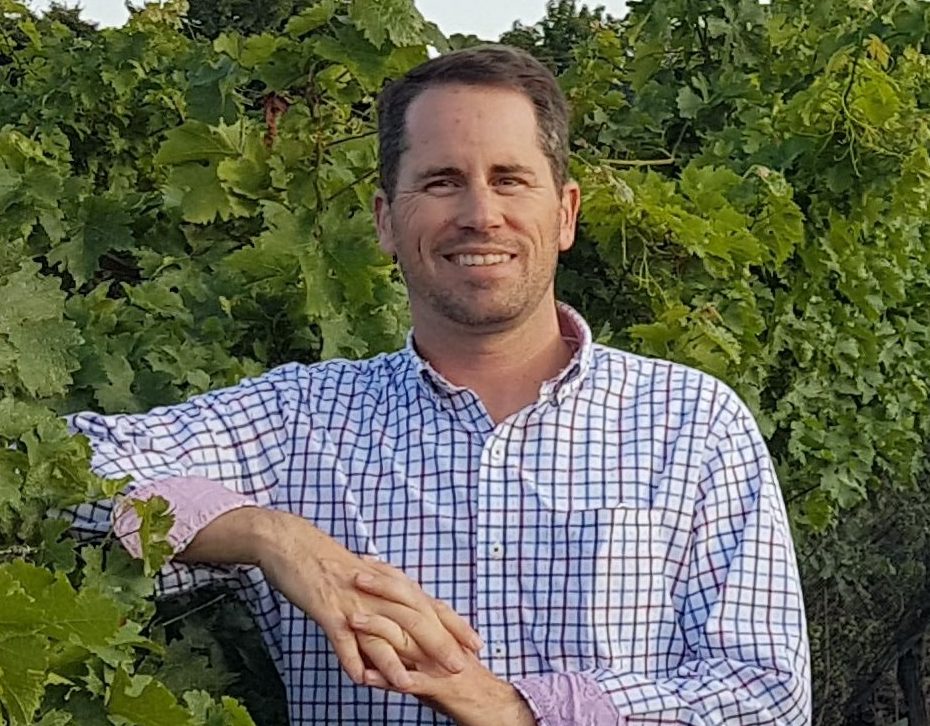 Kevin has spent over two decades as a public relations professional in a variety of sectors including professional sports, the arts, industry and healthcare.  After tiring of the daily commute to Toronto he returned to Niagara and launched The Niagara Independent, an online news source published twice weekly.
He is a graduate of Brock University, Niagara College and the Richard Ivey School of Business. He was named one of Niagara's 40 Under Forty in 2005.
Kevin is most proud of his twin daughters. He is also a triathlete and four-time Ironman finisher.