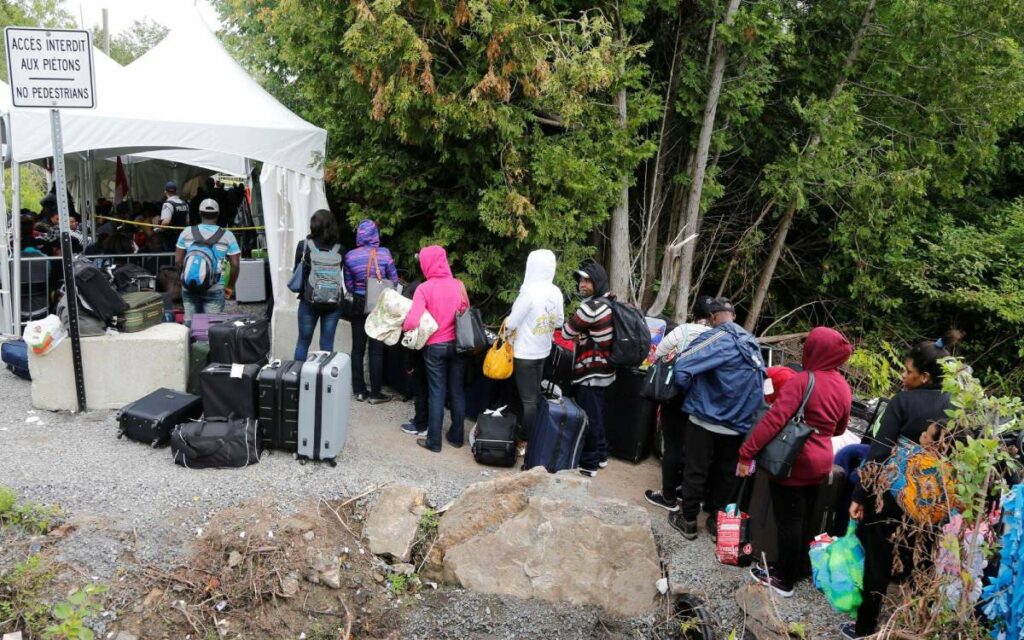 There's no question that more and more immigrants are entering Canada through varying streams and schemes, legal or not. The federal government has been transparent in communicating its desire to significantly increase the number of new people coming into the country. However, it hasn't been transparent in revealing what, exactly, that number really is. Pictured asylum seekers cross into Quebec from New York via the infamous Roxham Road. Photo credit: Reuters/Christinne Muschi
The number of people coming to Canadian soil is increasing each year. The federal government has been less than forthright on what is the total number. To come to a better understanding of "that number" and the implications for the country, let's unpack some recent government media reports and news articles relating to Canada's immigration.   
In November, the federal government announced that over the next three years it plans to bring in 1.45 million immigrants to Canada: 465,000 people in 2023, 485,000 in 2024, and 500,000 in 2025. This intake schedule is part of a government plan to have immigrants make up 30 per cent of Canada's population by 2036. These are the official figures provided; however, the actual number is much greater than that tally. 
It was recently revealed by Immigration, Refugees, and Citizenship Canada (IRCC) that the total number of new permanent residents that came to Canada in 2022 was in excess of 437,000. This is a record number of new people being welcomed into the country, surpassing the department's stated target for the year, and topping the previous annual high of 405,000 in 2021. The last time the country took in this number of immigrants relative to its population was in 1913, when the government was encouraging agrarian settlement on the prairies. 
Statistics Canada reports that from 2016-2021, Canada brought in 1.3 million immigrants. IRCC recorded 405,000 immigrants in 2021, 437,000 in 2022, and projects another 1.45 million over the next three years. These numbers are the official numbers the government cites, and most Canadians are led to believe that this is the total number of new Canadians who came/will come to the country. But, again, the actual number is much greater than this 3.6 million figure.
A recent CIBC report claims that in 2022 the estimated total number of new people who entered Canada was no less than 955,000 – double "the official" government number offered by IRCC. The financial institution used IRCC and Statistics Canada figures as well as in-house data to estimate that the permanent – and non-permanent residency – number is north of 700,000. Then add approximately 145,000 Ukrainians, more than 20,000 Afghans, and over 92,700 asylum seekers from Quebec's Roxham Road and through other gates of entry. The grand total is 955,000 for 2022. 
The CIBC report forecasts "the number of new international arrivals in 2023 could reach a million." Citing pressures this will place on housing and urban centres, it concludes the massive influx of new people will be "like a wrecking ball on the Canadian economy."
In an op-ed piece about the CIBC report written for the Epoch Times, news commentator Bill Tuffs makes this observation, "Selective information-sharing is skewing the reality—that is, the federal government has broken these arrivals into several categories to reduce the visible impact of the total migration into the country and help avoid blowback when the real costs become apparent."
There have been a few other recent news reports that offer a clearer picture of the government's management of immigration. For one, the IRCC department just reported that in 2022 the government processed approximately 5.2 million applications for permanent residence, temporary residence, and citizenship (which is double the amount processed in 2021). 
With this news, IRCC Minister Sean Fraser stated he is strengthening the country's immigration system by hiring 1,200 new government employees who will be processing 1.2 million "newcomers" in 2023.
A Globe and Mail investigative report recently revealed, in order to clear an application backlog, IRCC chose to waive certain eligibility requirements for roughly 450,000 visitor visas. Visitors were not assessed whether they had sufficient funds for their stay, or whether they were "genuine visitors" who would not claim asylum or require refugee resources.  
This week Canadians learned there was an unprecedented number of more than 39,000 asylum seekers who entered the country via Roxham Road (up from a previous high of 16,000 in 2019.) Quebec officials have stated the number is closer to 60,000. Depending on whose numbers one goes by, this rural road sees an estimated 100 to 165 migrants cross over into Canada illegally every day. 
Canadians also learned of the migration pipeline that is flowing from New York City. NY Mayor Eric Adams commented in a U.S. media interview that the city provides free bus tickets to migrants as well as counsel on how they can claim asylum in Canada. The city has had tens of thousands of migrants arriving via JFK airport or on busses from the southern States. One way it is coping has been the establishment of a "reticketing process" that puts migrants on busses to Plattsburgh, NY and then in taxis for the additional 30-minute ride to the Canada-U.S. border. 
The Quebec government this week needed to increase its funding to community groups supporting the asylum claimants. It announced $3.5 million in emergency short term funding for community groups to provide shelter, food and clothing to the recent surge of newcomers. 
The cost of the Roxham Road activity is untold. There have been only glimpses of the millions of dollars spent: from the RCMP buildings, to health care and social service support, to everything in between. For example, the Globe and Mail uncovered that in a 12-month period more than $94 million was spent by the federal government on hotels across Montreal area, in Ottawa and Niagara Falls. There is also the scandal involving Liberal Party donor Pierre Guay, who pocketed $28 million in leases and costs associated with the asylum seekers. 
The full cost of the government's current immigration plan is incalculable for Canadians. The increasing influx of new people puts immense pressures on social services, housing, and health care. They put a greater strain on the housing supply and rental markets. They add to the more than 3.2 million Canadians who are currently on healthcare waiting lists. In cities like Montreal, Toronto and Vancouver, where 90 per cent of newcomers live, they are draining the social services resources.   
In a thoughtful National Post op-ed entitled "Liberals bring in influx of immigrants without a plan to support them", Sabrina Maddeaux comments, "Immigration isn't inherently good for a country, or even for immigrants, in and of itself. Positive outcomes for all parties require careful planning and a sense of realism. Unfortunately, it appears the Liberals have neither… the Liberals are exacerbating resource scarcity and intensifying competition for fundamental goods and services. Historically, this never ends well. Eventually, people look for someone to blame for their declining quality of life, and that group tends to be newcomers."
Maddeaux concludes, "To be clear, such scarcity isn't the fault of immigrants. It's the fault of governments that either failed or didn't bother to properly plan to support their targets. Yet that will be of little consolation if Canadians' historically welcoming nature begins to take a turn."
A recent Leger opinion poll found that one in two Canadians (49 per cent) believe the government's immigration plans were too grand, and three in four (75 per cent) think 1.4 million immigrants in the next three years will place far too great a demand on housing and social services. (As an aside, just imagine if these surveyed Canadians realized the actual total number of newcomers.) 
It is time to be transparent about "that number," and begin an honest discussion about what it means for our country — for the sake of all concerned.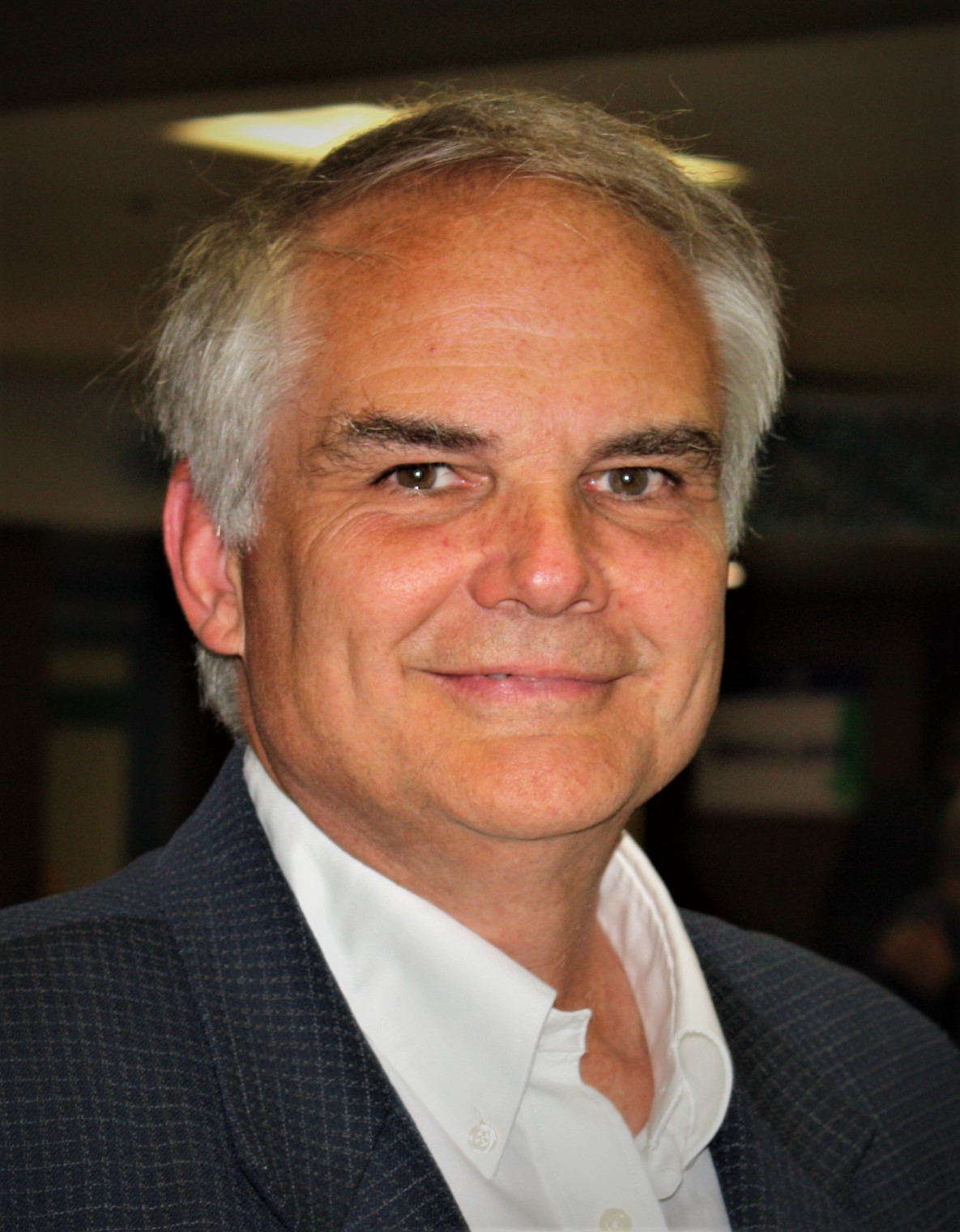 Chris George is an advocate, government relations advisor, and writer/copy editor. As president of a public relations firm established in 1994, Chris provides discreet counsel, tactical advice and management skills to CEOs/Presidents, Boards of Directors and senior executive teams in executing public and government relations campaigns and managing issues. Prior to this PR/GR career, Chris spent seven years on Parliament Hill on staffs of Cabinet Ministers and MPs. He has served in senior campaign positions for electoral and advocacy campaigns at every level of government. Today, Chris resides in Almonte, Ontario where he and his wife manage www.cgacommunications.com. Contact Chris at chrisg.george@gmail.com.