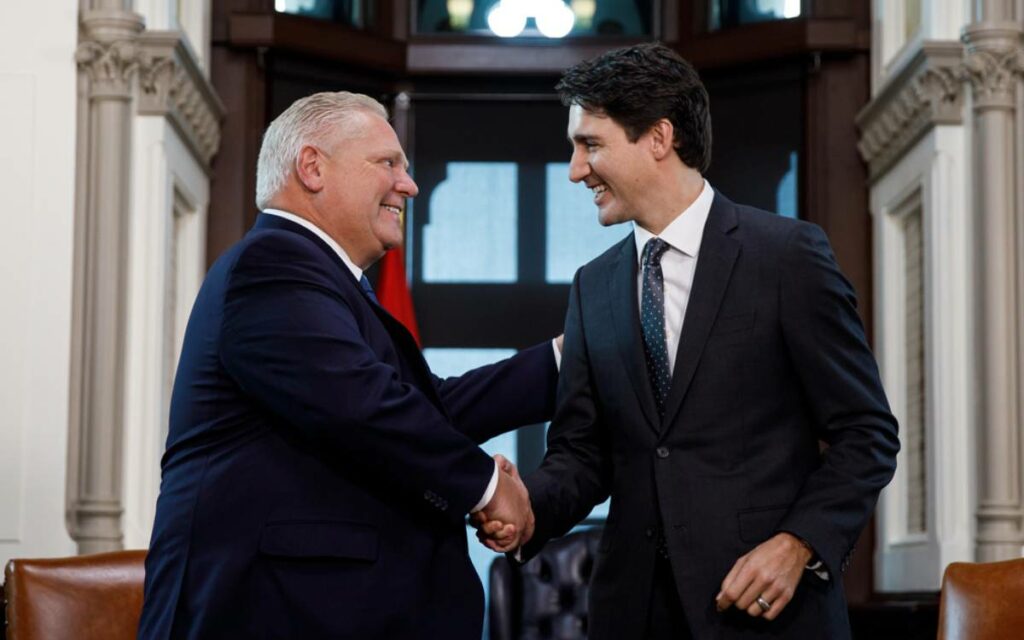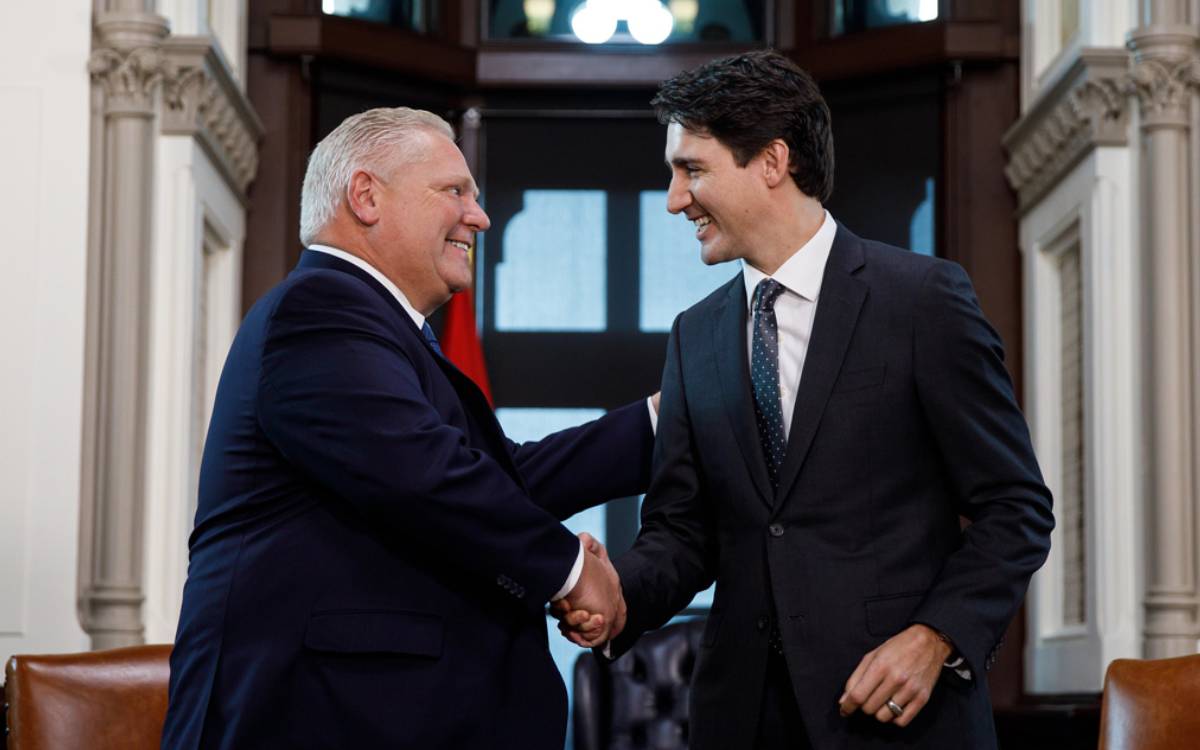 The relationship between Premier Doug Ford (left) and Prime Minister Justin Trudeau (right) has always been a bit of a sticky one, but the pandemic brought the provincial and federal leaders together to a certain extent. With a new majority mandate in hand for Ford and an aging Trudeau government, it is hard to gauge, however, if this more amicable relationship will continue. Photo credit: PMO/Adam Scotti
It is four more years of Doug Ford. Ontario voters sent a clear message last Thursday night that despite the flaws of the PC Party, a second mandate was in order. 
This time last year, a re-elected Ford government seemed like a midsummer night's dream, with a majority government out of the question. Since then, Ford and his team were able to turn the ship around, plug a few holes and make some popular decisions. It also helped that Ford's main opponents, Steven Del Duca and Andrea Horwath, were busy fighting with internal party issues and lacked any real sense of how to lead a party, let alone a province. 
While the results could be chalked up to a few factors, lower voter turnout or the election being a snooze-fest in general, the Ontario PCs are returning to Toronto with a stronger mandate than before and a lack of opposition from the NDP and Liberals. Expect the Ford government to be bullish in the coming years when implementing their promises. 
Many of those promises fly in the face of the federal Liberals and the progressive policies of Justin Trudeau. The relationship between Ford and Trudeau has always been a bit of a sticky one. Many of those behind Trudeau were also the ones behind Ford's predecessors, Kathleen Wynne and Dalton McGuinty. Ford spent his first years in office dismantling the many policies and programs that the team Trudeau folks of today spent years building, helping contribute to the bad blood between the two levels of government. 
This partially led to Ford being Trudeau's punching bag during the 2019 federal election. Instead of attacking then federal Conservative leader Andrew Scheer's record, Trudeau used the early days of the Ford government as a wedge to pry open a number of Ontario ridings. In the end, the Ford fixation worked and helped re-elect dozens of Liberals in Ontario as the party won 79 of 121 seats. But then COVID hit, and everything changed. 
Ford and Trudeau found they had a few things in common, like spending taxpayer's money. Ford even forged a surprising friendship with federal Finance Minister and Deputy Prime Minister Chrystia Freeland. Together Ford and the federal Liberals were able to deliver on a $10-a-day child-care program for Ontario families and provide historical levels of investment for Ontario's electric vehicle industry. 
With a new mandate in hand and an aging Trudeau government, it is hard to gauge if this relationship will continue. Many of Ford's investments into infrastructure projects, like Highway 413 and the Bradford Bypass, contradict the Liberal's dreams of reducing emissions and the number of cars on the road. Not to mention the future battles of healthcare funding, as Ontario looks to rebuild an overcrowded and under-funded hospital network. The relationship could get sticky quickly. 
Beyond the federal Liberals, the NDP, led by Jagmeet Singh, will be looking at the results with chagrin. On a personal level, Singh's younger brother lost re-election in Brampton and lost a riding that his older brother once represented a portion of before becoming federal leader. In a similar vein, this is a hit to Jagmeet's brand as he was trying to leverage it to help his brother in the dying days of the campaign. 
If you're a progressive voter or run a progressive party in Canada, the election results from Thursday were not ideal. The re-election of Doug Ford shows that voters in Ontario are not deeply entrenched in a single ideology. They are able to wake up one morning and vote for the Liberals, and then a few months later wake up and cast a vote for a populist Conservative leader. 
For those in Ottawa's backrooms, this means getting to work, showing the work you have done, and making a commitment to getting things done. To win in Canada's largest province you need to scrap the nice hair and sound bites and focus on delivering results that actually make a difference. Or face the fate of many losing leaders before and that includes their own job at the helm. 
Daniel Perry is a consultant with Summa Strategies Canada, one of the country's leading public affairs firms. During the most recent federal election, he was a regular panelist on CBC's Power and Politics and CTV Morning Ottawa.