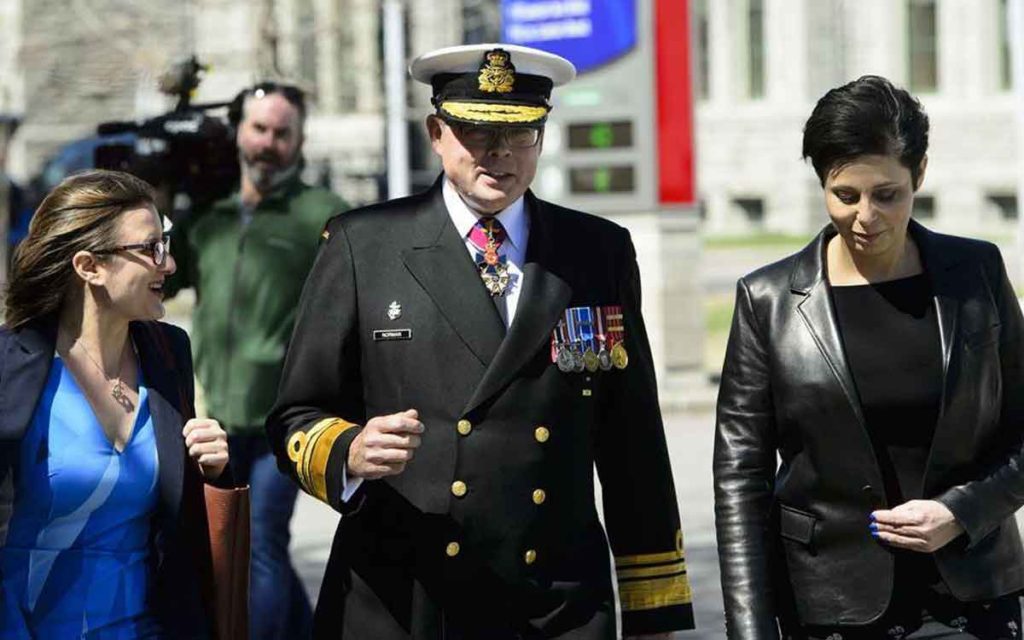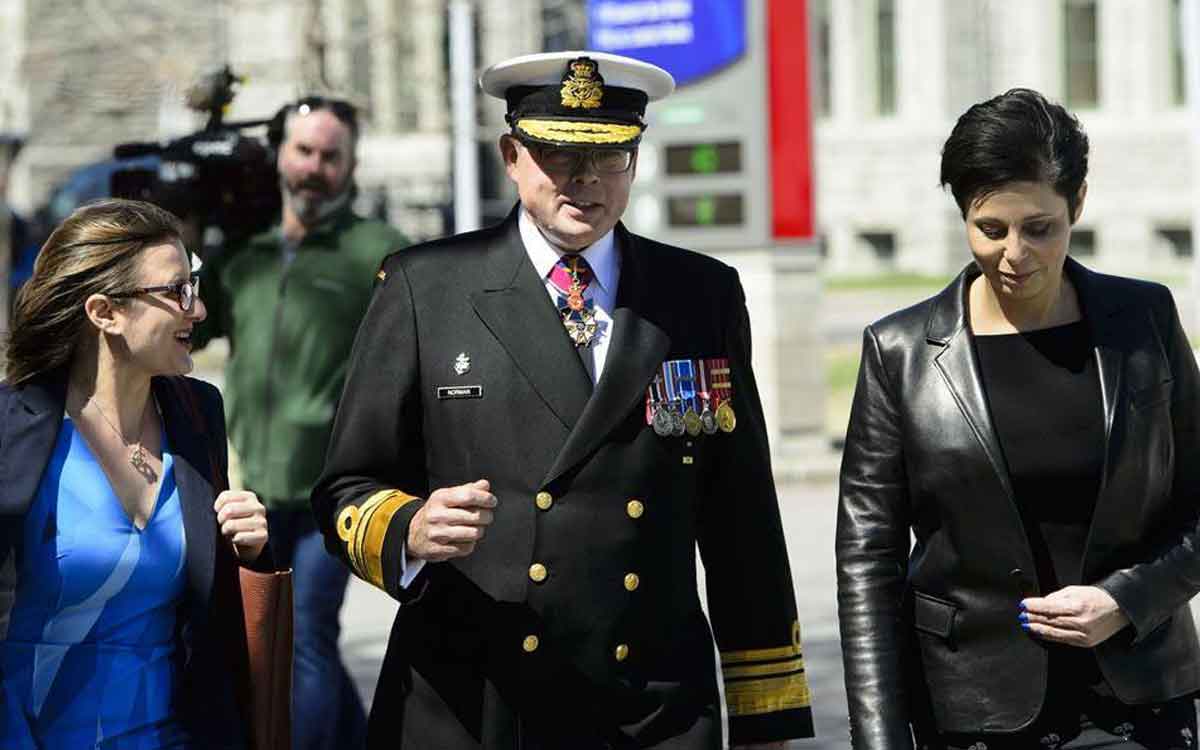 Vice-Admiral Mark Norman with his lawyers in Ottawa last week. THE CANADIAN PRESS/Sean Kilpatrick
Now what? For years Vice-Admiral Mark Norman was stuck in a legal quagmire that sullied his reputation, dishonouring his career and character. It appears that the same cast of political operatives who brought us the SNC-Lavalin scandal undermined our Canadian legal process. They consulted with Crown prosecutors and stonewalled Norman's defence lawyers. Then, at the eleventh hour, as the courtroom showdown was about to commence, the Crown prosecutors walked and the charges were stayed against the Vice-Admiral. So, what does this ordeal mean for Canada's (supposedly independent?) justice system?
"After Norman, we need to ask what's happening to our country" muses Jocelyn Bamford, Toronto-area business executive and founder of the Coalition of Concerned Manufacturers and Businesses of Canada. In an erudite commentary, Bamford says that the Norman case is a "most disturbing scandal" as Canadians are left with too many unanswered questions about the investigation, the prosecutors' tactics, and the PMO involvement. There are also intriguing questions about Liberal MP Andrew Leslie, a former military officer who recently announced he would not run again – and then that he would testify in defence of Norman. Bamford's core questions surround the Prime Minister, recently retired Minister Scott Brison and a number of PM Trudeau's senior most PMO advisors (including former Chief Gerald Butts who resigned over the SNC Lavlin scandal). Bamford exclaims, "Is it just me, or does the whole thing suggest to others that we are becoming something of a banana republic?"
Marie Henein, the lead defence lawyer for Vice-Admiral Mark Norman was highly critical of the legal proceedings, suggesting she had one hand tied behind her back by the Prime Minister's Office and the Privy Council Office while attempting to prepare her client's defence case. Henein observed: "You should be very concerned when anyone tries to erode the resilience of the justice system or demonstrates a failure to understand why it is so fundamental to the democratic values we hold so dear. There are times you agree with what happens in a court room there are times you don't. And that's fine. But what you don't do is you don't put your finger and try to weigh in on the scales of justice. That is not what should be happening."
"Politics are supposed to stay out of the prosecutorial process," Henein empathetically stated to media after the announcement the charges were stayed. She adds, "The justice system officials [must] resist any sort of political interference … It's a value very much worth fighting for."
MP Pierre Poilievre, the Conservative lead critic on this Government scandal, frames the issue this way: "As the truth comes out about the government's persecution of Vice-Admiral Mark Norman, a chilling suspicion emerges with it: Justin Trudeau used the legal system to punish somebody he considered a political 'enemy'… To deliberately suppress evidence that would clear Norman was vicious. It is also prima facie evidence of political interference: The light it shines upon the character of the prime minister, his staff and key officials should concern us all."
Perhaps the most toxic assessment of the Norman scandal came from Liberal backroom strategist Warren Kinsella, who stated: "As in the LavScam case, criminal prosecutions must always be independent of politics. If the likes of Trudeau can use the criminal justice system to reward friends (like SNC-Lavalin) and punish enemies (like Norman), we will have fully become a totalitarian regime. We are no longer a true democracy…. After LavScam — and after the attempted show trial of Norman — we can now be left with only one conclusion:  This is the most corrupt federal government in Canada's history."
Two sidebars regarding the Vice-Admiral Mark Norman's ordeal. First, PM Trudeau has refused to apologize. In House of Commons drama this week, the PM was asked repeatedly to apologise – and did not, instead farcically blaming Stephen Harper for the scandal. When a motion was moved in the House to "express regret for the personal and professional hardships" and to "apologize to him [Norman] and his family for what they experienced", the PM slipped out the back door and was not counted with MPs in a unanimously show of respect for the Vice Admiral.
The second point is more serious. There is a significant difference between a charge being "stayed," as in Norman's case, and a charge being "withdrawn." Had the Crown withdrawn its charges, it would have meant total exoneration. However, "staying the charges" indicates the Crown did not proceed at this time because it believed it did not have sufficient evidence and/or ability to win the court case. By staying the charge, the Crown retains the right for a year to decide whether to resurrect its prosecution. The Vice-Admiral's legal headaches with the Government may not be over.
The SNC-Lavalin and Norman scandals raise serious concerns about this Government's respect for the rule of law and a person's expectation for fair treatment in our Canadian legal system. Most disturbing is the fact that the Government (from the PM and PMO staff through to ministers, MPs, Crown prosecutors and senior government mandarins) is refusing to explain, justify or otherwise account for what has happened.
In this past week Mark Norman mentioned he will eventually tell the whole story. Yet, Canadians will not hear the details from Norman for years given the cloud that remains over his head with his stayed charges and the PM's refusal to apologise. It is a story, however, Canadians need to hear — so that we might better understand and appreciate how precious a politically independent judicial system is to our country and its citizens.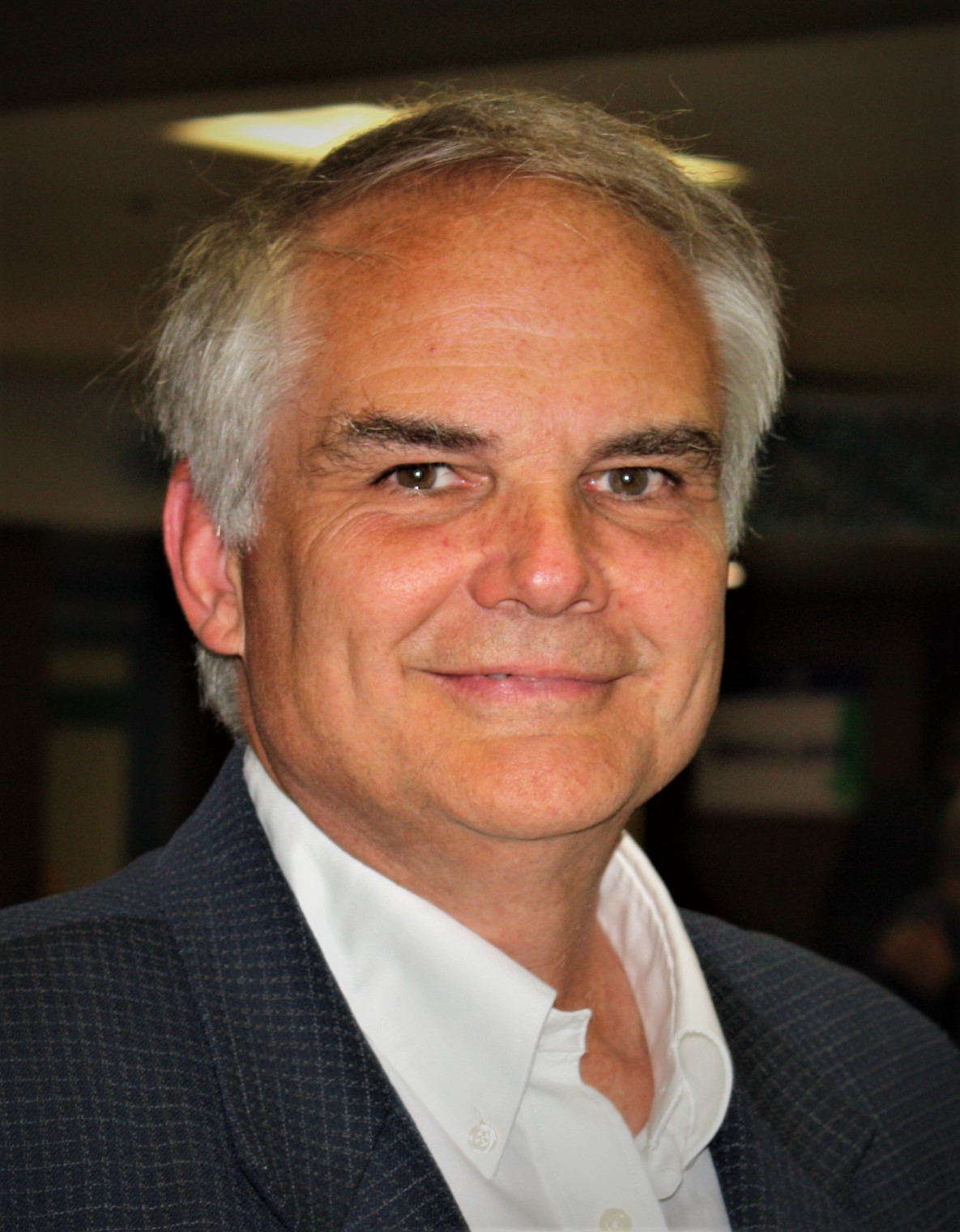 Chris George is an advocate, government relations advisor, and writer/copy editor. As president of a public relations firm established in 1994, Chris provides discreet counsel, tactical advice and management skills to CEOs/Presidents, Boards of Directors and senior executive teams in executing public and government relations campaigns and managing issues. Prior to this PR/GR career, Chris spent seven years on Parliament Hill on staffs of Cabinet Ministers and MPs. He has served in senior campaign positions for electoral and advocacy campaigns at every level of government. Today, Chris resides in Almonte, Ontario where he and his wife manage www.cgacommunications.com. Contact Chris at chrisg.george@gmail.com.