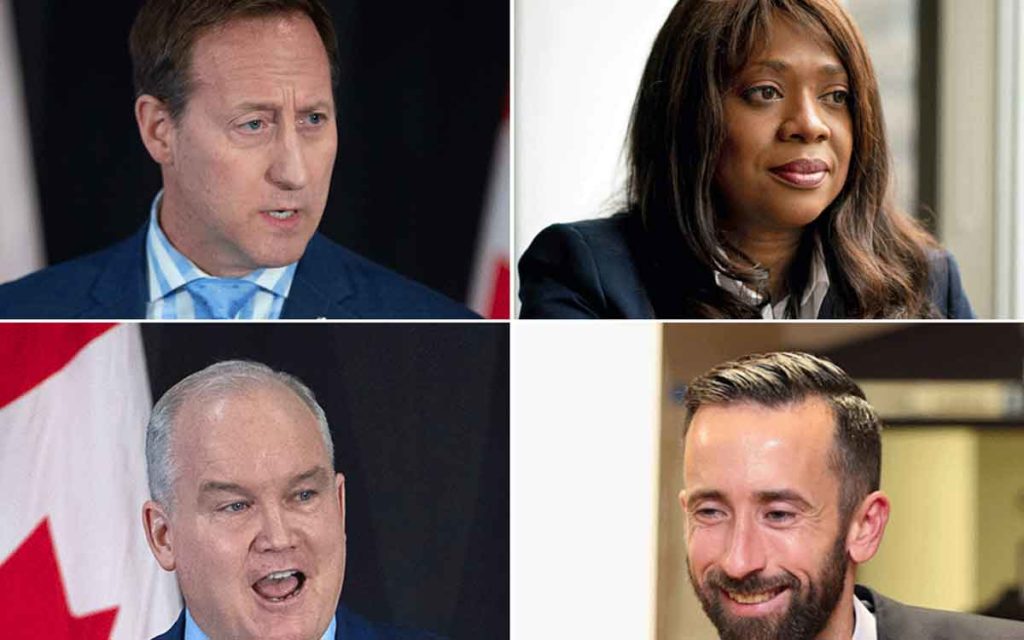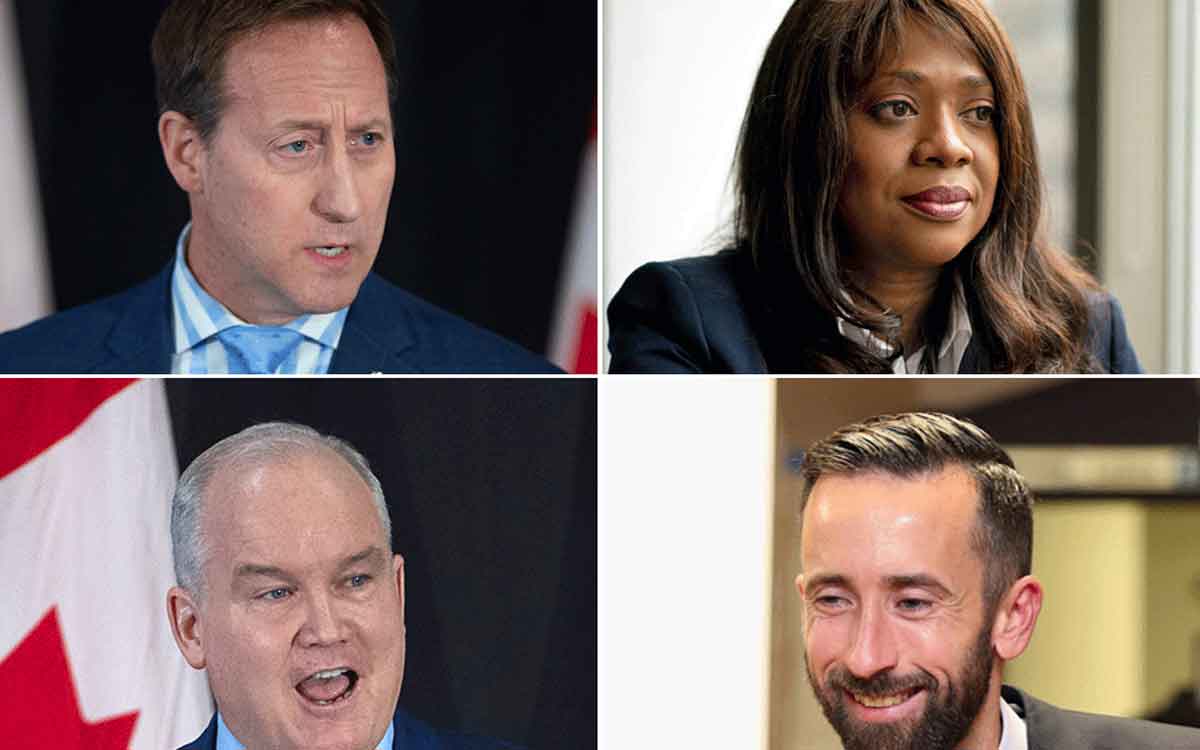 The final four Conservative Party leadership candidates: Peter MacKay, Leslyn Lewis, Erin O'Toole and Derek Sloan.
Trying to generate attention or interest as an opposition party is a tall order at the best of times. Throw in a global pandemic, recession, international protests against racism and a Presidential election, and that becomes even more daunting.
As the country starts to return to (some) type of normal and the summer sets in, it's likely that even avid political watchers will be tuning out of the happenings on Parliament Hill. That makes this week's Conservative Leadership Debate all the more important, as it is one of the final opportunities for those Party members still deciding who to vote for to tune in.
The debates – French on Wednesday and English on Thursday – are also the sole opportunity to see the four remaining contenders debate head-to-head (from physically-distanced rooms at the same event venue) after COVID scuttled other opportunities for candidates to face off. With two months left to go before the big vote, Peter MacKay, Erin O'Toole, Leslyn Lewis and Derek Sloan will be answering pre-screened questions submitted by party members via a livestream on the Party's website.
If you're one of the (many) who has been more tuned out than in, here's a primer on what you can expect to see this week:
Two debates for two contests. While they all share the same stage, there's two races happening in the leadership contest: the race for first, and the race for kingmaker. MacKay and O'Toole are consensus frontrunners, who've largely set their attacks on one another – something we can expect to see more of this week. Meanwhile, Lewis and Sloan are fighting for a smaller, but important pool of votes amongst the Party's social conservatives. These two may play an oversized role in determining the winner of the race; once Sloan or Lewis drop from the ballot, their supporters' second choice will add to the vote total of MacKay or O'Toole, potentially pushing them over the top should neither secure victory on the first ballot.
Positioning as Party Leader vs. Prime Minister. Job number one in the leadership is to win the support of Conservative Party members. Preaching to the converted involves leaning further to the right with policies and ideas, and positioning as more conservative than your competitors – a narrative that we have seen play out quite a bit during this race. At the same time, many Party members will be thinking about electability when casting their ballot, as the Liberals enjoy a healthy lead over the Conservatives according to most public opinion polls. With a vulnerable minority Parliament and an election looming perhaps a year (or less away), who positions as ready to beat Trudeau, not just their colleagues, may be a bigger factor for Party members than it has been in previous leadership races. An indication of how secure candidates are feeling at this point in the race will be in how focused they are on attacking Trudeau, rather than others on the (virtual) stage.
Tackling the Carbon Tax. After the election loss last year, some pointed to the Conservative's play-it-safe environmental plan as one reason why the Tories failed to secure support from swing voters. While most candidates have talked about the importance of Canada's resource economy and getting oil to domestic and foreign markets, less time has been spent on a green plan for the blue team. Though candidates are aligned in not supporting a federal carbon tax for consumers, there appears to be debate over how to handle major industrial emitters, as well as provincial autonomy in declaring their own carbon taxes. Expect to see O'Toole take flack over the carbon tax from MacKay, who has claimed O'Toole has left the door open for a tax in the platform his team unveiled last week.
Canada Post-COVID. How Canada has handled the COVID-crisis, and how various candidates would approach Canada's economic recovery once the immediate crisis subsides will be front and centre of the debate. All candidates have been outspoken about the government's relationship with China, and the influence China has had over bodies such as the World Health Organization. How Canada ought to balance its reliance on China for PPE and significant trading relationship with its frosty diplomatic relationship, detainment of Canadian citizens and pending decisions on Huawei are likely to feature prominently in the exchange this week.
Rosetta Stone skills put to the test. Very few Conservatives will tell you there's a path to victory for the Tories that doesn't run through Quebec. None of the candidates are native french speakers, and two of the candidates have extremely limited capacity in the language of love, which may make for a quite painful French debate. With 78 ridings up for grabs, out-performing the competition in both speaking French, and putting ideas on the table that are tailored to Quebec is likely to have a significant impact on the outcome of the race. That said, whoever the next leader is will need to keep up with the tutoring to go toe to toe with Trudeau (and the Bloc Quebecois) if there's a hope of resonating in la belle provence.
No audience, fanfare or pre-event rallies will likely have the leadership matchup feeling more like a moderated Zoom panel than a true-blue debate.  And while it's an occasion to gather (online) for the party faithful, the real work will be when the new leader takes the reigns in August, as they look to bring the Conservative Party back to its fighting weight ahead of the next election.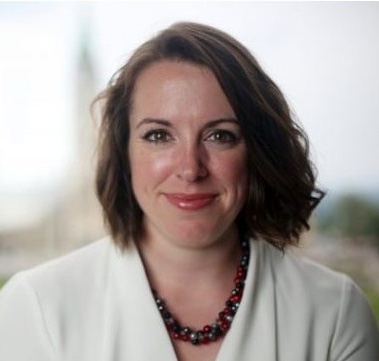 Kate Harrison is the Vice-Chair of Summa Strategies Canada, one of the country's leading public affairs firms. She is a regular political commentator on CTV, CBC, Sirius XM, and other talk radio stations, as well as a contributor to various news outlets. She has been involved in conservative politics for over fifteen years, and an active member of the country's conservative movement.