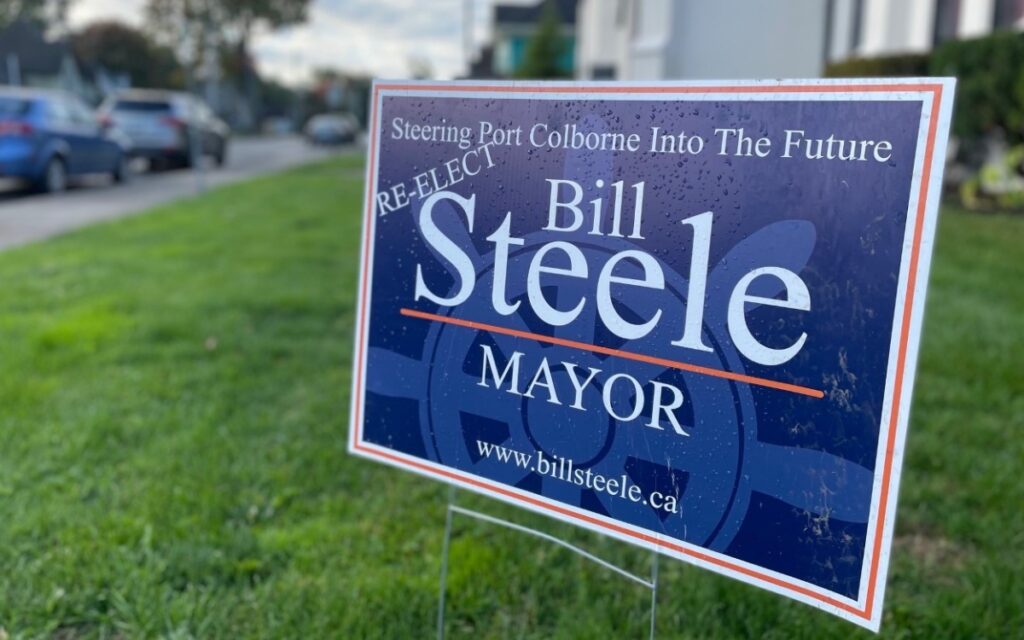 Are the two Steeles running for Port Colborne mayor related? Yes. Is the Tony Baldinelli running for city council the same Tony Baldinelli who currently serves as MP for Niagara Falls? No. Confused yet? So are we. 
Niagara area voters can be forgiven this municipal election if they are a little confused by some of the names they see on lawn signs and will see on the ballot come October 24.  
Here is a smattering of some interesting and often confusing names from this year's various municipal contests. 
Port Colborne – Steele vs. Steele for mayor
Port Colborne incumbent Mayor Bill Steele thought that he might get a second term of office in the canal-side city unopposed. That was until he saw his own name staring back at him when registrations closed. 
Mayor Bill Steele is forced to run against his own brother, Charles Steele.  Voters will have to pay particular attention when marking their ballots in this one.
Niagara Falls – When is Tony Baldinelli not Tony Baldinelli?
Most local readers and especially Niagara Falls voters are very familiar with two-time MP Tony Baldinelli. He was recently re-elected in the 2021 federal election by a wider margin than 2019.  He led the charge in Niagara and across the country to get the Trudeau government to back down on their ArriveCan app which was keeping international tourists away.
But in the municipal race in Niagara Falls voters are confused by the blue and white signs of Tony Baldinelli running for a city council seat. Is the MP Tony quitting federal politics? Not at all.
Seems the MP has a cousin rather uncreatively named Tony Baldinelli, a public works employee at Niagara Region, who apparently isn't shy about using his MP cousin's notoriety to help him get elected to a city council seat. 
Tony Baldinelli the city council candidate has no website with pictures nor a 2022 Facebook page. But if voters search, they will find a 2018 page with his own picture on it. He lists 'listening to campaign speeches and debates' as his political experience.  
Familiar provincial candidate names running municipally
Multiple provincial candidates from the 2022 provincial election have their names on municipal ballots – and they are indeed the same people who ran in 2022. Recent provincial PC candidate in St. Catharines Sal Sorrento is running for a regional council seat in St. Catharines, Niagara Centre provincial PC candidate Fred Davies is acclaimed in Port Colborne as their next regional councillor, and Niagara Falls provincial PC candidate Bob Gale is seeking his third term on regional council. Gale is joined in this regard in Niagara Falls by former Liberal MPP Kim Craitor who is also seeking a regional council seat.
In addition, St. Catharines PPC candidate Rebecca Hahn is seeking a St. Catharines city council seat and Niagara Falls PPC candidate Peter Taras is challenging Wayne Redekop for the mayor's chair in Fort Erie.
Other notable names
Emilio Raimondo is running for the second time for a city council seat in St. Catharines.  Raimondo just missed in the 2018 race in the same ward. He has a well-known and highly regarded architect cousin of the exact same name in Niagara Falls.
Spencer Bellows-DeWolfe is indeed the son of recently deceased regional councillor and Niagara Park Commission Chair, Sandie Bellows.  Spencer is seeking a seat on St. Catharines city council.
Kevin Maves, former DSBN Board Chair and an elected member of that board many times, is not to be confused with his cousin Bart Maves, PC MPP 1995-2003 and a regional councillor 2010-2018. Both Maves' shared an uncle, Bart (Wayne) Maves, who was a two-time Niagara Falls city councillor.
Wellanders are used to having multiple Chiocchios on their ballot and this year is no exception.  Incumbent city councillor John is on the ballot again for the same office, while his cousin Pat is up for re-election to regional council.
Finally, let's play some Dartes. Former Niagara-on-the-Lake Mayor Pat Darte, brother to former St. Catharines regional councillor George Darte, is back on the ballot, this time running for NOTL's seat on regional council.
If you find others we have missed, let us know!