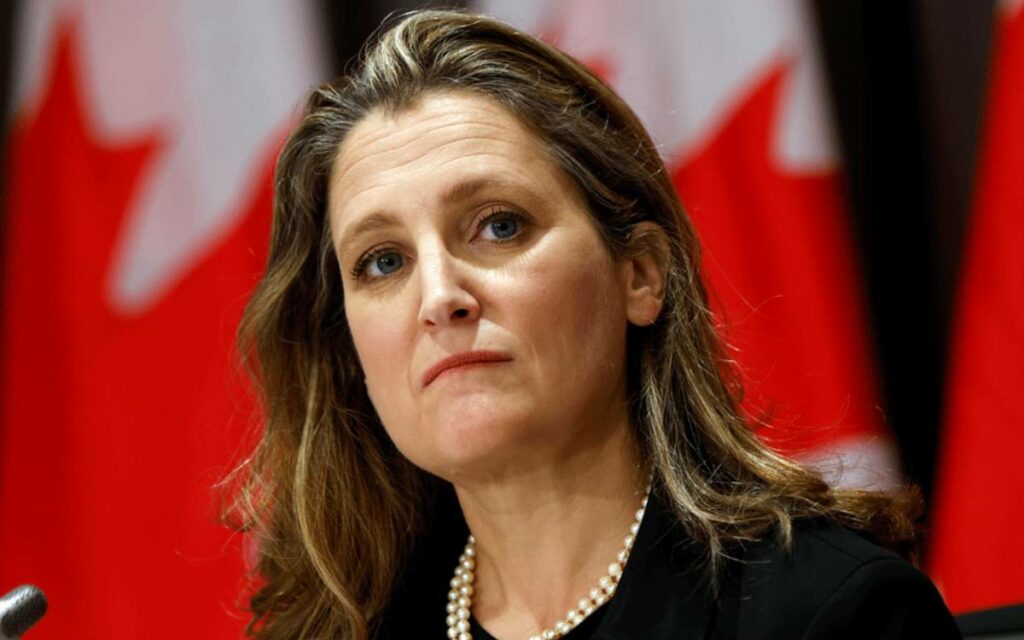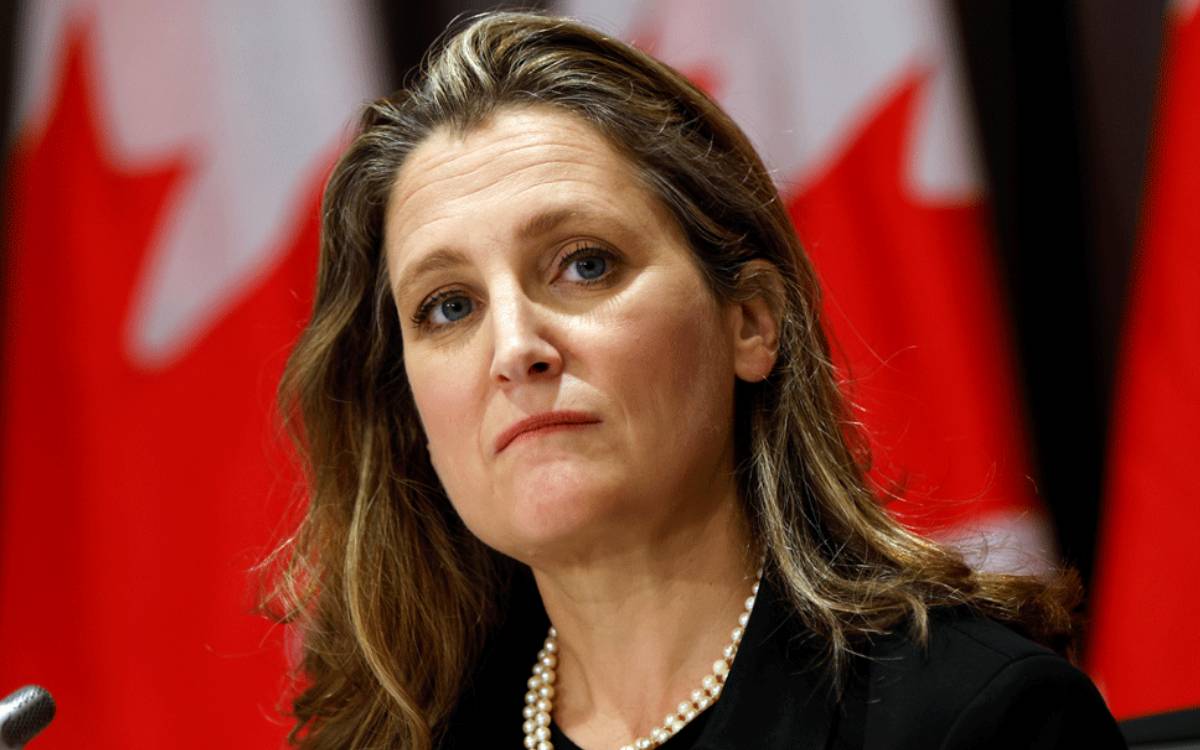 Minister Chrystia Freeland.
In Ottawa she is referred to as the "Minister of Everything." As Deputy PM, Chrystia Freeland is at the very centre of all policy decisions in the Trudeau Government. She is responsible for Canada's fiscal policies and its economic recovery from the pandemic. As Canada's Finance Minister she is scheduled to deliver a federal budget in the coming weeks.
Chrystia Freeland also happens to hold stewardship responsibilities at the World Economic Forum (WEF). For the past three years, she has sat as a trustee on its Board. She was placed on the Board by celebrated globalist Klaus Schwab, who is principal architect of The Great Reset. As an executive member of the WEF now, Freeland is committed to advancing its global agenda and she works closely with Schwab.
Freeland's multiple responsibilities to multiple agendas have raised questions about potential divided loyalties. What should Canadians expect from this "Minister of Everything?"
To get a sense of what motivates the woman, one must glance back at Freeland's path to Ottawa and the friends she made along the way. Freeland is a journalist by profession. The 53 year old started her journalism career as a stringer in Ukraine for the Washington Post and Financial Times. She assumed greater responsibilities through successive editorial positions with UK News, the Globe and Mail, Reuters and eventually with Thomson Reuters Digital in New York.
In that time covering international financial news, Freeland wrote two books – the second of which gained her some recognition. Plutocrats: The Rise of the New Global Super Rich and the Fall of Everyone Else. The book presented Freeland's thesis that globalization has created a class of uber-wealthy people, which she describes as "a nation unto themselves." Freeland observed, "The big danger, though, is … as the people at the very top become ever richer, they have an even greater ability to tilt the rules of the game in their favour."
On the surface the book provides a critical look at the uber-wealthy sect, yet Freeland endeared herself to a few key members of this exclusive circle with her description of "good, technocratic friendly plutocrats." She lauded the agenda of a New World Order and the visionary merits of "good oligarchs" such as Bill Gates, Warren Buffet, and George Soros. It is from this writing experience that Soros and Freeland become close friends – even to the extent that she was commissioned to write the multi billionaire's biography.
The Freeland / Soros connection cannot be overstated as today she is a known personality among the Davos elite. The connection likely played a part with WEF Founder Klaus Schwab personally sponsoring Freeland to the Board of Trustees. As a trustee, Freeland is part of a small group of financiers and billionaires who oversee a 700-person bureaucracy mandated to coordinate a global response to economic, environmental, social and technological challenges.
With this as background, now fast-forward to January 2021 when the WEF held virtual Davos Meetings that featured discussions on The Great Reset and a new document Davos Manifesto, authored by Klaus Schwab. In short, these meetings presented Schwab's plan to take advantage of the economic disruption caused by the coronavirus and to redesign capitalism. Schwab writes in the Davos Manifesto, "We should seize this moment to ensure that stakeholder capitalism remains the new dominant model."
Introduced as Canada's Deputy Prime Minister and Finance Minister, Freeland attended these WEF meetings to take part in public and private meetings, and to participate as a panelist in the discussion "Implementing Stakeholder Capitalism." The obvious question arises: which hat(s) was Freeland wearing — lead minister in the Canadian Government or board trustee of the WEF, or both?
Though the potential for divided loyalties and compromising policy positions is clearly evident, not one media reporter or political commentator in Canada would raise this issue — that is but for Rupa Subramanya. In her February 2nd National Post column, Subramanya wrote of the WEF meetings and The Great Reset, "There's no need to invent conspiracy theories. The attempt by global elites to subvert local democracy is fully on and in plain view."
To her full credit, Subramanya honed in on the fundamental concern about Chrystia Freeland's multiple interests with the WEF, "These board memberships are far from symbolic. According to the WEF, the board of trustees "act as guardians of its mission and values" and are its "highest-level governance body"…  What would happen if acting as a "guardian" for the WEF came into conflict with acting as a guardian for Canada's public finances, which is Freeland's day job?"
Subramanya tweeted even more pointed observations: "From being a critic of plutocrats to being on the board of trustees of their favourite stomping board, Chrystia Freeland's strong ties to WEF raises legit questions about how their agenda could conflict with her day job as Canada's FM and Deputy PM." And she concluded in another tweet, "The optics are beyond bad and should concern Canadians… Chrystia Freeland's side gig with the WEF is endangering Canadian democracy."
So, there are numerous ethical questions. Has Canada's Deputy PM and Finance Minister declared her WEF interests and had them cleared by Parliament's Ethics Commissioner? Does Freeland receive WEF Trustee fees, expenses, or other benefits from the WEF? Does Freeland publicly declare what official positon she represents when appearing in a meeting where there could be a conflict of interest – such as at the WEF Davos Meetings or policy meetings with foreign politicians? Does Freeland recuse herself from Cabinet discussions when it is deliberating on matters pertaining to the policy objections of the WEF?
There are also practical questions around Freeland as Finance Minister managing the country's fiscal policy and its economic recovery plans. Freeland will deliver the highest deficit in the G-20 and announce spending plans that will top an astounding trillion dollars of Canadians' money. The federal government issued 100,000,000 government cheques to individuals in the last 10 months and it continues to hint at an uncosted guaranteed income for Canadians. Both Freeland and the Prime Minister have said they see the pandemic as "an opportunity" to build back better with a green agenda – and Canadians can expect both carbon tax hikes and billions of dollars of subsidies in new green programs. Is this all in Canadians' best interests or is it part of the WEF's plan to redesign capitalism and reset our economy?
With the upcoming federal budget, will Freeland stand in the House of Commons to deliver a WEF or a Canadian document? This is a reasonable question for Canadians to ask when you are "Minister of Everything."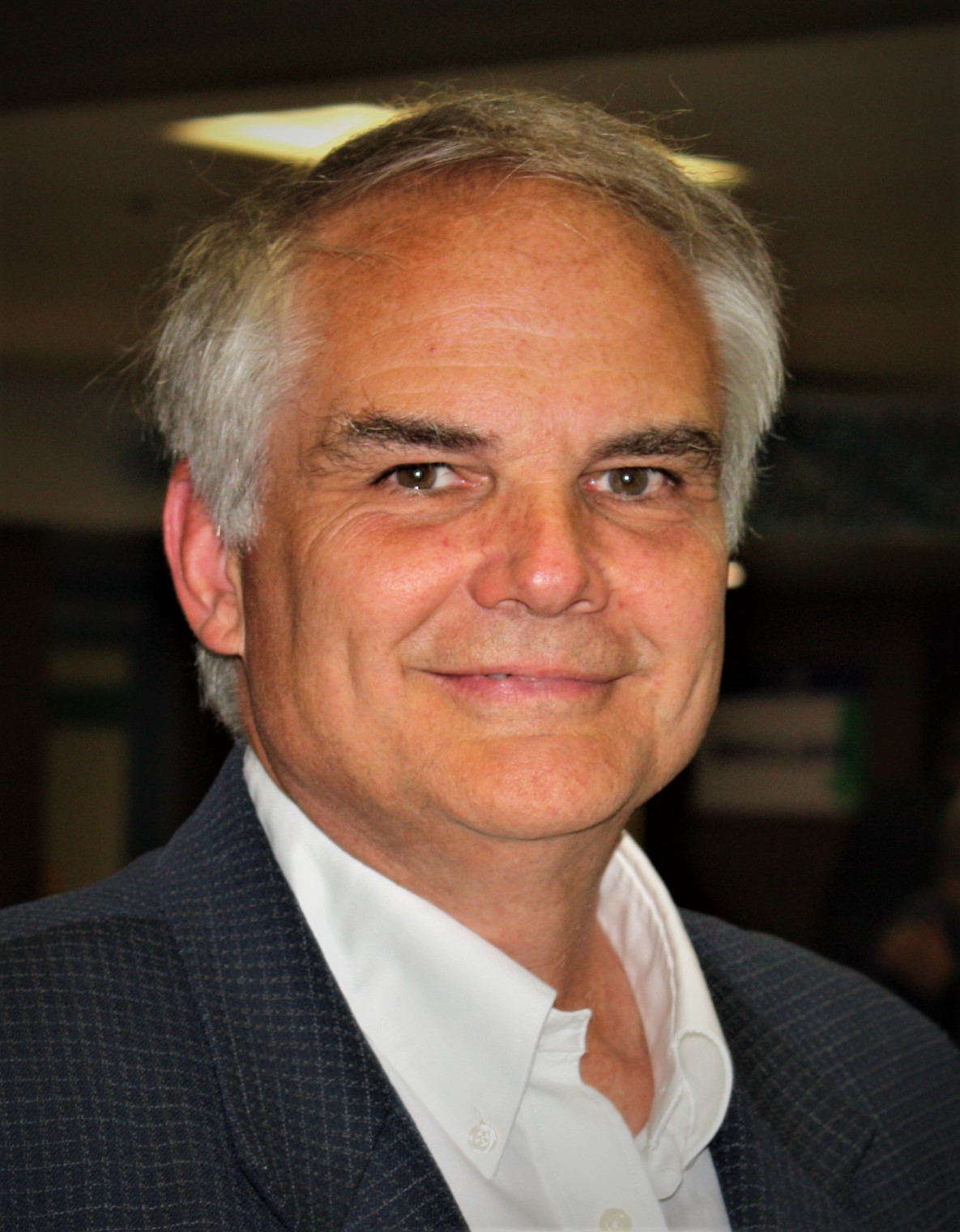 Chris George is an advocate, government relations advisor, and writer/copy editor. As president of a public relations firm established in 1994, Chris provides discreet counsel, tactical advice and management skills to CEOs/Presidents, Boards of Directors and senior executive teams in executing public and government relations campaigns and managing issues. Prior to this PR/GR career, Chris spent seven years on Parliament Hill on staffs of Cabinet Ministers and MPs. He has served in senior campaign positions for electoral and advocacy campaigns at every level of government. Today, Chris resides in Almonte, Ontario where he and his wife manage www.cgacommunications.com. Contact Chris at chrisg.george@gmail.com.