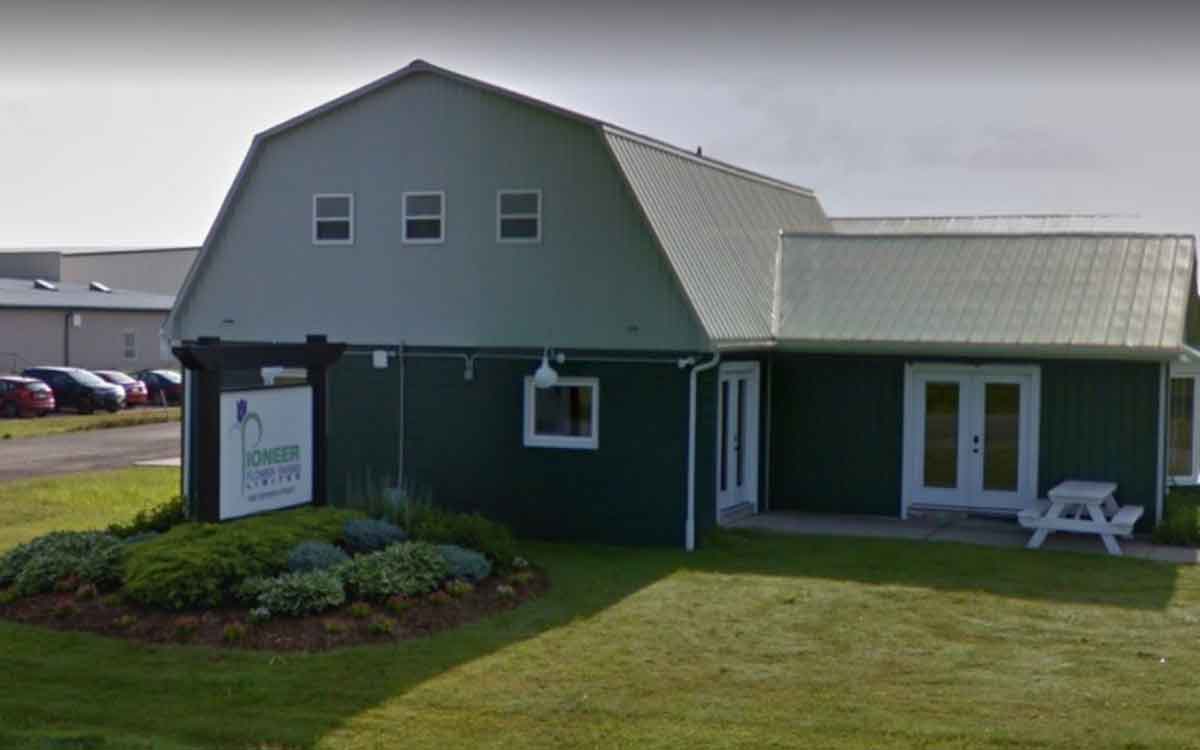 Pioneer Flower Farms in St. Catharines had 20 employees test positive for COVID-19. Photo: Google Maps.
While Niagara and the rest of Ontario look to return to normal, signs that the general public must continue to deal with the effects of COVID-19 remain apparent.
On Monday, Niagara Region's Public Health department confirmed a COVID-19 workplace outbreak at Pioneer Flower Farms in St. Catharines.  20 employees are confirmed to have the novel coronavirus and like other outbreaks discovered in Niagara, the Public Health department is facilitating testing of other employees who have symptoms or are at increased risk. It is unknown where the original employee was infected. The greenhouse was devastated back in August 2019 by a fire that ripped through the facility.
Public Health has determined that there is no increased risk to customers at Pioneer Farms.  The local farm has since increased its cleaning and disinfection routines and is closely monitoring its team for signs of infection for quick follow up by Public Health.
Public Health is reminding Niagara residents that they should continue with social distancing protocols such as avoiding non-essential trips into the community and maintaining at least two metres apart.  Regular disinfecting of high touch surfaces and washing of hands continues to be recommended.
Also on Monday, Niagara Region has resumed curbside pickup for large items.  The number of pickups permitted has been capped to manage existing backlogs in service demand and the Niagara Region is directing residents to use the online form found on its website to book a large item pickup.  The Niagara Region is eying July for having the full curbside large item pickup program to be reopened without restriction
As Niagara's businesses begin to reopen, Niagara's Economic Rapid Response Team has recently completed its second survey of Niagara businesses and the economic impact of COVID-19.  The results have yet to be published.  Niagara's first survey, released in late March, outlined the potential for $1.4 billion in lost economic activity in Niagara should the virus not be resolved within a 12-month period.
Niagara Health has reinstated parking fees at all hospital sites for members of the public, staff and physicians.  Temporary free parking began on April 1 as part of Niagara's Health's COVID-19 response.  Niagara Health is reminding patients entering their sites to clean their hands upon entrance and throughout their stay, including before and after using parking kiosks.
As of Monday, Niagara saw an additional 23 new confirmed COVID-19 cases bringing the total number of Niagara cases to 666 with 59 resulting in death.  Province wide, Ontario saw an additional 404 cases and 10 new deaths bringing the total confirmed cases to 28,263 and total deaths to 2,276.