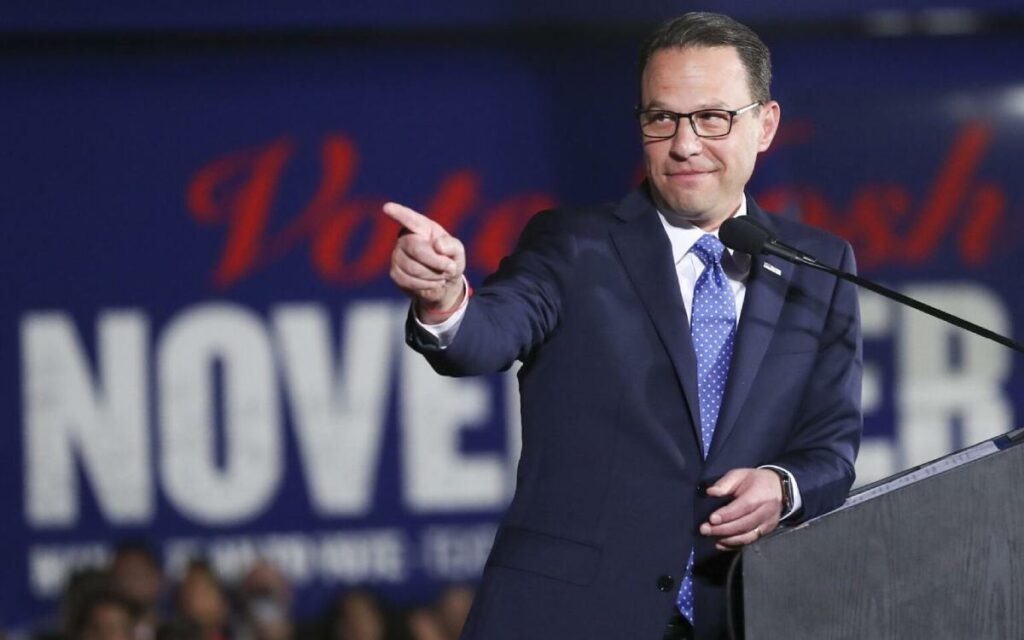 Outside of the four leading candidates to be President of the United States come January 2025 – Biden, Trump, Harris, and DeSantis – there's a pair of potential nominees on either side of the aisle who could return American politics back to the centre where 80 per cent of the electorate resides. On the Republican side, that's Governor of Georgia Brian Kemp. On the Democrat side, as outlined below, that's Governor of Pennsylvania Josh Shapiro (pictured). Photo credit: Philadelphia Inquirer/Heather Khalifa 
In this final piece of a four-part analysis regarding the chances of President Biden and former President Donald Trump reprising their roles as party nominees, I examine a Democratic alternative who currently serves in an executive position. This official, governor of an important swing state, might move the party back from its progressive precipice to a more traditional position on the centre-left. 
The GOP probably needs Pennsylvania to win a presidential election. Donald Trump, dependent upon drawing a perfect hand, must win Pennsylvania to reclaim the presidency. If President Biden falters, as previously suggested, there will be a lot of reasons for turning to Vice President Harris or other high-profile candidates. The Democratic Party and the nation would be better served if the increasingly Sanders-ized party of Roosevelt, Kennedy, and Clinton put the brakes on its shift to the left and took a second look at the newly minted governor of Pennsylvania, Josh Shapiro. 
Shapiro took the 2022 election cycle by storm, but he has actually been a rising star for some time, using his early support of Barack Obama to parley the former President's support into a political force in Pennsylvania, with reverberations nationally. Shapiro's impressive showing last year has put the 50-year-old into an enviable position should the current White House occupant, closing in on 81, fall victim to an age-related event and be unable to run for a second term. 
The governor ran statewide campaigns in 2016 and 2020 for Attorney General, demonstrating the ability to build coalitions and manage a multi-faceted campaign in rural and urban areas. As Nick Field wrote in the Pennsylvania Capital-Star, "While sharing a ballot with presidential, state treasurer and auditor general candidates (plus a U.S. Senate race in 2016), both times Shapiro scored a higher share of the vote – 51.39% and 50.85% respectively – than any other statewide nominee on the ballot." In effect, Shapiro's efforts were so strong he cleared the field when he chose to run for the gubernatorial nomination in 2022. 
The governor's race in the Keystone State provides an object lesson in winning elections in the era of Donald Trump. After Obama's victories in 2008 and 2012, Trump managed to turn many of these areas around in 2016 thanks to his populist appeal and the lethargic campaign of his opponent. The issues in 2020 had turned and Trump's four years at the helm created enough doubt, especially after COVID hit, to help Biden over the hump, specifically in Philadelphia and its suburbs. 
When Trump-endorsed candidate Doug Mastriano won the primary for the Republican nomination in 2022 it created a test case. If Trump's hold over the populist right could be transferred to other parts of the electorate there would be justification for his 2024 run. If the support did not migrate, then the purpose of a third Trump run would be politically stillborn. Without Pennsylvania, Trump has virtually no chance of winning.  
On election night in 2022, Shapiro drove a stake through the heart of Donald Trump's 2024 hopes. Shapiro showed what a classic Democratic candidate could do to a Trump-endorsed hopeful. Shapiro wiped the floor with Mastriano, breaking out as a star at a huge rally in Philadelphia and then going on to score massive wins in southeastern Pennsylvania, running up unprecedented margins in Philly suburbs. 
More impressively, in the northeast portion of the state, "Luzerne might very well be Trump's favorite county in Pennsylvania. After twice supporting Barack Obama, it swung about 25 points in 2016 to Trump and stayed red in 2020. Therefore, it would've been understandable if the Shapiro campaign wrote it off. Instead, the Democrat chose to contest Luzerne…and did well enough in Wilkes-Barre and the surrounding area to actually narrowly carry the county." In other words, if Shapiro were the Democratic nominee in 2024, Pennsylvania would be a Democratic stronghold, further narrowing Trump's path to victory. 
In south-central counties including those surrounding Lancaster, Shapiro ate into historically strong Republican areas and continued a trend of Democrats turning Trump counties blue. As Field points out in his analysis, "Take Cumberland County, another of the four Trump 2020 counties that Shapiro flipped. Shapiro did this by winning over areas Trump carried two years ago like Hampden, Lower Allen, Upper Allen, and Silver Spring." If Joe Biden needs Donald Trump to win re-election, it surely can be said that Trump needs Biden for any chance of reclaiming his old post. An alternative to Shapiro's quality would sink Trump.  
If and when the Democratic Party, the president's advisors, or Joe Biden himself recognize he cannot serve another term, let alone conduct a national campaign, a mad rush will ensue. In an era of unprecedented political maneuvers, this development will demand cooler heads to prevail. The progressives will demand Kamala Harris, a mistake commensurate with the populist right's efforts to re-install Mr. Trump. 
The partisans driving these decisions, however, do not reflect the thinking of Middle America, or the average voter. Candidates like Trump and Harris leave the country severely divided. Breaking this logjam will take a candidate who possesses greater appeal and practices it. Shapiro has proven this in Pennsylvania, and Governor Brian Kemp in Georgia. If presenting in court, I would rest my case with a closing argument. 
The populists and the progressives loudly insist we need a repeat of 2020. Resisting the temptation to accept and believe this line of thinking will determine what happens to the nation during the next American epoch. The co-dependency the Left and its partners in the media share with Mr. Trump remains a stark reminder of how weird and difficult it has become to understand the interests of various democratic stakeholders. Trump needs Biden-Harris and Biden-Harris needs Trump. This unhealthy reliance may serve the passions of each side's hunger to win, but it fails to satisfy the best outcome. 
What ails America finds no relief in the divisiveness of returning either Mr. Trump or Mr. Biden to office, or acolytes like Ms. Harris. The country needs a fulsome and respectful debate from candidates who belong to a new generation and will take their case to the people for a verdict from the voters. At present, Democrats have an electoral advantage because there are more of them, and states totaling about 240 of the 270 electoral votes needed to win already lean Democratic. The GOP candidate has no choice but to reach out and provide convincing arguments to vote Republican. The Democratic team should present a viable vision for the future that does not gut traditional American values and customs. 
Governors Kemp and Shapiro most likely produce the potential for healing. Taking this message to partisan voters may be a fool's errand in this immoderate age, but binding up the wounds of a country rend in two would cover a multitude of sins, restore hope to a people disconsolate, and renew the belief in American exceptionalism.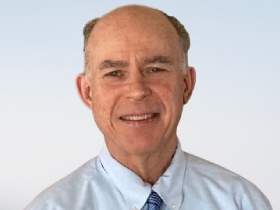 Dave Redekop is a retired elementary resource teacher who now works part-time at the St. Catharines Courthouse as a Registrar. He has worked on political campaigns since high school and attended university in South Carolina for five years, where he earned a Master's in American History with a specialization in Civil Rights. Dave loves reading biographies.