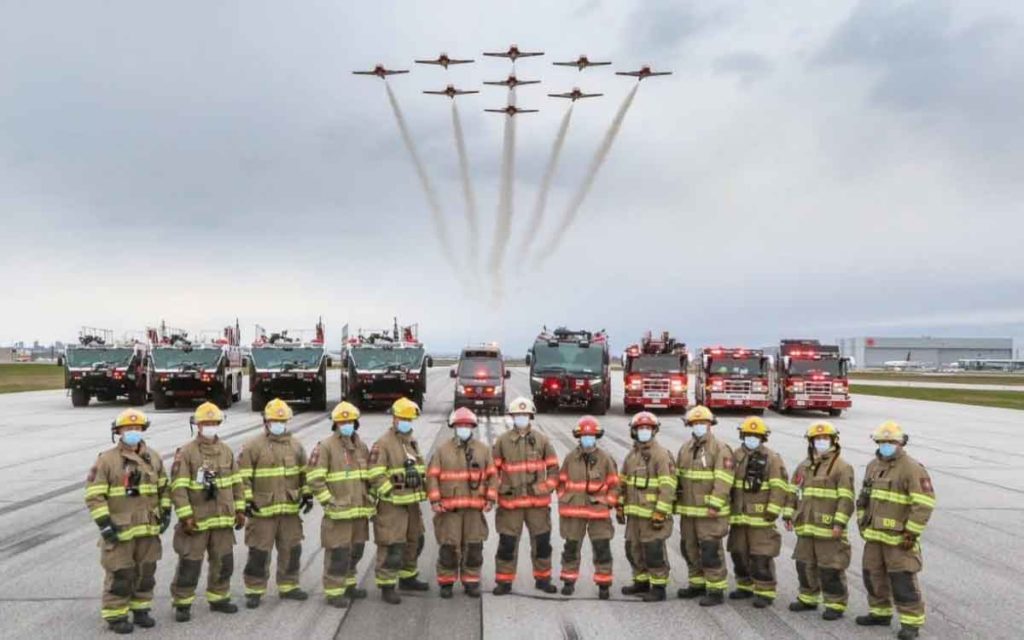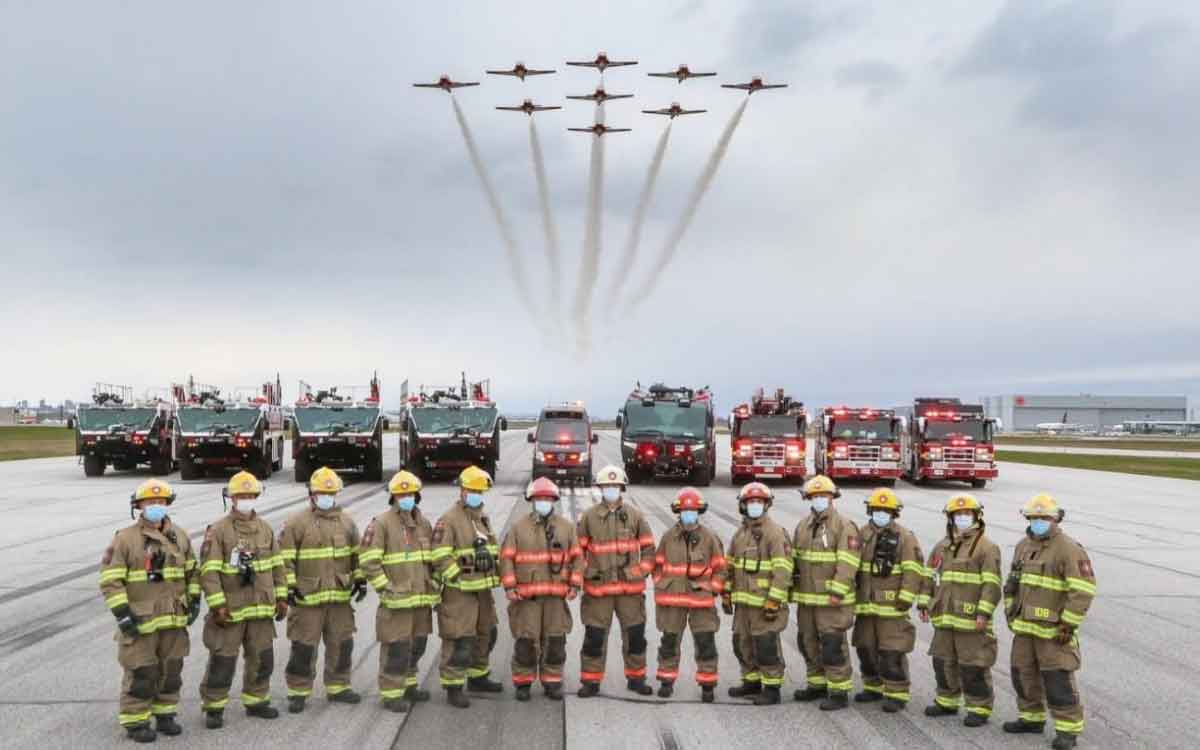 The Canadian Forces Snowbirds fly over first responders taking off from Pearson International Airport in Toronto on their way to Niagara Sunday. Photo: Snowbirds Twitter
There were a lot of Niagara residents looking skyward on Sunday. They weren't looking for the sun although you couldn't blame them for wondering where it went after making a brief glorious appearance nearly a week ago. No, tens of thousands of Niagara residents stood on their driveways, sidewalks, back decks or in the middle of the road hoping to catch a glimpse of one of the most popular military flight demonstration teams in the world – Canada's 431 Air Demonstration Squadron; Otherwise known simply as the Snowbirds.
While the Canadian Forces Snowbirds have suspended attending air shows for the time being they took to the skies starting last week on Canada's east coast to salute the men and women on the front lines of the battle against COVID-19. They're calling it "Operation Inspiration" and it's working. There have been other nice gestures, emergency responders parading past hospitals with lights and sirens on, lighting of buildings  and waterfalls, billboards thanking frontline workers and of course television specials with celebrities giving shout outs and singing tunes to acknowledge and thank essential workers.
While those tokens of appreciation are nice, none of them generated the emotional reaction that the fly over of the nine red and white Canadian built CT-114 Tutor jets did. Social media was abuzz with Canadians saying how much the flyover meant to them. Tweets like, "Thank you @CFSnowbirds for inspiring us all", "The SnowBirds made us proud even on a grey day", "It was sooo cool (and loud). My kids loved it!", "OMG I am so excited I am actually pacing and crying in my house patiently waiting to go outside."
For the first time since the onset of social isolation people were outside, safely, saying hi to neighbours, children were laughing, parents were smiling. It's a site that hasn't been seen in months. In their world renowned diamond formation the jets screamed over Niagara making sure to pass over hospitals which was the main point of Operation Inspiration. You can't mistake the sound. Long before you see the lights on the nose of the planes or the famous smoke that trails out the back, you hear them. It raises the hair on your arms and sends chills down your back. You know they are coming. Then they appear, screaming over head at a top speed of 750km/hr in a formation that looks like you couldn't slide a piece of paper between wing tips. I'd hazard a guess there isn't a Canadian across this great land that doesn't feel an instant shot of pride knowing that those jets and the brave men and women that fly them wearing their signature red flight suits are Canadian.
Every  now and then some chatter starts about replacing the jets that were built in the 1960s and of course Canadians squawk about tax dollars going to such nonsense as buying new jets for the Snowbirds. Given the billions of wasted tax dollars by past governments on things that sure as heck didn't put a smile on Canadians' faces during hard times or make them proud to be Canadian, I'd say we can afford to give these pilots and support crew the jets they need to do their job to the best of their capabilities and most importantly in the safest environment possible.
Make no mistake, the Snowbirds are known throughout the world as the best of the best. The team are rock stars when they attend air shows outside of Canada. They are incredible ambassadors for this great country doing an extraordinarily dangerous job simply to entertain people and put smiles on their faces. And let's not forget they are members of our armed forces, the ultimate essential workers. Too often Canadians only think about their military when tragedy strikes. They should be in our thoughts far more often.
A tweet from Amanda Daniels-Chavez probably sums it up best; "Thank you for doing these fly bys. You guys always know how to put a smile on Canadians faces."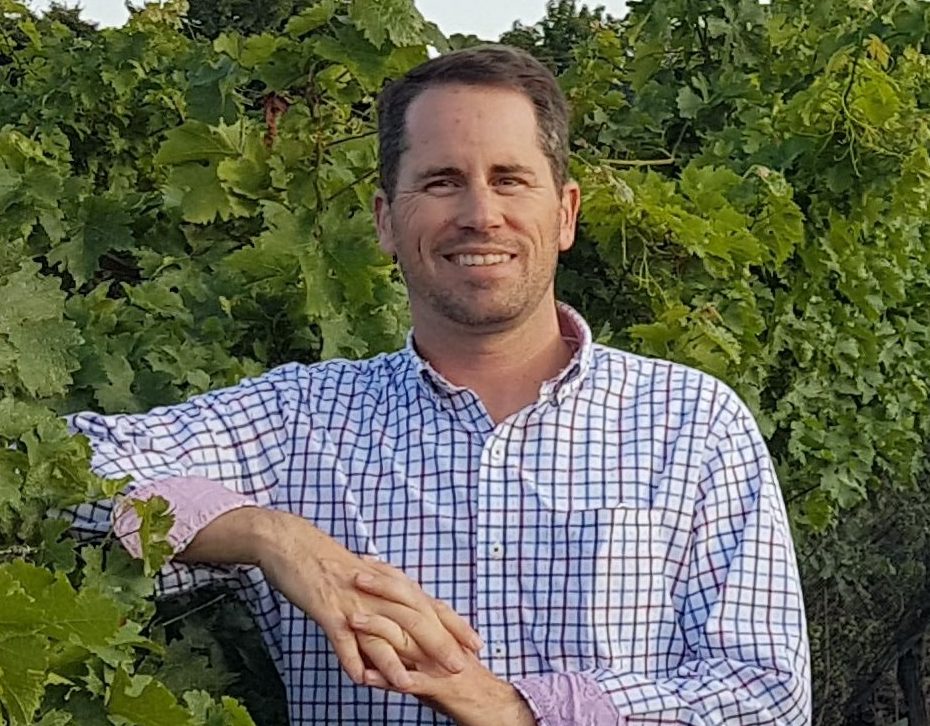 Kevin has spent over two decades as a public relations professional in a variety of sectors including professional sports, the arts, industry and healthcare.  After tiring of the daily commute to Toronto he returned to Niagara and launched The Niagara Independent, an online news source published twice weekly.
He is a graduate of Brock University, Niagara College and the Richard Ivey School of Business. He was named one of Niagara's 40 Under Forty in 2005.
Kevin is most proud of his twin daughters. He is also a triathlete and four-time Ironman finisher.