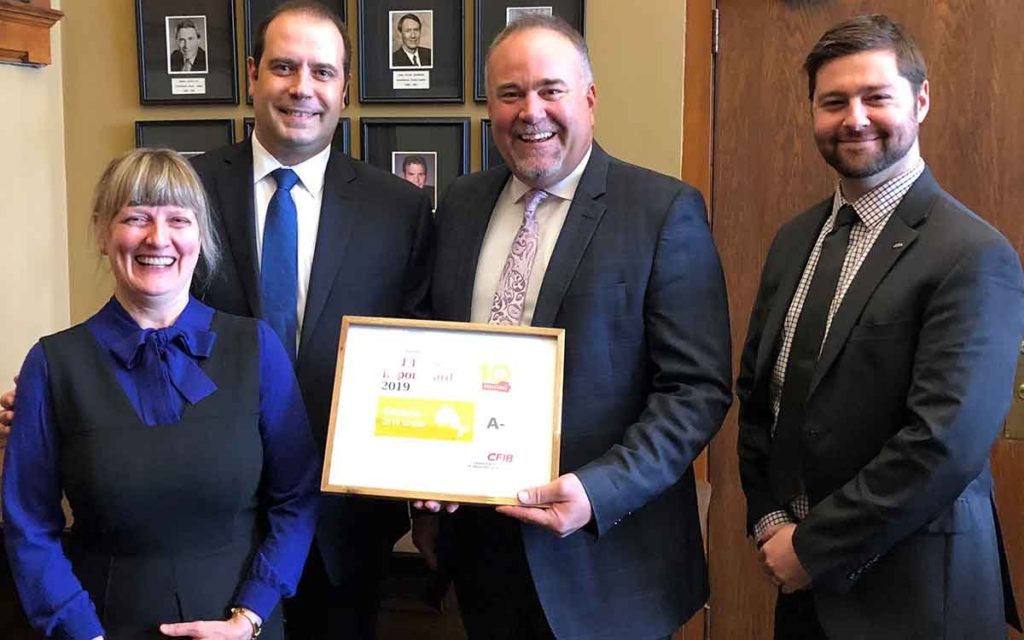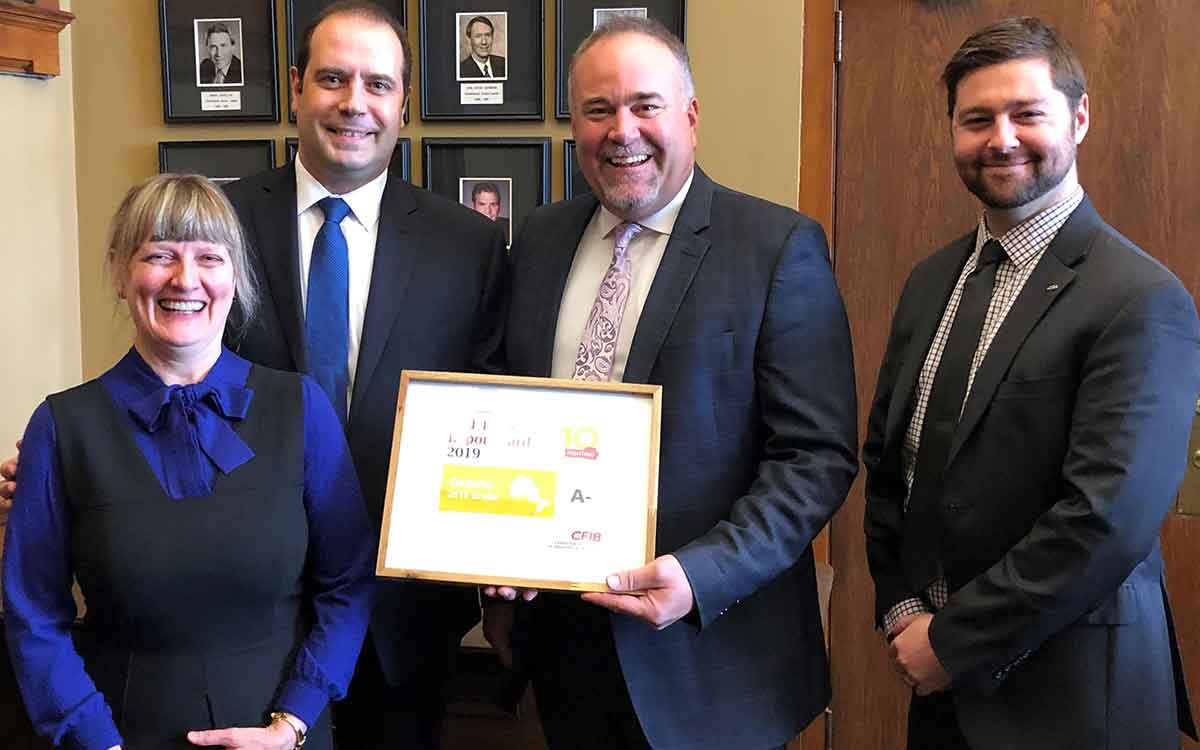 CFIB's Ontario Legislative Team (Julie Kwiecinski, Plamen Petkov and Ryan Mallough) recently presented Economic Development Minister Todd Smith with Ontario's CFIB Red Tape Report Card grade of A-.
No one goes into business to get stuck in red tape, but that's what inevitably happens. From the get-go, the entrepreneur becomes a prisoner to paperwork, struggling their way through endless excessive, unnecessary and redundant government-imposed rules.
The fuss about red tape is justified for many reasons. Red tape costs businesses time and money that could be better spent on creating jobs and improving competitiveness. Small businesses in the province spend as much as 177 hours and $6,776 per employee every year to comply with regulations from all levels of government.
The total annual cost of regulation for businesses in Ontario is over $15 billion! Even more significant is the fact that small businesses bear the brunt of this outlandish sum, paying as much as five times more per employee than their larger counterparts.
It's no wonder that tax and regulatory costs consistently top the list of major cost constraints for Ontario's small- and medium-sized businesses.
Red tape also affects businesses in many other ways that don't come with a specific price tag. Small business owners in Ontario say that excessive government regulations add significant stress to their life (82%), discourage them from growing their business (69%), and greatly reduce business productivity (71%).
Perhaps the saddest statistic of all is this: 56% of the province's small businesses would not advise their children to start a business because of the current regulatory burden. With a number like this, our alarm bells should be ringing about the impact on our economy of potentially fewer entrepreneurs.
That's why it's so important to acknowledge and thank governments for walking the talk on red tape reduction. For example, the new Ontario government – in only six months – has taken meaningful steps to ease the regulatory burden suffocating small businesses.
CFIB recognized Premier Ford on Jan. 23 with a Golden Scissors Award for removing excessive red tape in labour legislation and for his leadership on cross-government red tape reduction for small businesses.
In addition, we presented Economic Development Minister Todd Smith with the province's significantly improved Red Tape Report Card grade of A-, the highest ever awarded to the province. CFIB's report card evaluates the progress of provincial governments on red tape reduction based on specific criteria. We consider their levels of leadership and measurement of the regulatory burden, and whether they place a clear cap on regulations. In its 2018 fall economic update, the Ontario government set an ambitious red tape reduction target of 25 per cent by 2022, supported by an ongoing review of provincial laws and regulations.
The Golden Scissors Awards and Red Tape Report Card grades were part of CFIB's national 10th annual Red Tape Awareness Week™ held Jan. 21-25. Now that the week is over, we must build on the momentum to keep the issue on everyone's radar throughout the year.
Whether it's lengthy forms, lack of access to online services, or requirements to do something twice or more for no logical reason, there's always work to be done to help free business owners from the bonds of red tape to create jobs.
Julie Kwiecinski  is the Director of Provincial Affairs for Ontario at the Canadian Federation of Independent Business (CFIB).