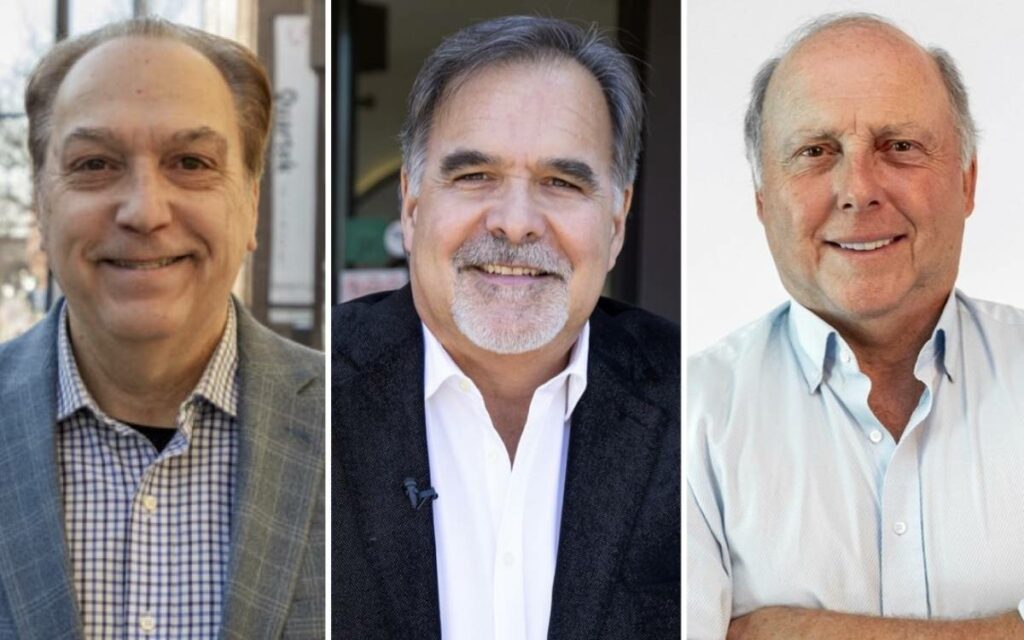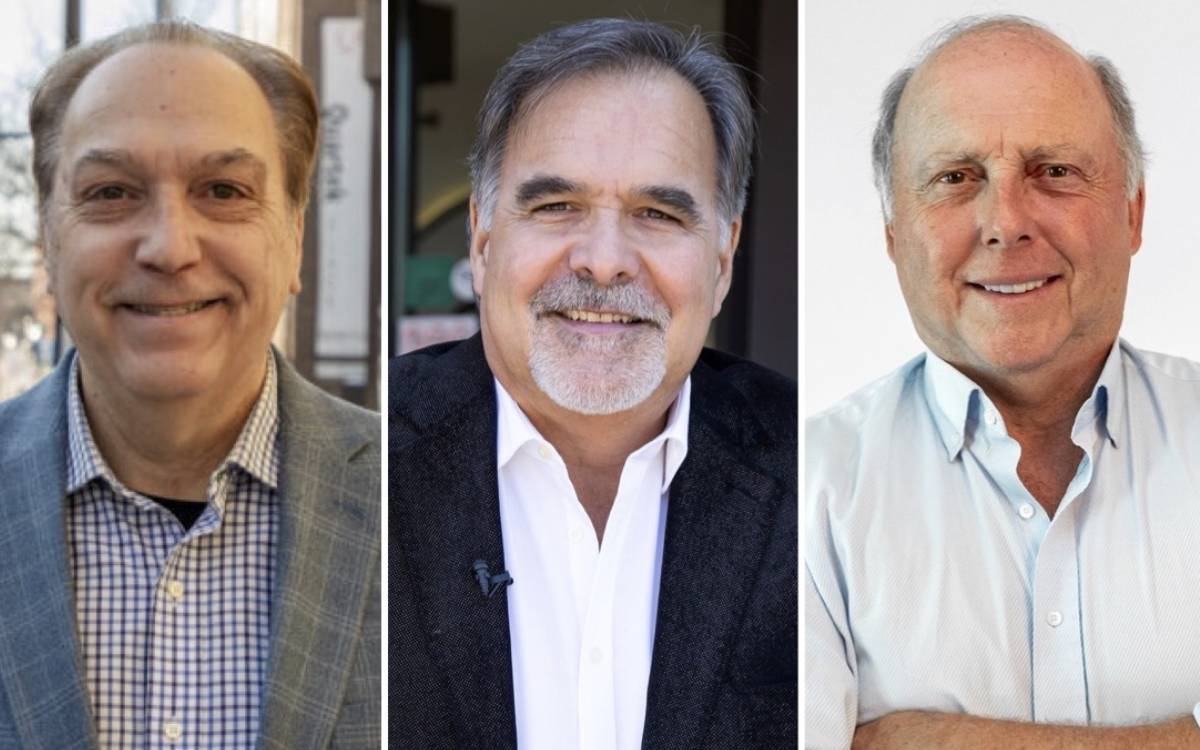 As the 2022 provincial election comes to a close, all three of Niagara's non-incumbent PC Party challengers – Sal Sorrento (left), Fred Davies (centre), and Bob Gale (right) – are encouraging local voters to deliver representatives of the party in power to Queen's Park and give Niagara a greater voice in government over the next four years.
Ontario heads to the ballot box this Thursday, June 2. 
Left, right, and centre, all of the political pundits and pollsters are aligned in their prediction: another massive majority for Doug Ford's Progressive Conservative Party. 
CBC News Poll Tracker, 338Canada, and The Signal all have the PCs winning around 75 to 80 of the province's 124 seats, well above the 63 needed to form a majority government.
The NDP and Liberals, meanwhile, are simply jostling for second place to see who will make up the Official Opposition, with no clear favourite in the race for runner-up.
Locally, the region's lone PC incumbent Sam Oosterhoff is poised to win another big victory in Niagara West, while his three counterparts in St. Catharines, Niagara Centre, and Niagara Falls are all in tight, winnable races against their respective NDP opponents. 
Election forecast website 338Canada currently has PC challenger Sal Sorrento ahead of NDP incumbent Jennie Stevens in St. Catharines, PC challenger Fred Davies ahead of NDP incumbent Jeff Burch in Niagara Centre, and PC candidate Bob Gale in a virtual dead heat with NDP representative Wayne Gates in Niagara Falls. 
Speaking with The Niagara Independent on Monday, all three PC challengers had a similar message for voters: help give Niagara a greater voice at the provincial level by sending local representatives of the party in power to Queen's Park.
"I have always worked hard for my constituents locally, and by sending me to Queen's Park I could do even more for St. Catharines," said Sorrento, who has served as a St. Catharines city councillor since 2014. 
"Doug Ford will win this election, and St. Catharines having a seat in his government is how we will get things done."
St. Catharines is currently held by the NDP, after Jennie Stevens eked out a narrow three-point victory over PC candidate Sandie Bellows in 2018. 
Prior to the last election, St. Catharines was controlled for four decades by the Liberals' Jim Bradley, who served as a cabinet minister in the governments of David Peterson, Dalton McGuinty, and Kathleen Wynne. 
To the south of St. Catharines, the area that roughly constitutes what is today Niagara Centre hasn't had a representative at Queen's Park from the party in power since the Rae Days, having elected successive NDP candidates from 1975 onward. 
Small business owner Fred Davies hopes to be the riding's first PC candidate to win in over half a century. 
"Electing the NDP yet again in this riding would be keeping us in the political wilderness," said Davies, who owns and operates Breakwall Brewery and San Marco's Ristorante in Port Colborne alongside his wife Monica. 
"By sending me to Queen's Park as part of the Ford Team, you are sending a strong voice and a seat at the decision-making table of what will likely be a majority government. We could get so much done for our community!" 
In Niagara Falls, PC challenger Bob Gale looks to upset NDP rival Wayne Gates, who has been in office – yet, never in power – since 2014. 
"Doug Ford is going to win a second majority government and the only question is whether Fort Erie, Niagara-on-the-Lake and Niagara Falls will elect me, the only candidate who speaks with Doug Ford regularly, or someone else whose name the Premier doesn't even know," said Gale, in reference to a comment Ford made while visiting the riding on May 20 about not knowing who the local MPP was. 
"Our community deserves to be at the decision-making table and the only way that happens is if the good people of Niagara get to the polls this Thursday and vote PC."
The provincial election is this Thursday, June 2. Polls are open from 9:00am to 9:00pm. To find out where you can cast your ballot, go to the Elections Ontario website here.