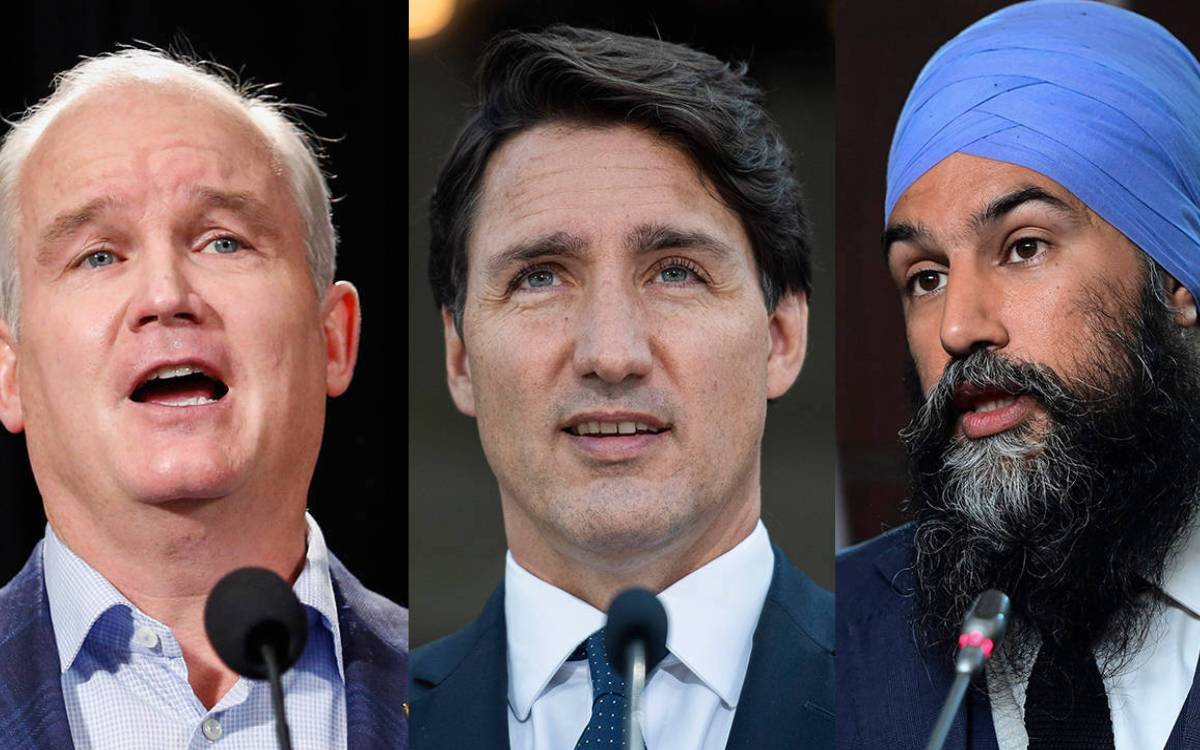 From left to right: Conservative leader Erin O'Toole, Liberal leader Justin Trudeau, and NDP leader Jagmeet Singh. Photos via The Canadian Press. 
Bottom of the ninth. Home stretch. Fourth and goal. Whatever sports analogy you choose, it aptly applies to the final week of a political campaign. As far as elections go, the stakes are high. If public opinion data is to be believed, we're all tied up. How campaigns and their leaders behave in this final week will be the difference between forming government or chirping from across the aisle in the House of Commons. For some, this week may also make or break their political careers.
All of the parties are going through the same motions right now, to some degree. They should have finished identifying their supporters, with the focus now squarely on getting those supporters out to vote. Advance polls were open this past weekend, so any supporters who didn't take advantage of the early balloting can expect to hear from their local campaigns (probably to a high degree of annoyance, if campaigns are doing it right). Barring something cataclysmic in the next six days, this stage of the campaign is entirely about keeping who you know is voting for you motivated. 
That appeal to supporters and accessible voters looks different for each political party. Here's some considerations for each of the three main parties as they craft that final pitch to voters.
Liberal Party of Canada: The Liberal campaign has been through many ups and downs in the last thirty days. At the outset of the election, a majority for Justin Trudeau seemed probable. Today, that appears to not just be out of reach, but a dogfight to even hold onto their minority government status. 
To the chagrin of many a Liberal insider and pundit, they cannot un-call the election. So, they need to move on from those voters who are upset we're having this contest and convey to those who will show up what is at stake should the Conservatives form government. The focus will be on rallying reliable demographics motivated by key social issues like childcare, gun control, abortion, and others, preaching that status quo is needed to keep these issues, well, status quo. Voters in Quebec, suburban/urban Ontario and the lower mainland of British Columbia are on the Liberal target list for this message, particularly those aged 30-45 with a strong focus on women.
The battle for the Liberals is that their biggest liability now was their biggest asset just a few weeks ago. Justin Trudeau's personal favorability has cratered and attempts to conjure up a bogeyman on the political right to run against have had limited success. Erin O'Toole hasn't been the foil the Liberals were banking on. So, they've turned their sights onto angry, unvaccinated protestors whose tactics turn off the vast majority of Canadians. In the eyes of the Liberal campaign, to be against anti-vaxxers is to be in favour of responsible, science driven and citizen-centered government (all of which sound great to most rationale voters). Expect the Liberals to keep leaning into this contrast the final week of the writ. 
Casting doubt on the consequences of a Conservative government is not just about appealing to Red/Blue switchers, but convincing people to vote strategically. The appeal happens every campaign, with varying degrees of success. This time around, Trudeau faces a well-liked Singh and his own spotty track record on climate, reconciliation and feminism that call into question his progressive bonafides. The Liberals are likely to lean hard into the prospect of affordable childcare – including signed agreements with many provinces – to try and keep these voters onside. 
If this group don't break his way or if they stay home, it is likely to be a difficult election night for Trudeau. 
Conservative Party of Canada: Erin O'Toole has done what many thought not possible at the beginning of this campaign: deliver a real opportunity for the Conservatives to topple Justin Trudeau and form government. Though it has been his first election as leader, there have been few rookie mistakes. The campaign has stuck to their message, and importantly, dispensed quickly with wedges that have been thrust their way by the Liberals. 
The appeal for Conservatives to their supporters in both 2015 and 2019 was to vote against Justin Trudeau because he was inexperienced, unserious, and ultimately not the right guy for the job. In those elections, that message was unaccompanied by meaningful, memorable policy that gave voters a reason to vote for the Conservatives, rather than simply get rid of Trudeau. It played to the Achilles heel of Conservatives being mean-spirited and served as a poor rallying cry against a very-popular Trudeau. 
This time, the Tories reversed that messaging. They started the campaign being proactive and policy-focused, demonstrating O'Toole's capability to lead. That established, the tone is shifting to remind voters of Trudeau's many mishaps. The goal here is twofold: tap into voter frustration over an unnecessary election by reminding them that it was Trudeau's decision to do this, while motivating the CPC base that responds well to anti-Trudeau attacks. 
The balance between cheerful and chippy is a fine one for O'Toole, who is largely focused on the same regions and demographics as Justin Trudeau. Anticipate Conservatives to lean into family-friendly policies like the advanced Canada Child Benefit which soften the image of the Conservatives, while they run more direct attacks against an embattled Trudeau in parallel.
New Democratic Party of Canada: While Jagmeet Singh continues to be the most well-liked federal leader, he has struggled to turn that into a meaningful gain in public opinion polls. Voters are unlikely to see a Layton-esque Orange Wave on September 20, but the NDP have the potential to be a significant spoiler for the Liberals on election night – as long as they stay hyper focused on where they can make gains. Singh and the NDP need to lean hard into their 10-12 target ridings over the next few days, and put GOTV resources there exclusively.
Singh has his work cut out for him in motivating traditional NDP voters – specifically, youth and blue-collar workers – given the absence of voting on campus and a cozy relationship between organized labour and the governing Liberals. 
More broadly, Singh needs to provide assurance to progressive voters that their vote will not be wasted by parking it with the NDP. They have demonstrated in the last Parliament that they can play an effective power broker, and work across the aisle to keep things functional. Many hypotheticals about who the NDP may prop up will follow Singh this week; he would be wise to keep playing this coolly, leaving them open to accessible voters from all parties. 
As the Liberals and Conservatives aim their sights on one another, the NDP can use this as an opportunity to position themselves as the happy warrior for Canadians in the House of Commons; something that jives well with Singh's demeanour. As always for the NDP, the biggest battle lies in driving the efficiency of their vote and getting their soft supporters to turn up at the ballot box.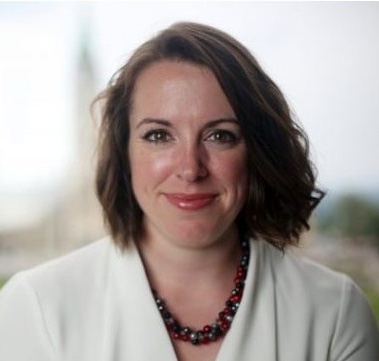 Kate Harrison is the Vice-Chair of Summa Strategies Canada, one of the country's leading public affairs firms. She is a regular political commentator on CTV, CBC, Sirius XM, and other talk radio stations, as well as a contributor to various news outlets. She has been involved in conservative politics for over fifteen years, and an active member of the country's conservative movement.