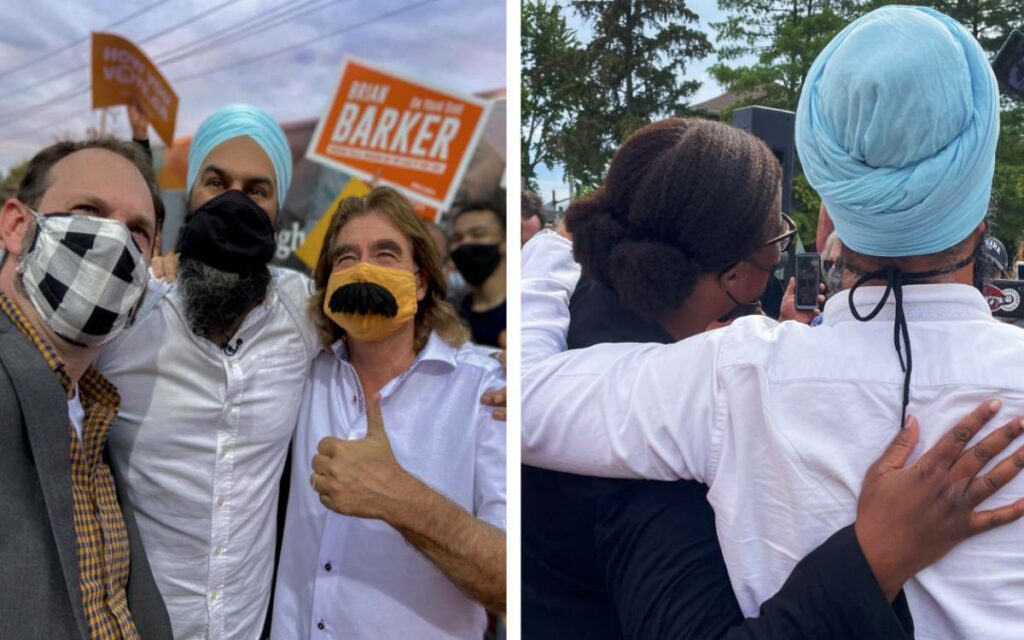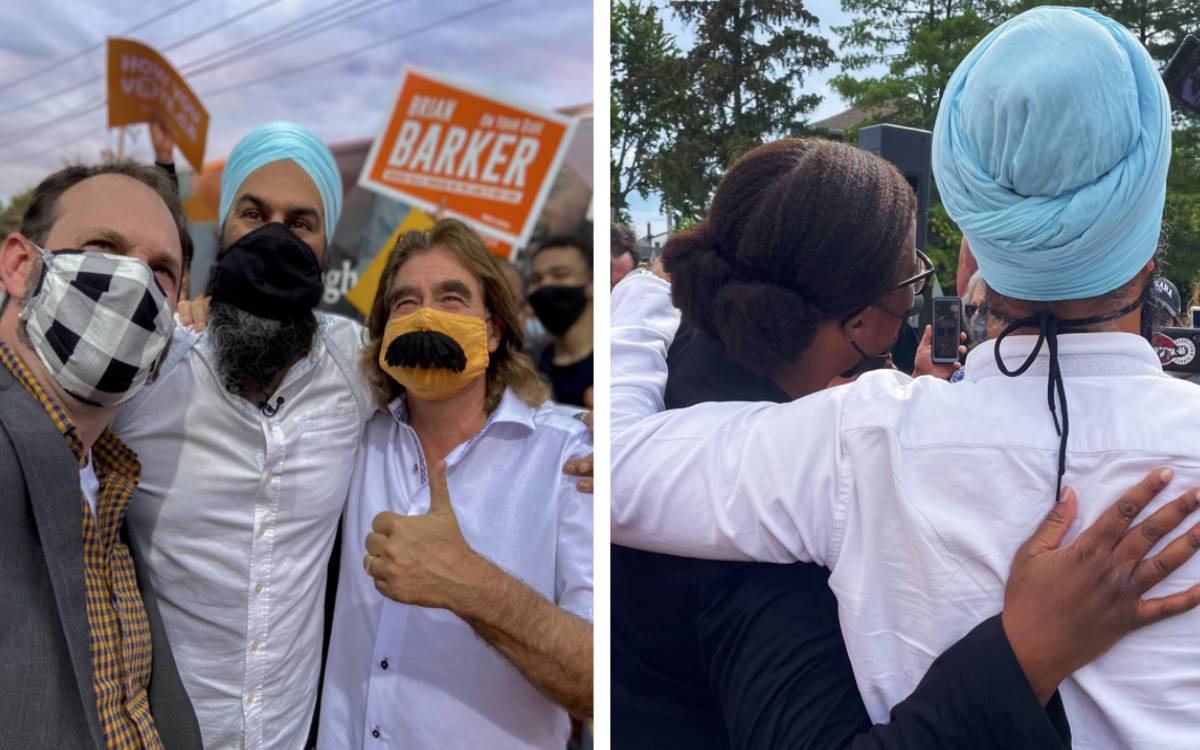 Left: NDP leader Jagmeet Singh poses for a photo with Niagara Falls federal NDP candidate Brian Barker and current Ontario NDP MPP for Niagara Falls Wayne Gates at a campaign stop in Welland on Wednesday. Right: Singh poses for a photo with St. Catharines federal NDP candidate Trecia McLennon at the same event. Photo credit: Facebook/Wayne Gates and Facebook/Trecia McLennon
With less than a week until election day, leader of the federal NDP Jagmeet Singh made a brief campaign stop in Welland on Wednesday. 
Speaking with a crowd of about 100 supporters outside of CUPE Local 1263 labour union hall, an energetic Singh encouraged Niagara residents to get out and vote and made his pitch that "better truly is possible" under NDP leadership.
"People [on the campaign trail] are telling us: 'we've seen that it costs us, it literally costs us, to vote for the Liberals," said Singh. "It costs us because [the Liberals] promise things like pharmacare and they don't deliver on it, and we continue to have to spend thousands of dollars on our medication." 
Concerning Trudeau's countless broken promises, Singh also highlighted the Liberal leader's failure to bring down cellphone and internet prices, as well as ensure Indigenous communities have access to clean drinking water. 
"These are promises that people get hope about. They want to see change, they want to see life get better, and instead of getting better it's getting worse."
All four local NDP candidates were present for the event: Niagara Centre's Melissa McGlashan, Niagara Fall's Brian Barker, St. Catharines' Trecia McLennon, and Niagara West's Nameer Rahman. 
In a Facebook post following Singh's visit, Niagara Centre candidate Melissa McGlashan said you can "feel the momentum building" and echoed the NDP leader's call for people to get out and vote Monday.
"You have a choice to make this election," commented McGlashan. "You can vote for the Conservatives or the Liberals who will continue to look out for the ultra-rich, or you can vote for me and the NDP who have shown that we will always fight for everyday people."
McGlashan's counterpart from St. Catharines Trecia McLennon talked about Singh's spirit and vigour following the event, saying: "What an afternoon! The energy that Jagmeet Singh brings to the table is unmatched. And seeing all of you in [Niagara] who resonate with our message is so inspiring." 
Also in attendance were Niagara-area NDP MPPs Wayne Gates, Jeff Burch, and Jennie Stevens, as well as CUPE Ontario president Fred Hahn. 
In his own post to social media after Singh's stop in Welland, Ontario NDP MPP for Niagara Falls Wayne Gates had nothing but warm words for his former colleague. 
"I always joke with Jagmeet that I knew him before he was a rockstar!", wrote Gates. "As many of you know I served for years in the Ontario Legislature with Jagmeet when he was an MPP – I taught him everything he knows!" 
The 2021 federal election takes place this Monday, September 20. Polls are open from 9:30am to 9:30pm.