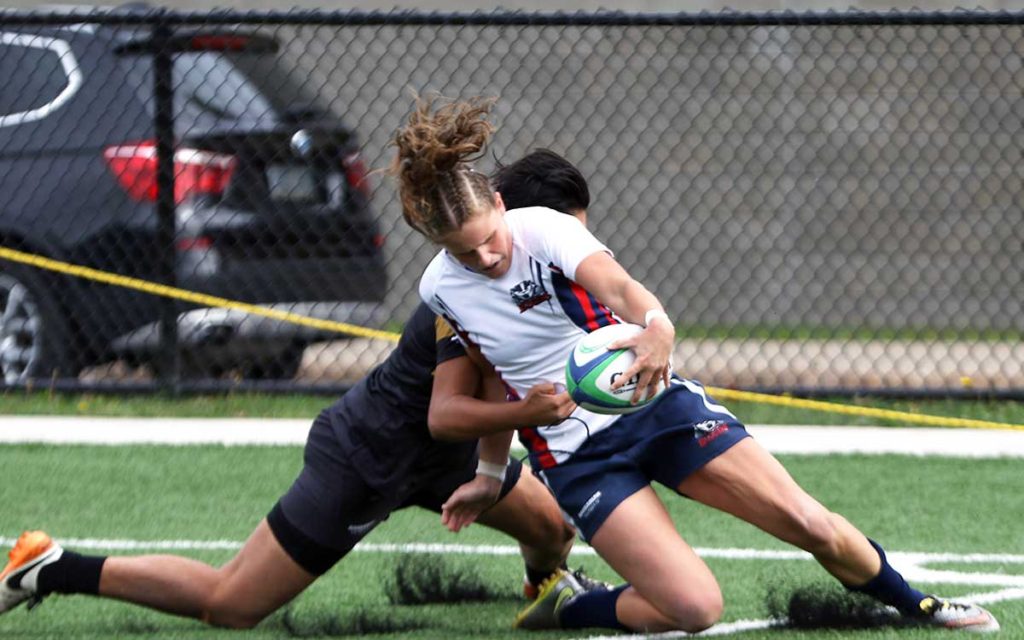 Brock University women's rugby player Katelyn Heyens earned national recognition for her community service. Photo Credit: Brock University
U SPORTS recently presented Brock University women's rugby player, Katelyn Heyens, with the Student-Athlete Community Service Award during the annual women's rugby All-Canadian gala in Wolfville, Nova Scotia.
"I am honoured to receive this award and am incredibly humbled by it. However, this was a team effort. I would not be here if it wasn't for the support from all the amazing people in my life," said Heyens. "I am truly thankful for all the people who have encouraged me to get involved, and for all those who have helped me grow as an athlete and individual over that last few years."
Last month, the OUA also awarded Heyens the Russell Division Community Service Award.
Heyens is greatly involved in the school and community. The teacher's college student has generously donated her time in many regards, including: four years volunteering with CIBC Run for the Cure, the Niagara Superhero Run, SNAP, and IMPACT; leading Fit Break at the OPHEA Conference and at first-year orientation; serving as Motionball Coordinator in 2018; as well as taking part in the Brock women's rugby Rookie-Vet Mentorship program for three years and Brock University Athletic Council for four.
"Volunteering has always been a big part of my life. From a young age, my parents encouraged me to get involved and help others whenever I am able to. I wouldn't be where I am today if it wasn't for the help and support of others, so in return I want to do all I can to help others reach their goals," said Heyens. "Through volunteering, not only have I been able to help others, but I have been able to meet some amazing people and gain some valuable experience. Through meeting new people and hearing their stories, it really adds a new perspective to life. By offering even a little bit of your time to help, it can make an incredible impact in the lives of others. Helping others and giving back is something that I am passionate about and is something I will continue to do in the future."
Heyens is selfless, hard-working, and has done a great deal to spread her passion for teaching and for helping others lead a healthy lifestyle, according to Brock women's rugby head coach Stefanie Pavlovich.
"She generously donates her time to help others, and takes pride in being able to do so," said Pavlovich. "Katelyn has a passion for helping others lead a healthy lifestyle, and is always willing to help others in need. Last year, she was the recipient of the Dallas Beaton Award at the Brock Athletic Banquet, which goes to a Brock athlete that has truly left an impact on the Brock community. She is selfless, hardworking, and an incredible person to be around."
Heyens didn't pick up the sport of rugby until after her first year at Brock University. Growing up in La Salette of Norfolk County, Heyens chose to play soccer over rugby because they ran a similar season.
"After completing my first year at Brock, a few of my friends and the local rugby coach, Ian Fitzgerald, encouraged me to try rugby by playing in the summer league," she said. "Following the summer season with Norfolk Harvesters, I decided to try out here at Brock and made the team. Four years later I am still here, and am finishing up my varsity rugby career, which is crazy."
A senior fullback, Heyens is one of the Badgers' captains and helped her team to a second consecutive 4-0 regular season record and a wild playoff run where Brock finished fourth in the province. She is also a three-time OUA all-star.
"Rugby has become a significant part of my life in the last four years. It has challenged me both as an athlete and as an individual," said Heyens. "This sport has taught me resiliency, teamwork, time management, and the importance of hard work. But ultimately, rugby has allowed to meet so many incredible people, many of whom will be life-long friends. Especially here at Brock, our team is like a family. We support each other both on and off the field, and we constantly push each other to strive for greatness. I couldn't imagine my life now without this sport and all the amazing people I have met."