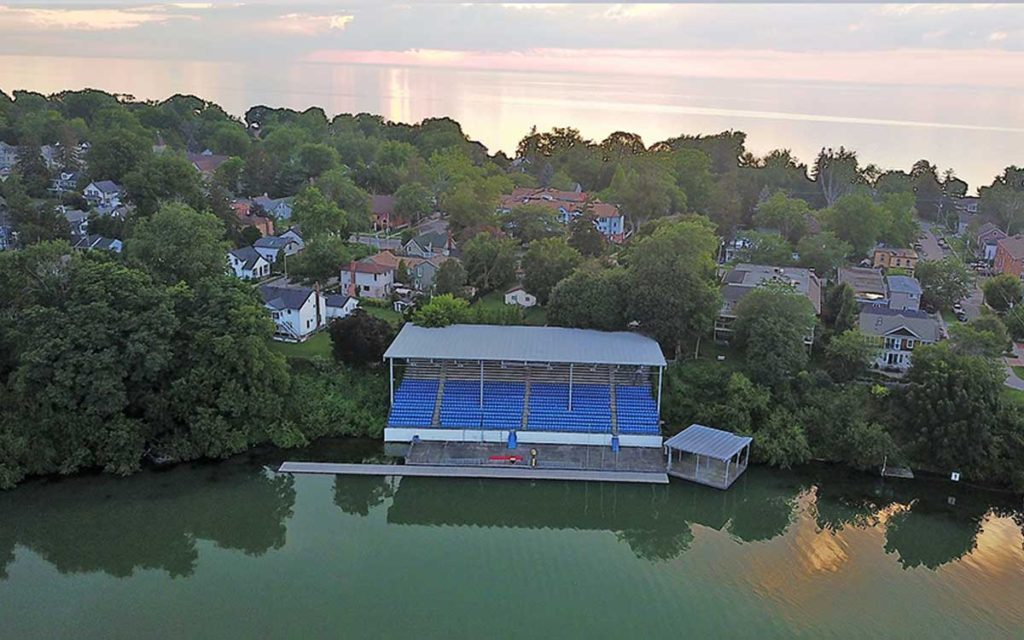 The grandstand at Henley rowing course will soon be filled with athletes and fans as rowers from around the world descend on St. Catharines for the 136th annual Royal Canadian Henley Regatta.
This weekend more than 2,000 athletes and coaches will descend on Port Dalhousie to compete in one of the most historic and prized rowing competitions on the planet – the Royal Canadian Henley Regatta.
With crews from all over the world, including the feel good story crew from Zimbabwe, this week-long regatta which gets started Sunday with the Masters competition, is an annual rite of passage for many young rowers. In its 136th year the Henley is, too most crews, the regatta to win.
Tim Rigby, who has volunteered with the regatta since 1996 said he was in Florida this year at a regatta and was speaking with the executive director of FISA (the International Rowing Federation) who told Rigby that they consider the Royal Canadian Henley Regatta the "club world championships".
Action gets underway Sunday with a one day Masters regatta. Masters crews row 1,000 meters as opposed to the normal 2,000 meter distance that crews will row in competition from Tuesday to the following Sunday. This year the Masters registration is up considerably according to Regatta Chair, Peter Scott. "This year the U.S. Masters championships are being held in California so we are seeing a lot of entries to Henley from the north east United States," Scott explained.
While the Masters numbers are up, the number of youth participants is down about 12 per cent. Scott says there are a few factors that resulted in the slight decrease in youth rowers: "We think that financial reasons are probably the biggest contributing factor as clubs have only so much money to spend and we are the last regatta of the season. There are additional seat fees this year from Rowing Canada and some clubs just ran out of money," said Scott. He also noted that there are more and more regattas taking place in Ontario.
The opening ceremonies take place Monday evening and will be capped off with fireworks. Then Tuesday morning the fireworks take place on the water with crews battling for a spot in the finals later in the week.
Surprisingly one of the biggest crews, in terms of number of athletes, at this year's Henley is from Seattle. With 100 rowers competing, they have sent, as Scott describes it, "an army of kids".
To those residents of Niagara not familiar with the rowing community they may not appreciate the magnitude of the regatta held in their own backyard. "It's the holy grail," says Scott. "To a 15 year old kid who's been training all season on a river with nobody watching and then arriving here to a course with a grandstand that will be filled with spectators, 2,000 other athletes, fireworks at an opening ceremony, their eyes are opened and they are hooked."
With races starting every six minutes, an island that turns into its own little city, an event like Henley can't happen without a lot of support and Scott says there are 450 volunteers this year – many of them new volunteers. "I think people who volunteered last year are telling their family and friends how exciting and how much fun it is and so we are seeing some of those people signing up to help."
Tickets can be purchased at the grandstand. For more information visit henleyregatta.ca