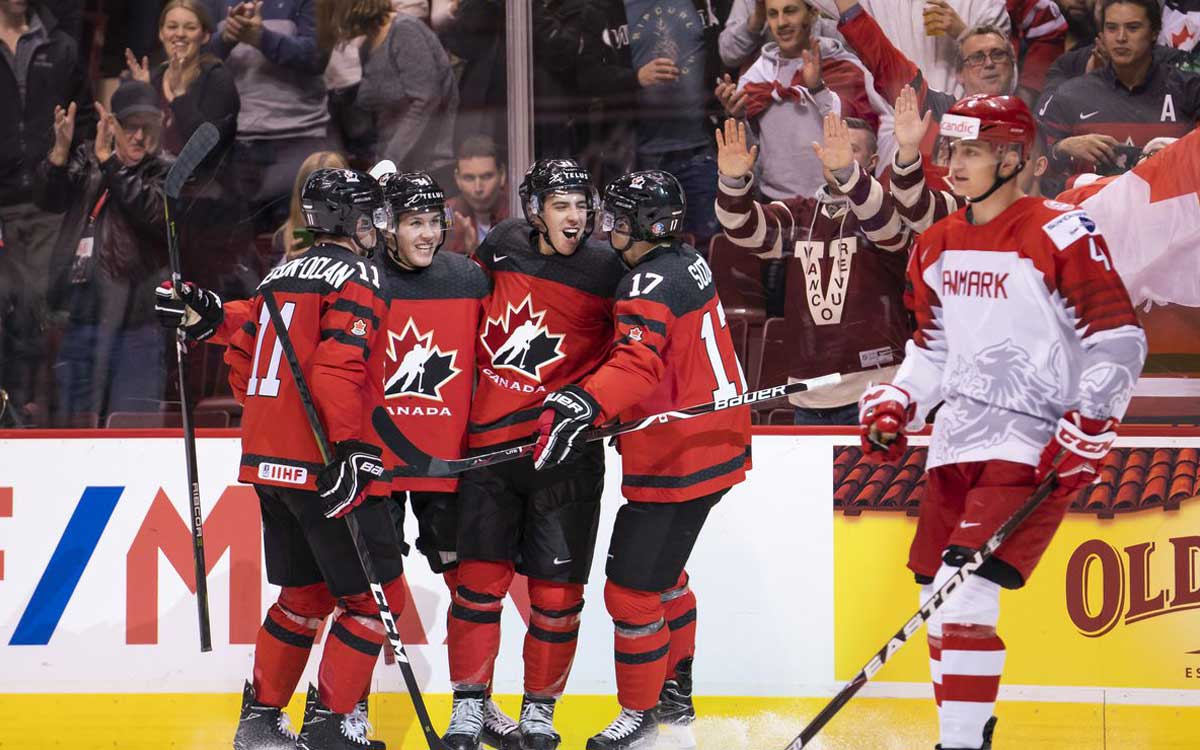 As usual, this year Canada is expected to face its stiffest competition from Russia in Group A.  Group B has three teams that are all highly competitive; Sweden, Finland and the U.S.A. Here's a look at each of these four teams.
Russia
Russia has one player drafted in the fist round in 2017, and two in the 3rd round.  Seven of its other players were draft eligible in 2017 but went undrafted.  Three of its players were drafted in the first round in 2018, three in the second round and one each in the 5th, 6th and 7th rounds.
Look for Klim Kostin, Vitali Karvtsov and Grigori Denisenko to provide the firepower up front and the Alexander's – Alexeyev and Romanov – to provide puck moving strength from the back end.  Danil Tarasov will be leaned on for the goaltending duties.  TSN's Craig Button loves this Russian squad and prognosticates that they will meet Canada in the gold medal game.
Finland
Team Finland is an older and experienced team.  They have been loaned players by NHL teams – a  luxury not enjoyed by the other leading clubs.  Defenceman Henri Jokiharju, one of four first round draft picks from the 2017 draft, looks to lead the defence.  He is on loan from the Chicago Black Hawks where he has played 32 games this year.  In addition, Urho Vaakanainen, drafted 18th overall in 2017, is on loan from the Boston Bruins.  Ukko-Pekka Luukkonen, drafted by the Buffalo Sabres in the 2nd round in 2017, is a huge goalie currently playing in the OHL for the Sudbury Wolves and he will be tough to beat.
Up front look for former first round picks Rasmus Kupari, and Eeli Tolvanen to provide the firepower.  Finland showed off a very effective powerplay to handily beat Canada 5-2 in a pre-tournament game.
Sweden
Team Sweden boasts three former first round picks, one from 2017 and two from 2018.  But they also have six players who were drafted in the second rounds in 2017 and 2018.  Sweden now regularly produces slick defenceman and last year's first overall draft pick by the Buffalo Sabres, Rasmus Dahlin, is already impressing in the NHL.  He was voted top defenceman in this tournament last year.  Sweden's defence this year is led by 15th overall pick in 2017 Erik Brannstrom and 8th overall pick in 2018, Adam Boqvist.  Toronto Maple Leaf fans will also be watching Toronto 2018 2nd round pick Rasmus Sandin.
Sweden forwards always possess speed and skill and this years squad is no different.  They will look to Fabian Zetterlund, Isac Lundestrom, Jacob Hallander and the Kitchener Rangers Rickard Hugg for leadership and scoring.  David Gustafsson, a Winnipeg 2nd round pick in 2018 will be between the pipes.
Team U.S.A.
The elite U.S. National program continues to produce great young hockey players and Team U.S.A. is once again this year a favourite to win the tournament.  They have seven first round picks between 2017 and 2018 in their lineup including slick defenceman Quinn Hughes, drafted 7th overall by Vancouver in 2018.  He will be joined on this squad by his younger brother Jack Hughes, a forward, who is currently ranked to be the first overall pick in the 2019 draft.
On defence Dylan Samberg and team captain Mikey Anderson, both of the University of Minnesota, will anchor the defence along with Quinn Hughes.  At forward, the Niagara IceDogs' Jason Robertson will be joined by a plethora of offensively gifted players including first rounders Josh Norris, Ryan Poehling, Oliver Wahlstrom and Joel Farabee.
In addition, there is some strong NHL lineage featured on this squad.  Tyler Madden is the son of New Jersey Devil great John Madden; Jack Drury is the son of NHL forward Ted and nephew to Chris Drury; and Mattias Samuelsson is the very large son of NHL defenceman Kjell Samuelsson who played 14 years in the league.