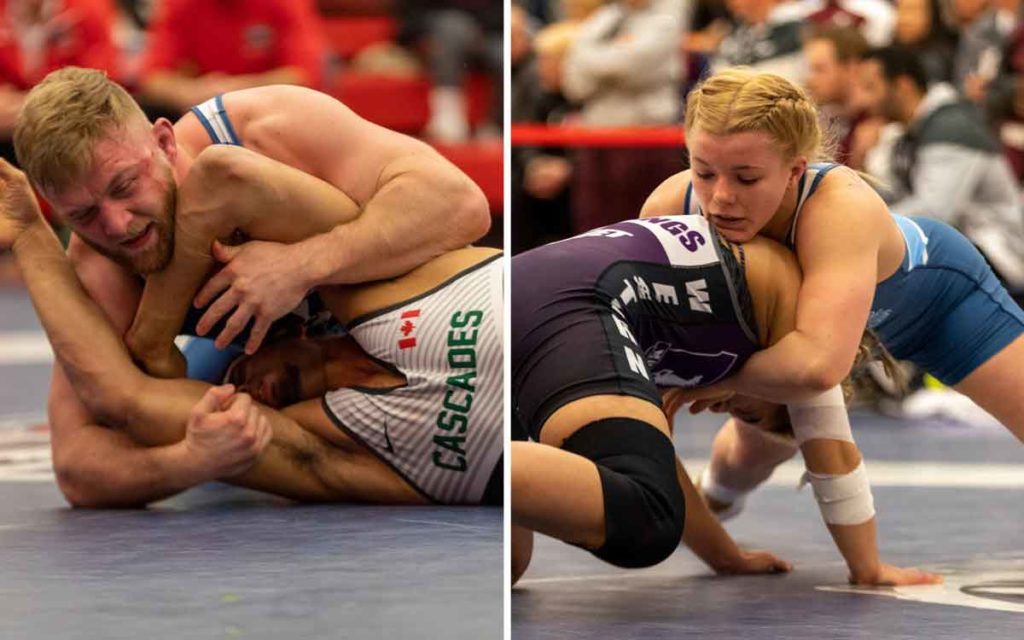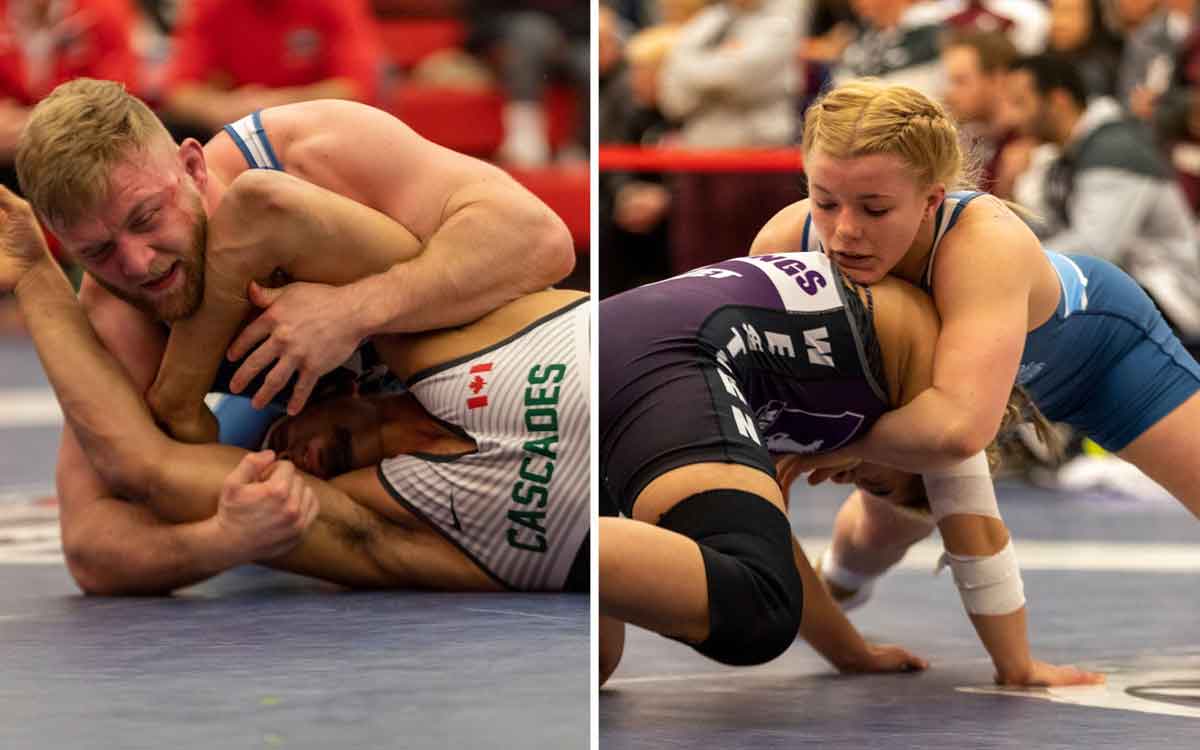 Brock wrestlers Clayton Pye (men's wrestling) and Hannah Taylor (women's wrestling) were named Brock University's 2019-20 Male and Female Athletes of the Year during a virtual athletic awards banquet over social media on Wednesday, March 25. Photo: Brock University
The Brock Badgers didn't let the cancellation of their annual awards gala stop them from celebrating their student-athletes.
The Badgers took to social media to hold a virtual gala, hosted by Matt Bonomi of Brock TV, in order to recognize and pay tribute to Brock's outstanding 2019-20 season.
"This was an exceptional year for Brock Sports, and there is no way we were going to miss recognizing our student-athletes' achievements," said Brock Sports Associate Director Emily Allan. "It's unfortunate that we didn't get to hold our banquet, but we felt this would be a fun way to get everyone excited, despite the circumstances. It's extremely important to recognize the efforts of everyone, and even more so at a time like this."
National gold medalists Hannah Taylor (women's wrestling) and Clayton Pye (men's wrestling) are Brock University's 2019-20 Female and Male Athletes of the Year.
Taylor is the third consecutive women's wrestler to win Brock's Female Athlete of the Year award, and 11th overall. Pye is the second straight men's wrestler to win the award, and 22nd all-time.
"To end with this season on a positive is hard to put into words. This was a season of ups and downs," said Taylor. "It was a season that many athletes can relate to. Winning this award is not only exciting, but also motivating for me next season. I look to improve on my results for my final year at Brock."
Taylor, a Sport Management student from Summerside, PEI, captured back-to-back gold medals in the 63-kilogram weight class at both the provincial and national wrestling championships. Taylor didn't allow a point scored against her en route to winning gold at the OUA Wrestling Championships and the U SPORTS Wrestling Championships.
It was Taylor's third straight U SPORTS gold medal as she helped the Badgers win their seventh consecutive overall national title, and ninth consecutive women's banner. She earned First Team All-Canadian honours. At the provincial level, Taylor helped the women's team win their sixth consecutive title when she won her fourth straight OUA gold.
Her season was also highlighted by a second-place finish at the Canadian Olympic Trials in Niagara Falls in December where she defeated a World Champion on her way to the finals. Taylor was also slated to serve as an Olympic alternate for the 2020 Summer Olympics before the International Olympic Committee postponed the Games to 2021. Before the start of the varsity wrestling season, Taylor brought home a bronze medal from the 2019 U23 World Championships.
Pye, a fourth-year Psychology student from Ingersoll, Ontario, won his second national gold medal at the 2020 U SPORTS Wrestling Championships on home soil. He now has a total of five U SPORTS medals. Pye entered the 2020 Championships having won the Olympic Trials in Niagara Falls in December.
"This season was a great way to close out my varsity experience. I reached heights in wrestling that I only previously dreamed of," said Pye. "Throughout my years at Brock I've been fortunate to have a team that I could rely on to motivate me, lift me up and keep me humble. This award is as much theirs as it is mine."
He helped the Brock men's wrestling team win their seventh-straight national title, and 20th men's title overall, with a gold medal in the men's 100kg class. Pye was named a First Team All-Canadian for his efforts.
At the OUA Championships, Pye helped the men's team win their fifth consecutive title with a gold-medal performance in the men's 100kg division.
A total of 78 Brock Badger student-athletes received Academic All-Canadian awards. Academic All-Canadians are those exceptional student-athletes who achieve an academic standing of 80 per cent or better while playing a U SPORTS sanctioned sport.
Women's basketball head coach Mike Rao earned the Wally Barrow Memorial Coach of the Year Award. Rao guided the women's basketball team to its first provincial title since 1983 and drew up an offence that overwhelmed opponents on the perimeter and inside the paint as they marched their way to the national championship's gold-medal game for the first time in school history. Earlier this season, Rao was named the OUA Coach of the Year and U SPORTS Coach of the Year.
In just two seasons, the women's basketball team went from a sub .500 record to competing for a gold medal at the U SPORTS national championships. Their historic campaign included national rankings, monumental comebacks and a collection of 'firsts' as they packed their trophy case with a national silver medal and their first provincial championship title since 1983.
The men's wrestling team won the Male Team of the Year for a second consecutive year. The Badgers were heavy favourites to repeat as U SPORTS champions and they didn't disappoint as they won their seventh-straight national title, and 20th overall. At the OUA level, the men's wrestling team won their fifth consecutive championship while winning 10 medals in 11 events.
Celine Funk and Gokhan Bozyigit of the Brock men's and women's swimming teams were awarded the David S. Howes Spirit of Brock Awards, which are named after Howes for his commitment to Brock University and the community of Niagara. These awards are presented annually to a student who best embodies the spirit of Sir Isaac Brock: leadership, courage, innovation, inspiration and community service.
Women's volleyball outside hitter Darby Taylor and Men's rugby prop George Bocock secured the Surgite Awards. Bocock earned the R.M. Davis Surgite Award and Taylor was awarded the David Atkinson Surgite Award. These are awarded each year to a current male and female student-athlete who excel both academically and athletically.