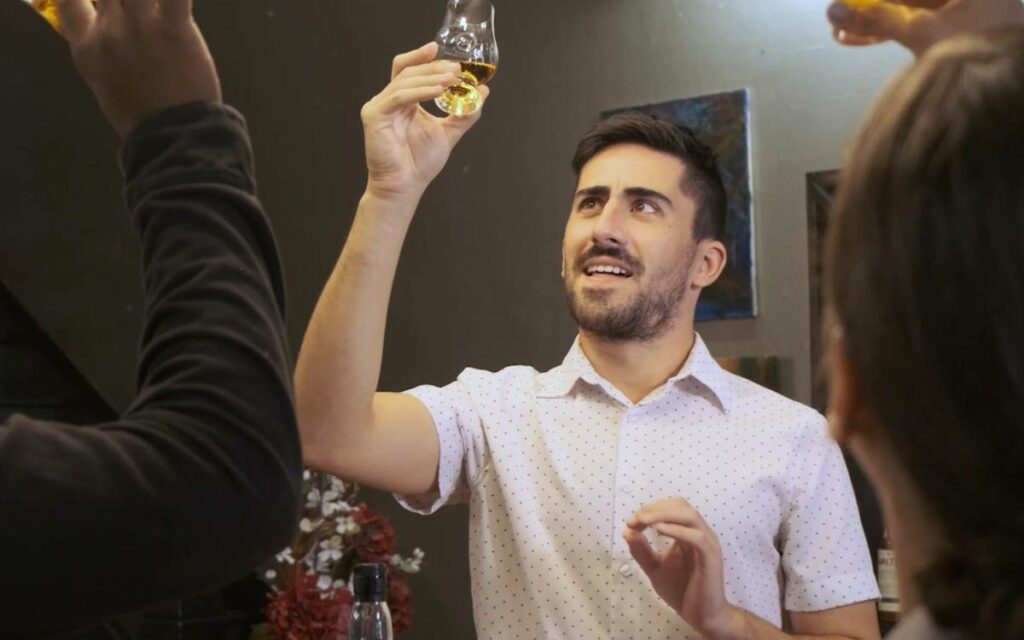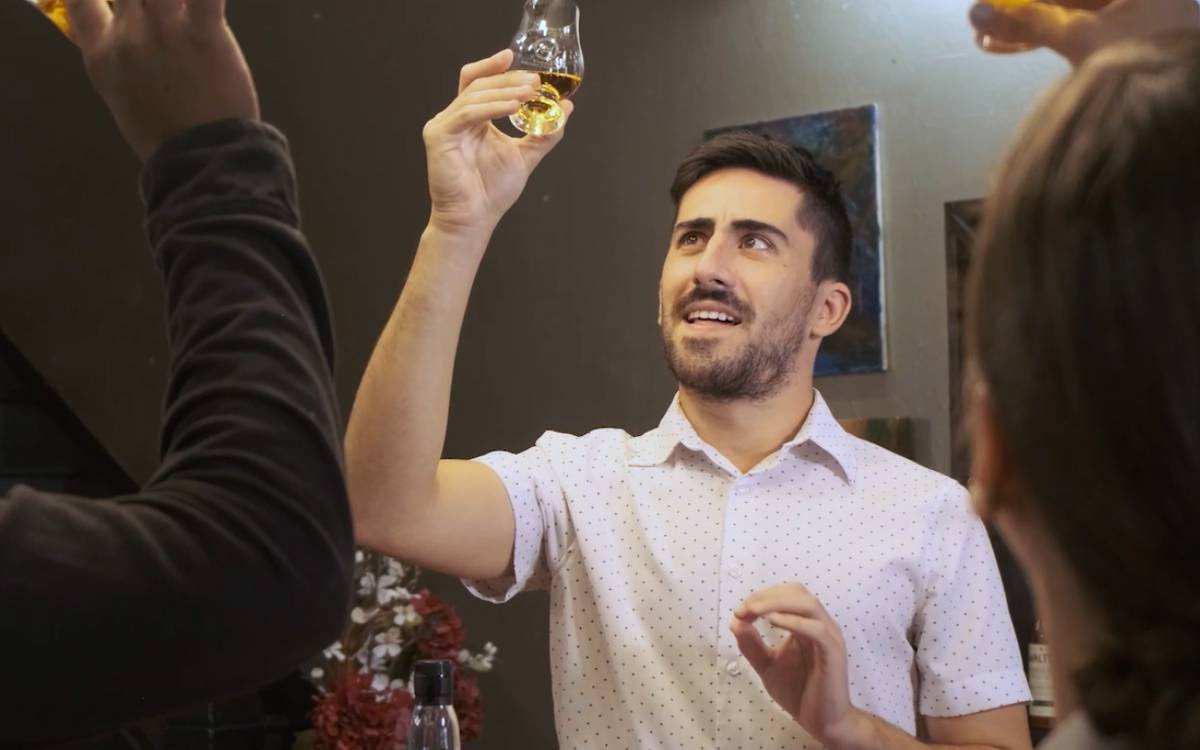 Owner of Archives Wine and Spirit Merchants Robbie Raskin offers a toast to a group of whiskey aficionados. Raskin and his partner have been forced to jump through hoop after hoop by the City of St. Catharines to bring their tasting business to fruition. Supplied photo.
Robbie Raskin and his friend and business partner from Australia, Jordan Epstein, are two guys in their mid-20s who have poured their savings and dreams into Archives Wine and Spirit Merchants, located at 39 James Street in St. Catharines. But they fear their dream may never get fully uncorked, given the impediments they have experienced with the City of St. Catharines in attempting to obtain business permits. 
Originally from Toronto, Raskin came to Niagara in 2019 to enroll in the Artisan Distilling program at Niagara College. 
"My original plan had been to launch a boutique whiskey brand in Ontario. Unfortunately, I learned that getting shelf space in the LCBO is pretty much impossible unless you've got big financial resources," he told The Niagara Independent. "But I saw an opportunity to create a tasting room for local and smaller purveyors of wine, beer, and spirits…not a bar where people might go to party and get rowdy, but a spot where they can sample drinks on a more intimate scale. We have in mind a place where small independent producers can emerge from under the liquor monopoly and thrive." 
The plan was to host events with producers, stock hundreds of unique bottles for patrons to take home, and offer delivery right across Ontario through their website. But that plan has been held up by red tape for months. 
Raskin and Epstein took over the lease for the storefront at 39 James in December of 2020 and immediately started renovating. By March of 2021, the inspections commenced. 
"We had visits from City workers, Niagara Region and provincial staff, plus a meeting with a liquor licensing inspector," said Raskin. "We passed all those in April, with no problems, so we submitted our collection of inspection results to the City [of St. Catharines] for final sign off. We had been planning to open in early May."
The building permit procedure became an exercise in frustration and ongoing delays. "We've had to involve a lot of people in an effort to push through the process, and we're still waiting, teetering on the brink of closing up shop," said Raskin. 
The young entrepreneur suggests that his situation is part of a broader problem with St. Catharines' building permit process and asserts that he knows of other downtown establishments that have had to jump through similar hoops in an effort to obtain their liquor licences.
Raskin had one washroom in the store, plus several communal washrooms in a loading dock area in the back which he shared with a couple other businesses. "We were under the impression that arrangement was fine, but at the end of April, we were told by the City that we needed more washrooms, which was a surprise, because we hadn't heard anything about that during the renovation process." Raskin said that bar zoning requires that the space have four washrooms, with one of them being handicap accessible.
According to Raskin, there was confusion on the part of the City as to whether Archives was to be zoned as retail space, or as a bar or restaurant. 
"We were told in early May by the City that we'd have to be a restaurant if we wanted to serve alcohol, or we could stay as retail and not serve alcohol. My contractor and project manager suggested that we apply as a restaurant, and work to get appropriately rezoned. So, I paid for and received a restaurant license from the City, and then about a month later they told me that only places with kitchens can be a restaurants. We didn't have a kitchen, because we had no intention of doing food preparation."
Raskin found himself stuck in a situation where he couldn't have a restaurant without a kitchen and was not allowed to operate as a bar within retail zoning, the current designation.
In desperation, he reached out to the St. Catharines Downtown Association, which Raskin said was "awesome, really helpful." 
"There's only so much they can do, but they advocated for us. Our local councillor, Karrie Porter, came by and said she would keep an eye on our permits for us and try to push things along. And the City's Economic Development department has been pretty good, they've tried to help."
After attempting for "quite a number of weeks" to open a dialogue with the chief building inspector, Raskin finally managed to get a meeting in August and was told that he could keep the store's retail zoning and still operate as a bar, provided he upgrade the washrooms, at a cost exceeding $25,000.
"On one hand, I was happy to get an answer," said Raskin. "On the other hand, we missed out on the busy summer season, and despite no income, had to continue to pay rent and all the other overhead costs." 
A building permit application was made for the washrooms, but Raskin heard nothing from the City for almost a month, at which time he was informed that his application had been rejected.
"The measurements our engineer had taken on one wall were three inches off what the calculations had been on a different floor plan that we had submitted earlier," said Raskin.
Meanwhile, a new setback emerged.
"We had a rear exit off the communal loading area, which we believed this whole time was fine…no one from the City had expressed any issues. But now the City said we needed another exit, so we're working with an engineer to see what that will entail."
Out of desperation, Raskin recently launched a crowdfunding campaign in order to finish construction and keep the lights on, with contributors eligible for gift cards redeemable once the business fully opens.
"We've also started what I'm calling a pantry market on weekends, selling gourmet food items like sauces and jams brought in from local producers. We've done that simply to introduce ourselves to people in the neighborhood and get a little revenue going to partially offset the costs of our snowballing renovations."
At this point, Raskin is hoping for a grand opening in November. "We'd originally thought early May, but it's just been one thing after another…my optimism is sort of waning."
Nick Racanelli, Inspections Manager for the City of St. Catharines, did not respond to requests for comment.
Anyone interested in donating to the aforementioned crowdfunding campaign can do so here.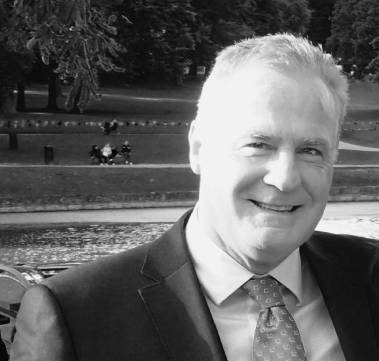 Don Rickers' career in education spanned over three decades, and included stints as a teacher, student recruiter, coach, boarding school housemaster, enrollment management director, and headmaster. He has travelled extensively and visited hundreds of schools around the globe, and served for almost ten years on the governing committee of the Association of Boarding Schools based in Washington, DC. Now a member of the Canadian Association of Journalists, his freelance articles have been featured in newspapers, blogs, and educational journals. A former national team lacrosse player, he holds a masters degree from Brock University, and is a member of the board of directors of the South Niagara Rowing Club. He resides in Fonthill.