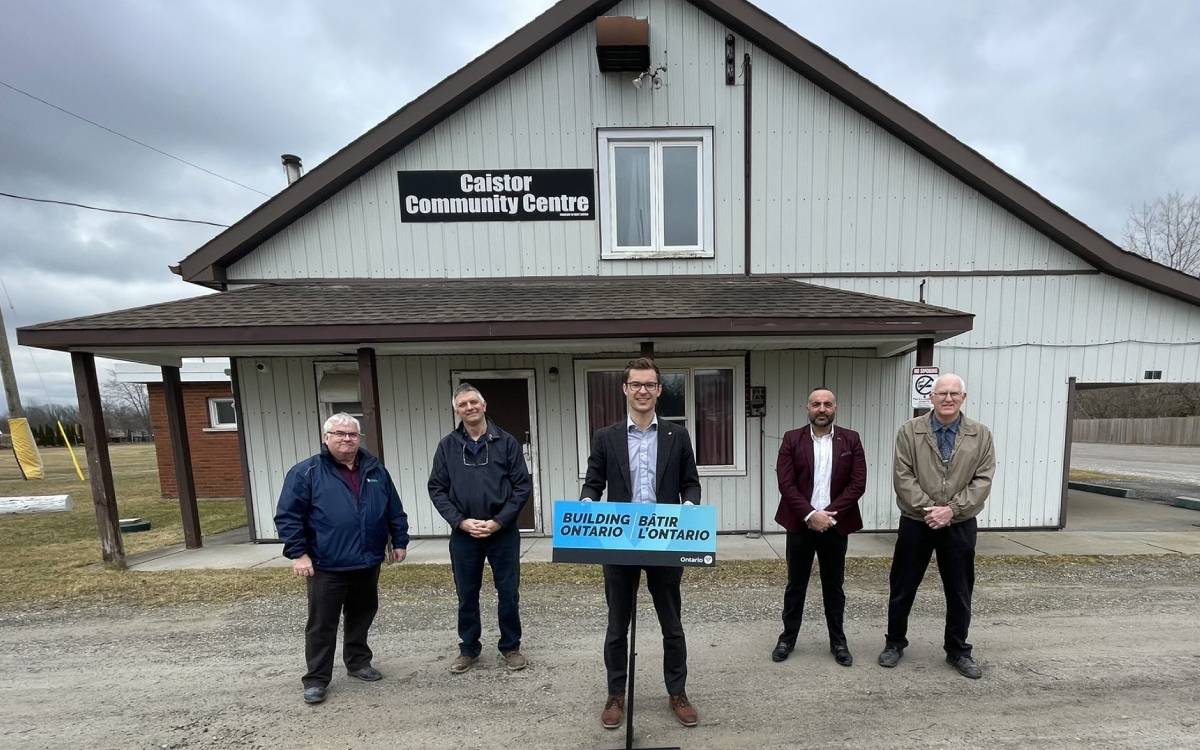 The fourth and final Southwestern Integrated Fibre Technology (SWIFT) network planned for the region, the new development will provide high-speed internet to an additional 765 premises in west Niagara. Pictured from left to right at the announcement of the project last Friday are Lincoln regional councillor Rob Foster, West Lincoln mayor Dave Bylsma, Niagara West MPP Sam Oosterhoff, and West Lincoln councillors Jason Trombetta and Mike Rehner. Photo credit: Twitter/Sam Oosterhoff
More residents and businesses in rural areas around west Niagara will have access to fast, reliable internet thanks to an ongoing initiative between multiple levels of government and private industry. 
On Friday, March 25, public and private sector partners announced the construction of an additional 53 kilometres of broadband infrastructure in rural Niagara that will provide 765 underserved premises in Grimsby and West Lincoln with access to high-speed internet.
The $3.3 million project is the fourth and final Southwestern Integrated Fibre Technology (SWIFT) network planned for the region.
"We know reliable Internet access is a gateway to growth in rural Ontario," said MPP for Niagara West Sam Oosterhoff.
"This new expansion of rural broadband in Niagara will connect more families and businesses to high-speed Internet. I know constituents in Niagara West will gladly welcome this new SWIFT project."
SWIFT is a non-profit regional broadband project initiated by the Western Ontario Wardens' Caucus to subsidize the construction of high-speed broadband networks across Southwestern Ontario, Caledon, and the Niagara Region.
The initiative was approved for funding of up to $127.4 million under a joint federal and provincial infrastructure funding program that leverages additional investment from municipal and private sector partners. 
"The SWIFT project has been designed to bring broadband connectivity to underserviced areas of Ontario," said Lincoln regional councillor Rob Foster, who represents Niagara on the SWIFT board of directors. 
"Internet is a basic necessity that is required in today's world for all businesses, including modern agriculture. The projects identified for West Lincoln met all the SWIFT criteria and I am pleased that we are moving forward with this construction for the Township's citizens."
The new fibre-optic network, which will be complete by year's end, will bring improved broadband access to the small communities of Grimsby Centre, Grassie, Allen's Corners, Kimbo, Fulton, Abingdon, Caistor Centre, and Caistorville. 
Work is being done by Cogeco Connexion and is supported by two $923,00 grants from the provincial and federal governments.
"By investing in projects like this, our government is supporting rural Ontarians to connect with family, keep up at school, run a business and access essential medical services," said MP for Niagara Centre Vance Badawey. 
"It is more important than ever for Canadians to have access to high-speed internet and our government is committed to building the infrastructure they need to be connected."
In December 2021, public and private sector partners announced the development of three new broadband infrastructure networks in rural Niagara to deliver high-speed internet access to 4,880 homes, farms, and businesses in Fort Erie, Grimsby, Lincoln, West Lincoln, Niagara-on-the-Lake, Niagara Falls, Pelham and Wainfleet.
Friday's announcement of a fourth network will ensure that almost every corner of the region has the ability to connect to fast, reliable broadband.
SWIFT, in partnership with the federal and provincial governments and private sector investors, has now committed a combined investment of $21.2 million to bring high-speed internet service to more than 5,646 underserved homes and businesses within the Niagara Region.
Work is currently underway on all four Niagara projects and is set to be complete by the end of 2022.