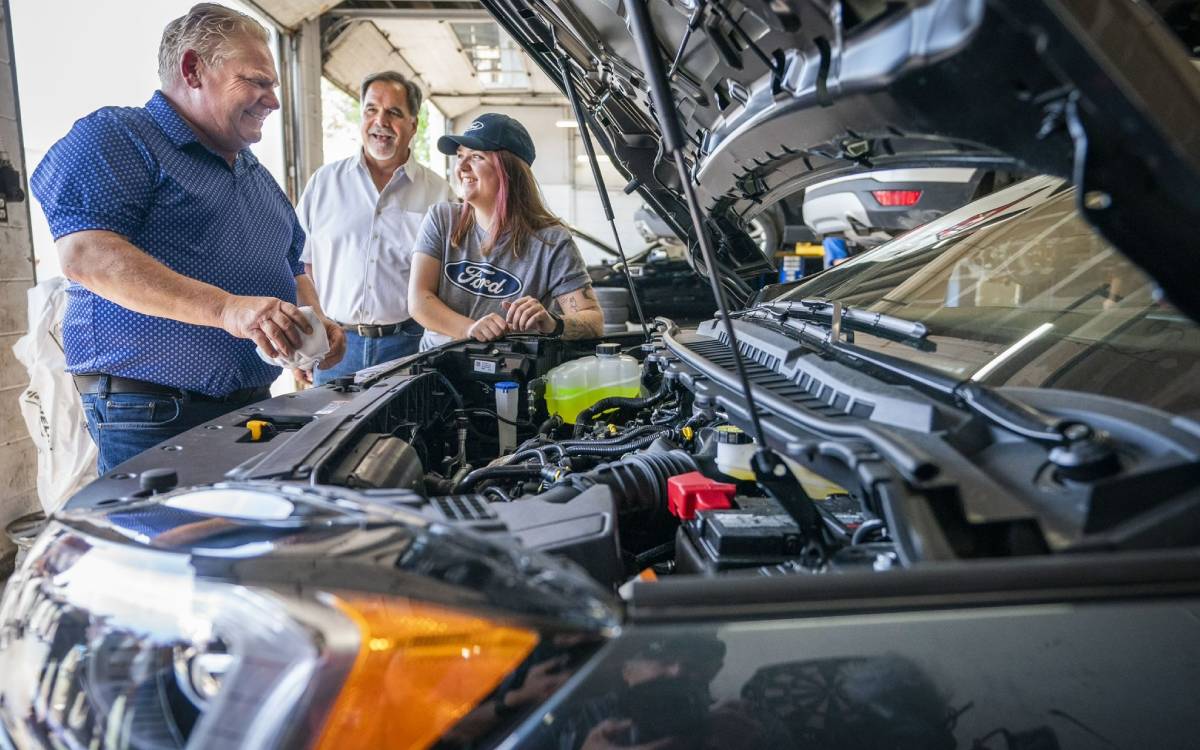 The Ontario PC Party leader spent a total of three days in the region this election campaign, travelling across the ridings of St. Catharines, Niagara Centre, and Niagara Falls. Pictured Premier Ford (left) and Niagara Centre PC candidate Fred Davies (right) look under the hood of a vehicle getting maintenance at Mike Knapp Ford in Welland Tuesday, May 31, 2022. Photo credit: Twitter/Doug Ford
With less than 48 hours before Ontarians hit the ballot box for the 2022 provincial election, incumbent premier Doug Ford was once again in Niagara Tuesday to spread his 'Get It Done' message amongst local constituents. 
Ford spent the morning with Progressive Conservative candidate Sal Sorrento in St. Catharines, going door to door chatting with residents. 
The leader then spent the afternoon alongside Niagara Centre PC candidate Fred Davies in Welland, where the two paid a visit to Mike Knapp Ford on Niagara Street, before canvassing in a nearby neighbourhood. 
In an exclusive interview with The Niagara Independent, Ford talked about why he chose to spend the waning hours of the 2022 campaign in Niagara. 
"The great people here are ready for change; it's been decades since a local PC candidate won, and we're going to make that happen this time around." 
St. Catharines and Niagara Centre haven't had a PC representative in provincial parliament since 1977 and 1975, respectively. 
Both ridings are currently held by the NDP.
"You can feel the momentum," said Ford, "we're going to get it done!"  
The election is this Thursday, June 2. 
Left, right, and centre, all of the political pundits and pollsters are aligned in their prediction: another massive majority for Ford's Progressive Conservative Party. 
CBC News Poll Tracker, 338Canada, and The Signal all have the PCs winning around 75 to 80 of the province's 124 seats, well above the 63 needed to form a majority government.
Locally, St. Catharines and Niagara Centre are both leaning toward a change in representation. 
Election forecast website 338Canada currently has PC challenger Sal Sorrento ahead of NDP incumbent Jennie Stevens by two points in St. Catharines, while it lists PC challenger Fred Davies three points ahead of NDP incumbent Jeff Burch in Niagara Centre.
"Niagara Centre has stagnated under the NDP, and with Doug Ford poised to get an even bigger majority government, local residents understand that the best way to ensure we get our fair share is to have a seat at the table," said Davies following the premier's visit Tuesday.
"They know I can deliver. I'll get it done for the people of Niagara Centre. The amazing welcome Doug Ford received today proved the momentum is building. It's palpable."
If he's successful, Davies will be the first PC MPP to represent the area that roughly constitutes modern Niagara Centre since Ellis Morningstar in 1975. 
Similarly, if Sorrento wins his bid to become MPP he'll be the first PC member since Robert Mercer Johnson in 1977 to represent St. Catharines.
"People can feel that Doug Ford is not only going to win, but get a majority. Getting us a seat at the table is how we'll get more done for St Catharines," said Sorrento after welcoming Ford to the riding for his second visit in less than two weeks.  
"It's been a long time, St. Catharines is ready for a change."
The provincial election is this Thursday. Polls are open from 9:00am to 9:00pm. To find out where you can cast your ballot, go to the Elections Ontario website here.