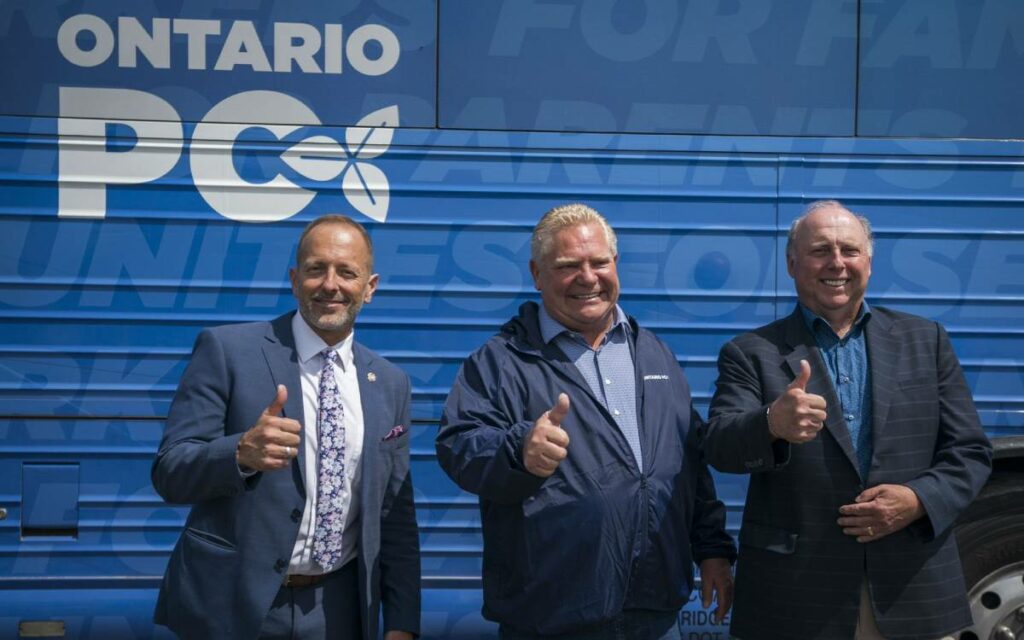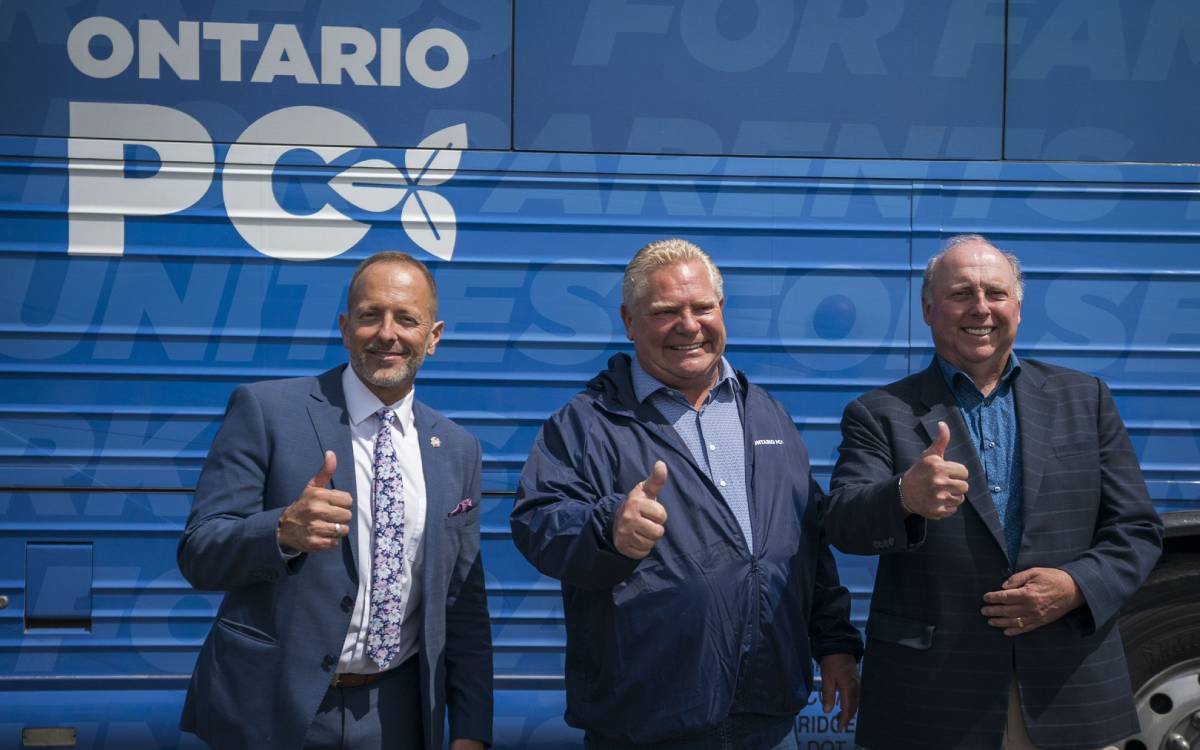 Doug Ford poses with Ontario PC Party candidate for Niagara Falls Bob Gale (right) and Mayor of Niagara Falls Jim Diodati (left). While in Canada's top tourism destination on Friday, Diodati formally endorsed Ford for premier. Photo credit: Twitter/Doug Ford
After spending much of the day in St. Catharines on Thursday, Ontario PC Party leader Doug Ford completed his whirlwind tour of the region in Port Colborne, Niagara Falls, and Niagara-on-the-Lake on Friday. 
In Port Colborne, Ford joined Niagara Centre PC candidate Fred Davies on a visit to local machine manufacturer Barber Hymac, also later greeting supporters at San Marco Ristorante. 
While at Barber Hymac the incumbent premier called the "hard working" people of Port Colborne "some of the greatest folks anywhere around" and reasserted his party's commitment to investing in the skilled trades and building up Ontario's homegrown manufacturing sector. 
In Niagara Falls, Ford joined local PC candidate Bob Gale and the city's mayor Jim Diodati at Arpad Park Hungarian Hall, just across from the future site of the new south Niagara hospital (a project long promised but never delivered by the previous Liberal government). 
Just one week after being formally backed by Mayor of Windsor Drew Dilkens, Ford received his second border city mayor endorsement while in town, earning high praise from Mayor Diodati, who said he'd been "very impressed" by the premier's leadership. 
"I don't think this is a time that you want to have somebody learning on the job. You want someone with the experience, a steady hand at the end helm; someone who understands how to get the ball across the finish line," said Diodati. 
"Premier Ford is the one for the job." 
Later in Niagara Falls, Ford and candidate Bob Gale paid a visit to Cropp Street's Auto-Tune Service Centre, where the PC leader got a chance to chat with employees and try his hand at changing a tire. 
Ford also made a short whistle stop in Niagara-on-the-Lake while in the riding, meeting with a large group of supporters at Trius Winery on Niagara Stone Road. 
"It was incredible to have our PC leader, Doug Ford, in Niagara yesterday to support my candidacy and reaffirm the importance of Niagara having a strong voice at the decision-making table," Gale told The Niagara Independent after the visit. 
"People in Niagara Falls, Fort Erie, and Niagara-on-the-Lake know that only Doug Ford and I will get it done for our community by rebuilding the economy, working for workers, building highways and key infrastructure, and keeping costs down."
Both Niagara Centre and Niagara Falls, currently held by NDP incumbent candidates Jeff Burch and Wayne Gates, have a realistic chance of flipping to the PCs June 2. 
According to online election predictor 338Canada, Davies and Gale are neck-and-neck with their respective NDP rivals in terms of election probability. 
Niagara Centre has been represented by the NDP at the provincial level since 1975. The last PC Party representative to win in the riding was the long-serving Ellis Morningstar. 
Niagara Falls has been NDP orange since 2014, and before that was Liberal for 10 years. The last PC candidate to win in Niagara Falls was Bart Maves, who served as MPP from 1995 to 2003.
Per CBC Poll Tracker, regional party support for the PCs and NDP across the nine ridings of Hamilton-Niagara is currently dead-even at just under 32 per cent. Given that the non-rural areas of Hamilton are universally considered NDP strongholds, it can be assumed that much of that PC support is coming from Niagara.