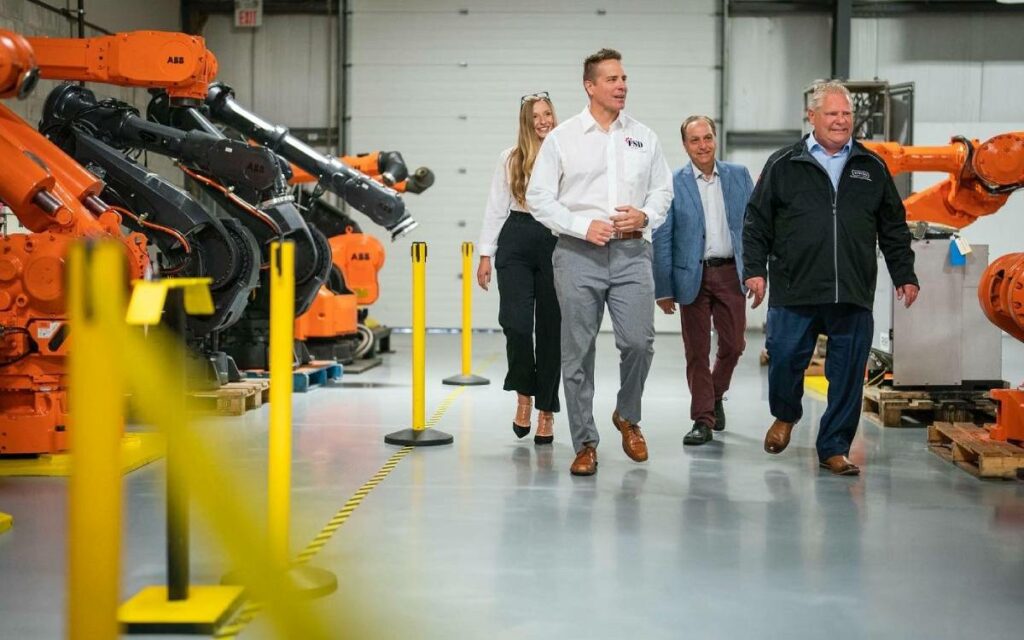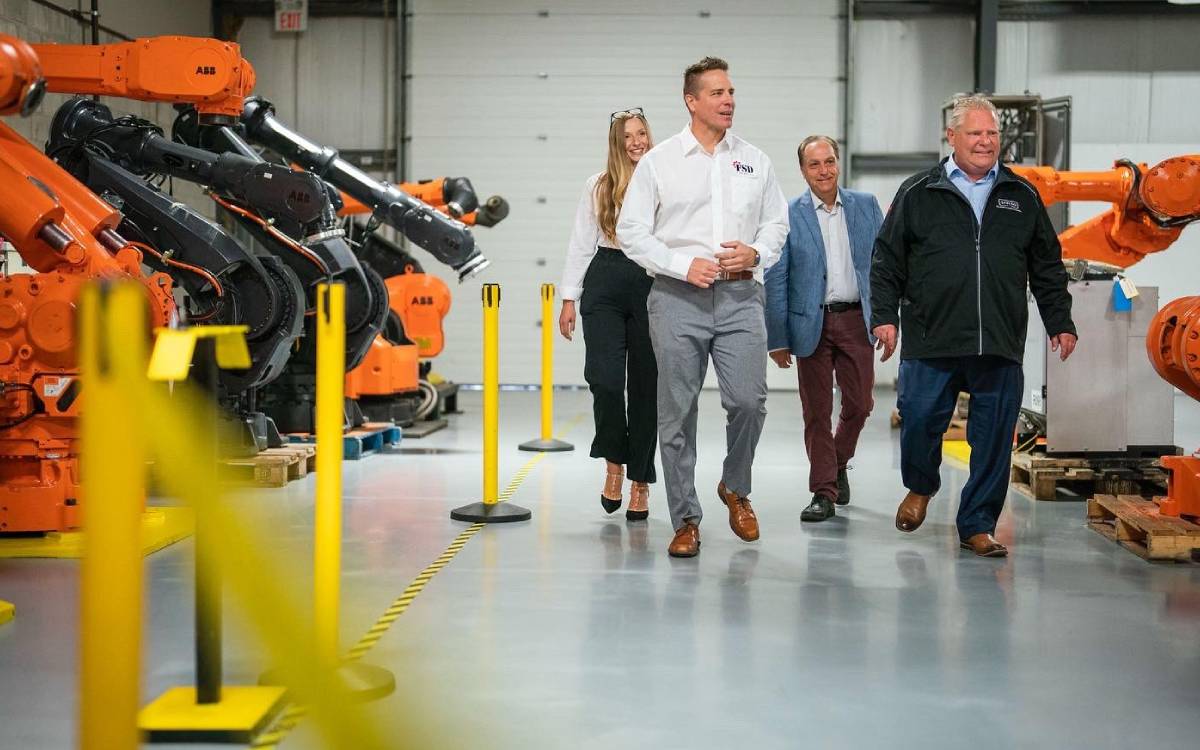 Doug Ford tours the FSD Robotics factory floor alongside Ontario PC candidate Sal Sorrento (centre-right) and company president and CEO Dave Burgess (centre-left). Photo credit: Twitter/Doug Ford
Ontario PC Party leader Doug Ford was in Niagara-on-the-Lake and St. Catharines on Thursday as part of a two-day campaign tour of the region.
Speaking at McNab Acres landscaping supply store on Niagara Stone Road, Ford discussed his party's plan to rebuild Ontario's post-pandemic economy and reiterated the PCs' pledge to twin and rehabilitate the Garden City Skyway. 
"Twinning the Skyway is a vital project that will better connect St. Catharines to the rest of the Niagara Region. It will improve cross-border trade and help strengthen the local/provincial economies," Ford said while addressing the media just north of the overpass. 
"Most importantly, this new bridge will offer a faster and safer and more reliable drive so that mums and dads spend less time in traffic and more time at home with their kids."
A "massive gamechanger" for Niagara, the Ford government formally committed to the large infrastructure project in its 2022 budget. 
There's been talk of twinning the Garden City Skyway for well over a decade now, as traffic congestion and safety concerns regarding the near 60-year-old bridge have increased throughout the years. But, as Ford touched on in his address, successive Liberal governments kept pushing the necessary project back.
Though an estimated cost has yet to be determined, construction is scheduled to commence sometime in late 2024 to early 2025. 
At a second stop just across the canal in St. Catharines, Ford toured FSD Robotics alongside local PC candidate Sal Sorrento. 
"It was truly an honour to have the Premier of Ontario come to St. Catharines and visit our supporters," Sorrento told The Niagara Independent after the stop. "We spoke to many of the residents about the positive direction Doug Ford is taking Ontario and they want St. Catharines to be part of it."
FSD president and CEO Dave Burgess showed Ford and Sorrento around the automation and robotics parts and service supplier's factory floor, letting the two check out the advanced technology on site, learn about processes, and chat with staff. 
According to Burgess, "everyone was very excited to have Premier Ford come through."
Decided by a mere 1,558 in 2018, St. Catharines was one of the tightest races in all of Ontario in the last election, and it's projected to be another nail-biter this time around. The PC, Liberal, and NDP candidate all have an equal shot at victory. 
The election predictor website 338Canada currently has St. Catharines listed as a dead heat between Sorrento and Liberal challenger Ryan Madill, with NDP incumbent Jennie Stevens trailing in a close third. 
The election is June 2.