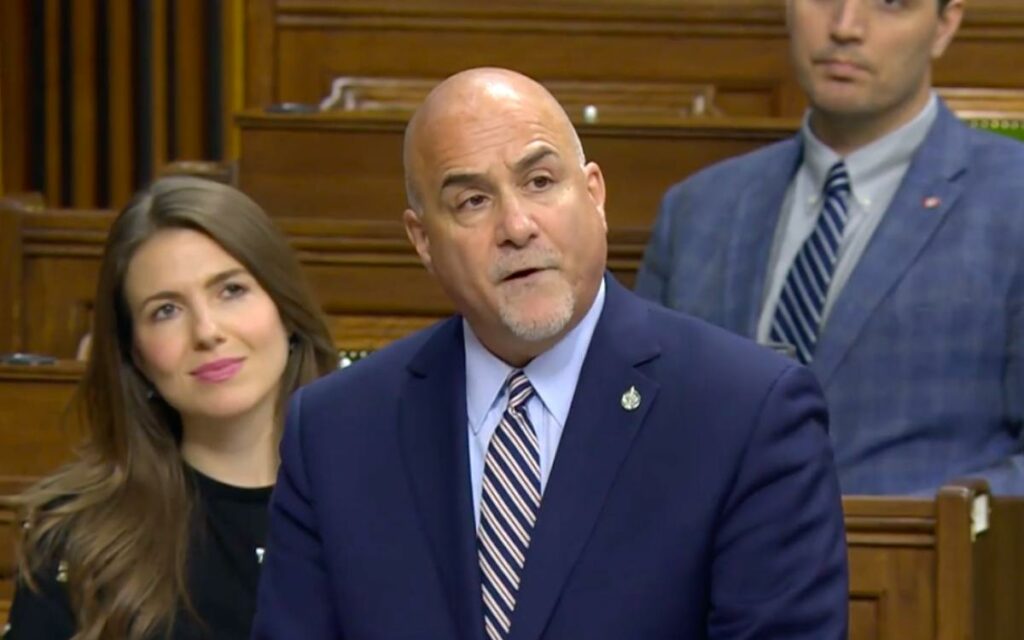 The Conservative MP for Niagara Falls (pictured) also put forward a unanimous consent motion on Monday to immediately return Bernardo back to a maximum-security prison. The Liberals rejected the motion.
Local MP for Niagara Falls Tony Baldinelli has taken concrete steps to guarantee mass murderers like Paul Bernardo are kept in maximum-security for their entire prison sentence. 
On Wednesday, Baldinelli introduced Private Member's Bill C-342.
The bill, which MP Baldinelli and Conservative Party leader Pierre Poilievre first announced at a press conference Sunday, would amend the Corrections and Conditional Release Act to ensure all court-ordered dangerous offenders and inmates convicted of more than one first-degree murder are permanently assigned a maximum-security classification. 
"Monsters like Paul Bernardo are getting out of maximum-security prisons because of soft-on-crime Liberal legislation. Bill C-342 will ensure these vile and dangerous mass murderers and violent criminals remain in a maximum-security prison, where they belong," Baldinelli said in a statement following introduction of the bill Wednesday.
"The Liberals got it wrong, and Conservatives will set it right. We will restore common sense to our justice and correctional services system so that victims, not criminals, come first."
The Niagara Falls MP's proposed legislation comes after Canadians recently learned that infamous serial killer Paul Bernardo was transferred from Millhaven Institution, a maximum-security facility in Bath, Ontario, to a medium-security prison in Quebec.
Both the Liberal government and Correctional Service of Canada (CSC) continue to receive significant, escalating criticism from the public, media, and Opposition for the transfer. 
"The Liberal Minister of Public Safety expressed 'shock' and outrage when we found out about Bernardo's prison security downgrade," Baldinelli said earlier this week. "But that was just an act, and we now know the Minister's office knew for months beforehand and did nothing about it."
"That says it all about this government's approach to our justice system." 
Records from CSC reveal that the office of Minister of Public Safety Marco Mendicino, as well as the Prime Minister's Office, knew of Bernardo's impending move in March, despite the minister responsible alleging he only found out about the transfer the day after it happened.
In the House on Wednesday, Conservative leader Pierre Poilievre questioned the minister's sincerity on the matter. 
"If his staff had really kept a secret from him of this enormity, he would have fired them a long time ago," Poilievre said. "But he hasn't because he knows, and they know, that he knew way back then."
Many are calling for Mendicino to resign.
For his part, the minister vehemently denies any prior knowledge of the transfer. 
Moving forward, Baldinelli said that the Conservatives, unlike the government in power, will prioritize safety and "put the victims of crime first".
"It is important not only for the residents in my community who are being revictimized by their government but for all victims of crime across the country who deserve to be a priority instead of an afterthought."
To become law and return Bernardo back to maximum-security, Baldinelli's bill still has to go through a number of steps in the legislative process. 
The House rises for the summer June 23. It's set to return September 18.