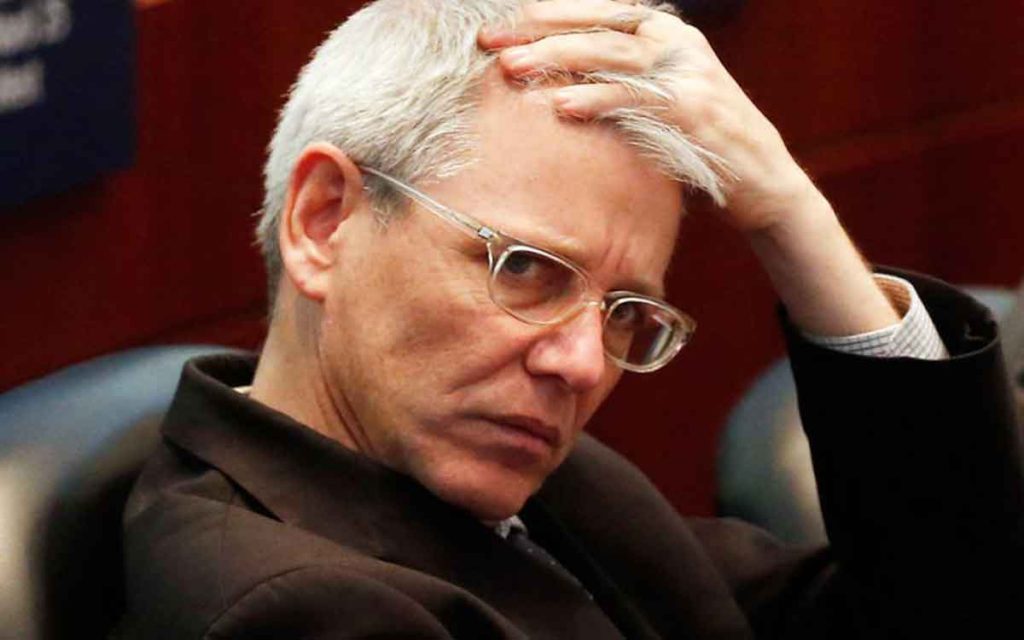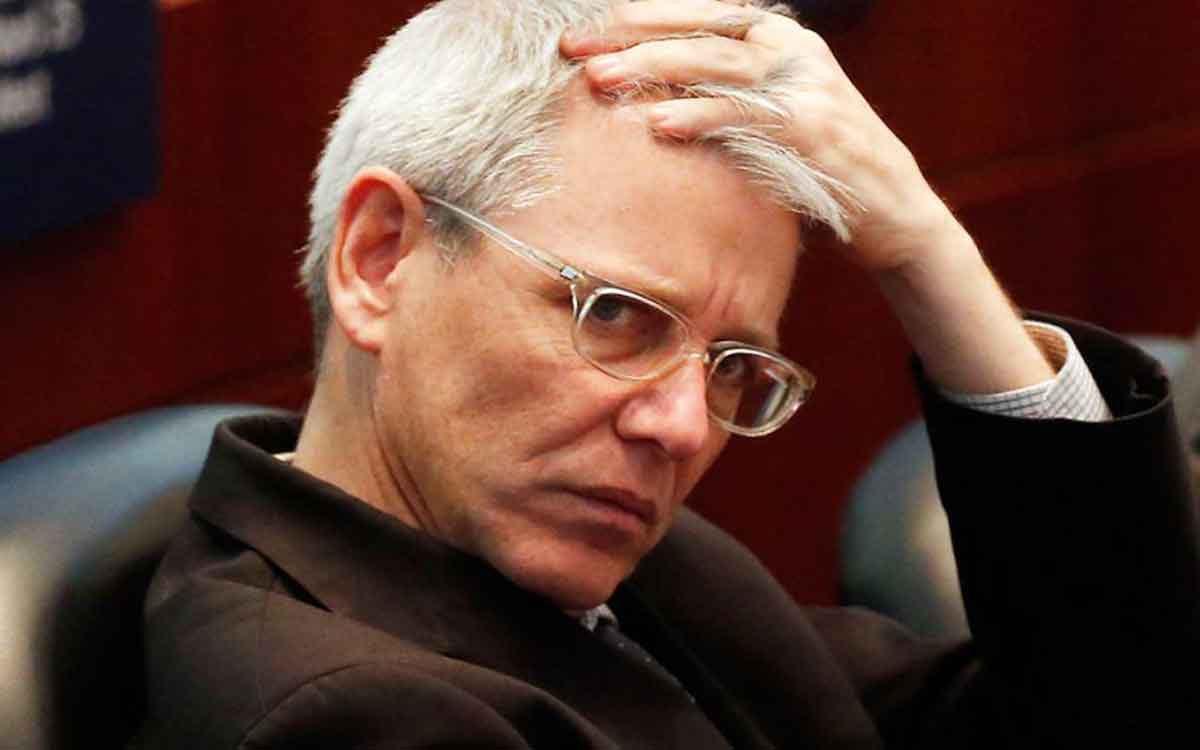 Adam Vaughan has never been known for being funny.
He still isn't.
If you spend too much time online, you may have noticed that Toronto Liberal MP Adam Vaughan got into a spot of bother over the weekend on Twitter, thanks to this now-deleted (of course) tweet: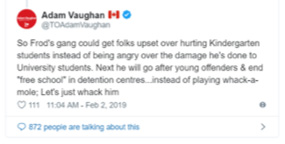 Presumably, Vaughan deliberately misspelled Doug Ford's name as 'Frod' to suggest 'fraud.' But it was Vaughan's snappy "Let's just whack him" punchline (in both senses of the term) that soon attracted criticism, with many accusing Vaughan of encouraging violence against Ontario's conservative premier, who sat on Toronto council with Vaughan from 2010 to 2014. Conservatives with a (justified) persecution complex speculated what the reaction would be had a Conservative MP used Vaughan's language.
After a few hours of backlash over the lunchtime Saturday, Vaughan responded by tweeting this non-apology, complete with Doug Ford-as-rodent graphics: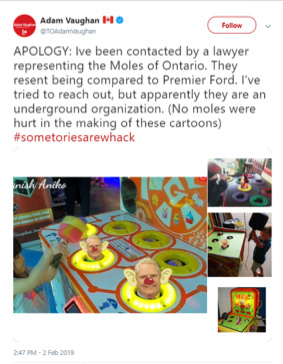 Hilarious. Vaughan even began batting back at some of his critics. When Ontario children's minister Lisa MacLeod responded, "#SunnyWays calling for violence against Ontario's Premier," Vaughan clapped back: "I knew it … you cut your sense of humour too!"
But the calls and emails must have kept coming, both from Justin Trudeau's communications office, and weekend news desks that had just put Wiarton Willie back in his hole and were salivating at the prospect of a real controversy starring multiple –albeit fake – rodents. Five-and-a-half hours later, Vaughan issued a more sober, graphic-free apology: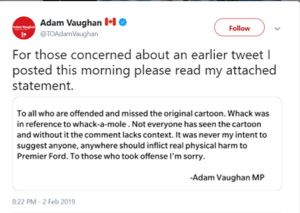 There's an old warning that parents, teachers and police make to young people: "Nothing good happens at 3 a.m." There should be a new warning for politicians: Nothing good happens on the weekend on Twitter.
Luckily for Vaughan, his apology came the same day, and he is a Liberal, so the stories that appeared Saturday and Sunday were mostly headlined "Vaughan apologies" and not "Liberal MP appears to threaten Ontario premier."
The Toronto Sun's Brian Lilley, however, contrasted Vaughan's nerdy bravado with Justin Trudeau's very recent claim that the Liberals will be running a positive campaign this year:
"We're going to have to stand in the face of what very likely will be negative, divisive campaigns while we stay positive, because we know that scaring people and dividing people might lead to short-term electoral gains, but it ends up hurting your capacity to govern for everyone," Trudeau said Friday.
A day later, Toronto Liberal MP Adam Vaughan insulted Doug Ford by spelling his name incorrectly so that it sounds like the word fraud, invented false policies for Ford, then called for him to be whacked all in one tweet.
On Monday, the Conservatives made Vaughan the subject of their first question in Question Period, with Manitoba MP Candice Bergen asking Justin Trudeau why he had not asked for Vaughan's resignation as parliamentary secretary to the minister of families, children and social development. Trudeau responded that Vaughan had apologized, and that MPs need to be civil and keep away from "personal invectives."
Bergen also reminded Trudeau that Vaughan had previously bullied a female Conservative MP. From the Globe and Mail's report of the November, 2017 incident:
The incident happened as MPs were aboard a bus outside Parliament Hill. [Richmond Centre MP Alice] Wong said she was seated at the front of the bus when Mr. Vaughan got on. She said he was upset with some comments she had made during Question Period about the Liberal government's participation in the Beijing-based Asian Infrastructure Investment Bank. Ms. Wong, who has questions about the bank, said she emotionally shouted out that "Canada is our home" during the proceedings, and Mr. Vaughan approached her on the bus about it.
"He's a tall guy and he's pointing at me … commenting, 'Why are you against international investment?'" Ms. Wong said. "Intimidating me in that bus, I don't think that's the proper way, behaviour, as a member of Parliament."
Mr. Vaughan, however, described the bus incident differently.
He said he simply stopped to tell Ms. Wong about the "significant opportunities" the infrastructure bank would create for architectural, engineering and infrastructure firms in his Toronto riding, before moving on to the back of the bus and taking his seat.
The Liberal government's funding of the Asian Infrastructure Investment Bank is one of its many naïve initiatives aimed at wooing the Chinese regime. The bank, of course, is just one facet of China's 100-year plan to put the rest of the globe at its mercy. (Vaughan's confrontation with Wong is mysteriously absent from Vaughan's Wikipedia page, so let this be a reminder to you kids: don't use Wikipedia! And don't be out after 3 a.m.)
People who have lived in the GTA will remember Vaughan from his earlier career as a TV reporter for Toronto's CBC and CITY-TV. Vaughan saw himself as someone with deep knowledge of municipal issues, but whatever knowledge he had was used to promote his own big-spending, interventionist view of the world, a view that was confirmed when he was elected to Toronto council in 2006.
It must have been a nightmare for Vaughan when Rob Ford – whom he'd openly ridiculed when both were Toronto councillors – became Toronto's mayor in 2010. And imagine how poor Adam felt when Doug Ford became premier last June, with absolute authority over every municipality in Ontario (as was affirmed by the appeal court ruling on downsizing Toronto council). The only mercy for Adam is that he doesn't have to sit in a room with Ford. The feeling is probably mutual.
But there is comfort for the legions who find Vaughan to be a charm-free yet persistent feature of the political landscape. Vaughan is a mediocre backbencher and thanks to the Wong incident, and now this one, he's guaranteed to be on the backbench for the foreseeable future. Maybe Vaughan will take another look at the Ontario Liberal leadership, or start planning for the Toronto mayoralty in 2022. In the meantime, he has plenty of time to work on his comedy, which can only get better.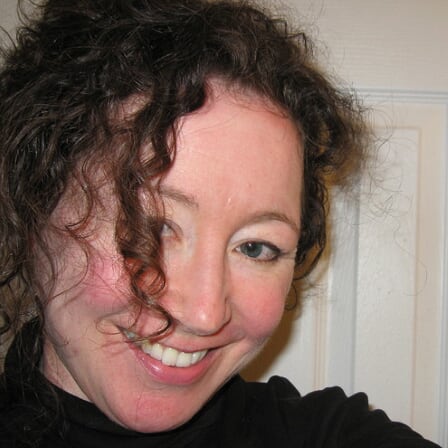 Joan Tintor is a writer and researcher. Her political experience includes having served as legislative assistant to Ontario transportation minister Al Palladini, and as a writer/researcher for the Ontario PC Caucus. She earned a degree in journalism from Ryerson Polytechnic University in 1994.