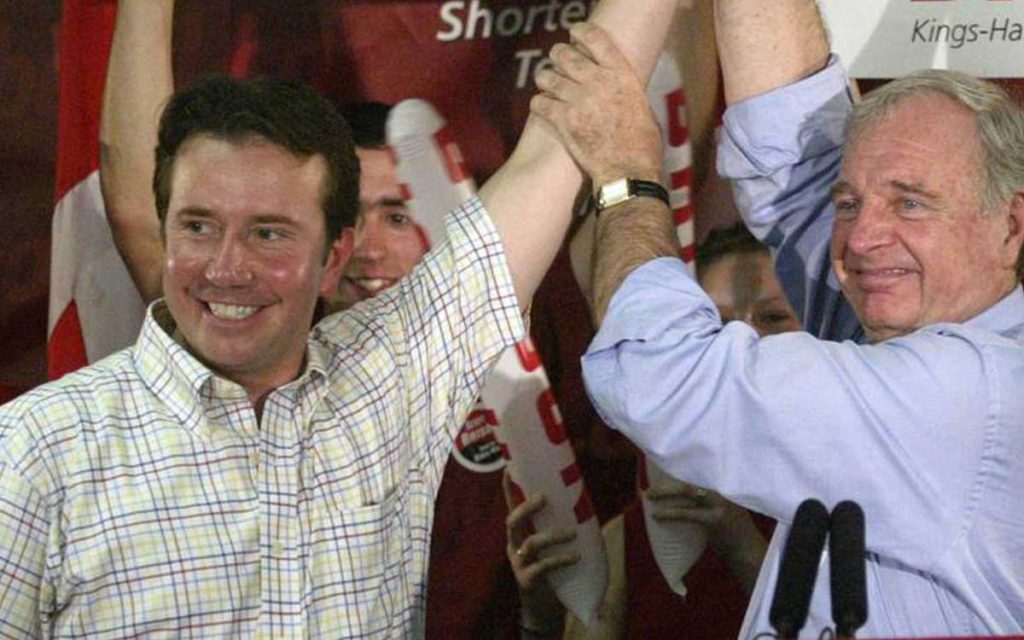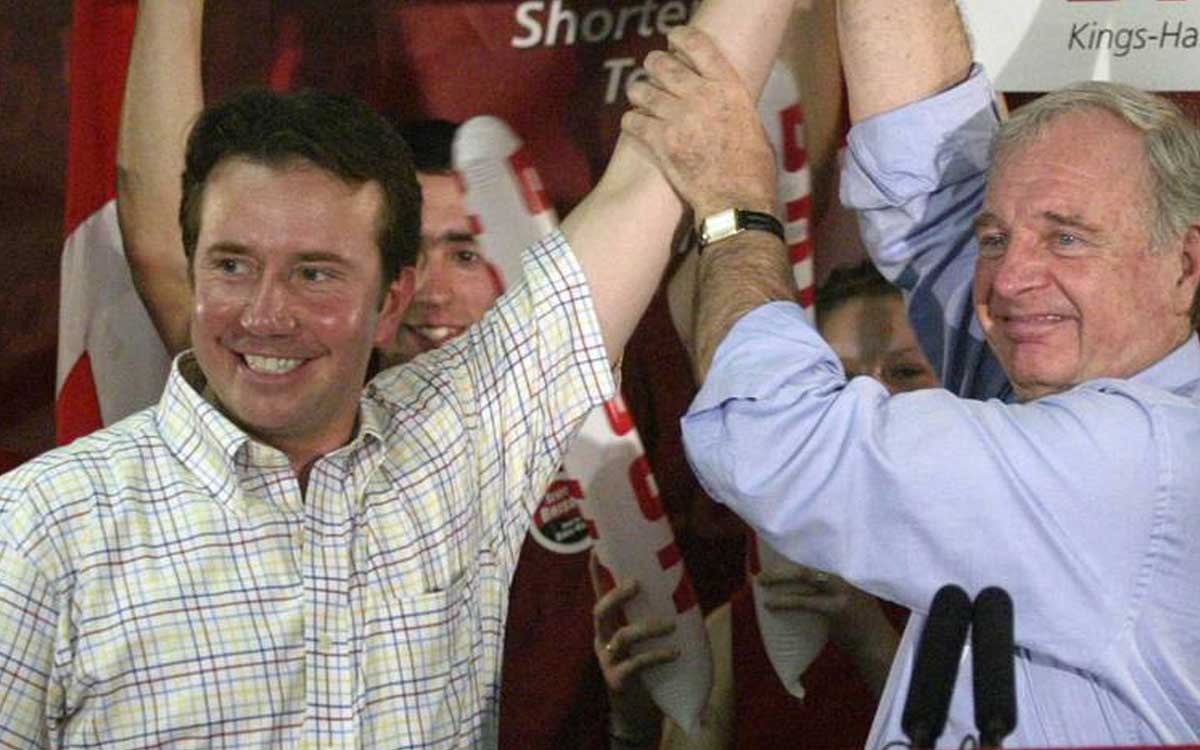 Former prime minister Paul Martin raises the arm of Liberal candidate Scott Brison during a 2004 campaign stop in Windsor. – Tim Krochak
On Monday, Justin Trudeau shuffled his cabinet, promoting indigenous services minister Jane Philpott to treasury board, demoting justice minister Jody Wilson-Raybould to veterans' affairs, and sidelining the increasingly embarrassing Seamus O'Regan from veterans' affairs to indigenous services. Two newcomers to cabinet were appointed: Montreal MP David Lametti is the new justice minister, and Nova Scotia's Bernadette Jordan is taking on the new portfolio of minister of rural economic development.
Trudeau probably would have preferred not to create a new portfolio, but a larger shuffle (some were hoping that immigration minister Ahmed Hussen and environment minister Catherine McKenna would be moved) would have been ill-advised. The last thing the Liberals need is ministers making gaffes in new portfolios in an election year. They will have enough trouble dealing with Trudeau's. A big shuffle might also have suggested – God forbid – a government in disarray. And, regional sensitivities being what they are, and every Liberal seat in Atlantic Canada being Liberal red, Trudeau could not leave Nova Scotia without a seat in cabinet.
Bernadette Jordan replaces longtime Kings-Hants MP and treasury board president Scott Brison, who resigned last week citing one of the oldest canards in politics: wanting to spend more time with his family. It was the same excuse former GOP House Speaker Paul Ryan relied upon last summer to escape Trump's Washington for Wisconsin.
According to the Canadian Press, Jordan is the first woman from Nova Scotia to serve in the federal cabinet. Wait – Nova Scotia had a gay federal cabinet minister before it had a female federal cabinet minister? That doesn't sound very progressive. Or maybe it is.
Some reports on the resignation revived Brison's quip to the Liberal convention last year: "I was born a Liberal. I only came out 15 years ago." This is a pithy soundbite that is complete nonsense, nonsense that should have been fact-checked by the media.
Brison was elected as a Progressive Conservative MP from the riding of Kings-Hants in the 1997 general election, under the new leadership of Jean Charest (who quit the following year to run for Liberal leader in Québec). He was an energetic and effective opposition critic, particularly as finance critic after the 2000 election.
The late 90s and early 2000s were dire days for Canadian conservatives, with votes and declining fundraising split between the Reform-then-Canadian Alliance, and the Progressive Conservatives. The 2003 Perth-Middlesex by-election – won by the PCs – was something of a watershed. It forced Canadian Alliance leader Stephen Harper to accept that there was no future for his party without a merger with the Progressive Conservatives, no matter how stubbornly both parties clung to their brands.
Secret merger talks between Harper and new PC leader Peter MacKay began that summer. After it became known that merger talks were taking place, Scott Brison co-authored an op-ed in favour of the merger. Bob Plamondon quoted from the op-ed in his book, Full Circle: Death and Resurrection In Canadian Conservative Politics:
Canadians deserve a competitive conservative alternative to the Liberal Party. The current dialogue between the Progressive Conservative Party of Canada and the Canadian Alliance could be a positive step towards building that alternative. But if some form of union of our parties is to succeed, it must be based on a common set of basic values and principles.
When Harper and MacKay reached a deal, they released an agreement in principle that included a set of founding principles for the new party. These included "a balance between fiscal accountability, progressive social policy and individual rights and responsibilities" and "a belief in the equality of all Canadians."
The agreement in principle was put to a vote of the general membership of both parties. Brison voted yes. But, mere days after voting in favour of the merger of the PC and Canadian Alliance parties, Brison defected to the Liberals, and was appointed parliamentary secretary to Prime Minister Paul Martin.
My hunch at the time was that Brison bailed on the new party when he realized that Stephen Harper was likely to be its first leader, something he should have figured out much earlier. Perhaps he feared losing influence in a party led by a Reform Party stalwart, or perhaps he feared social conservatives holding too much sway in the new party (which turned out not to be the case, despite regular articles alleging that Stephen Harper was under the command and control of evangelicals).
His PC colleagues criticized Brison for abandoning the new party, in whose birth he had enthusiastically participated. Fellow Nova Scotia MP Gerald Keddy called Brison a traitor, telling a reporter: "Two weeks ago he was calling around looking for support in a leadership campaign. I've never seen such rampant political opportunism."
Then-PC leader Peter MacKay said: "It is a completely cynical and manipulative move by Mr. Brison to enhance his own personal career. This is very much about Scott Brison and not the formation of the new party. He'll be quite shocked by the reaction from people in the party and people in his riding." MacKay was proven wrong, of course. Brison held his riding and entered cabinet as public works minister after Martin won a minority government in 2004.
Brison's departure was unquestionably a loss for the new party, as was Belinda Stronach's 18 months later. But the MPs and organizers who remained were a canny and patient bunch. Barely two years after the new Conservative Party was founded, it formed a minority government. Scott Brison had to sit on the opposition benches for almost 10 years, watching his former caucus mates run the government in which he would have certainly been a senior cabinet minister.
When the Liberals returned to power under Justin Trudeau in 2015, Brison got his turn in cabinet again, as one of few MPs who could boast prior cabinet experience. As many have speculated, one of his first actions as treasury board president may be the reason he is abruptly leaving a new government that has good odds of being re-elected. As the National Post's Christie Blatchford writes:
Brison is one of the key figures at the heart of the prosecution against Vice-Admiral Mark Norman, the second-in-command of the military who is accused of leaking cabinet secrets.
His name appears on the Crown's list of witnesses when the case goes to trial in August, two months before the federal election, though it is not from government lawyers he can expect the rough ride.
Brison was vice-chair of the ad hoc committee meeting, at which, shortly after the Trudeau Liberals took office in 2015, he allegedly was "the driving force" behind the Liberals' decision to delay awarding a contract for a supply ship to Quebec's Davie Shipbuilding.
And as described in the factum filed by Norman's defence lawyers in their third-party records motion that resumes in Ottawa later this month, it was Brison's statements to the RCMP — that the leaks about the contract delay, allegedly by Norman, were so grave they hindered his and the government's ability to do their due diligence on the Davie contact — that acted as the foundation for the Norman prosecution.
As Brison is remaining a Member of Parliament until the general election, he can still invoke parliamentary privilege and refuse to testify at Norman's trial this summer (unless the government prorogues Parliament at the end of the spring session). Refusing to testify would not look great for the Liberals, but what would Brison care about that now?
Brison has said previously that by questioning the Davie contract, he was doing his job as treasury board president, not carrying water for Nova Scotia's Irving shipbuilding interests, who were lobbying the new Liberal government to let them bid for the contract that had already been awarded. Brison may well believe he was doing the right thing and may even be willing to testify to that claim under oath. But Stephen Harper's former chief of staff Nigel Wright sincerely believed he was doing the right thing when he reimbursed Mike Duffy's expenses out of his own funds.
The smart move for Brison would be to invoke privilege, and let some other member of the ad hoc cabinet committee be examined by Mark Norman's lawyer Marie Henein. Yes, he would suffer some criticism for failing to account for his actions, but the risk of testifying is higher, and what does he owe the Liberal Party after 15 years? Ten years from now, Justin Trudeau will be out of office, Brison's daughters will be entering high school, and the federal or Nova Scotia Liberal leadership may be open. Liberal Scott Brison's opportunism will seem as distant as PC Scott Brison's opportunism. Heck, he could even "come out" again, as a New Democrat or Green.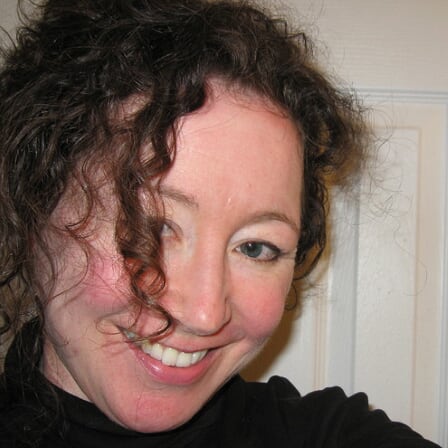 Joan Tintor is a writer and researcher. Her political experience includes having served as legislative assistant to Ontario transportation minister Al Palladini, and as a writer/researcher for the Ontario PC Caucus. She earned a degree in journalism from Ryerson Polytechnic University in 1994.