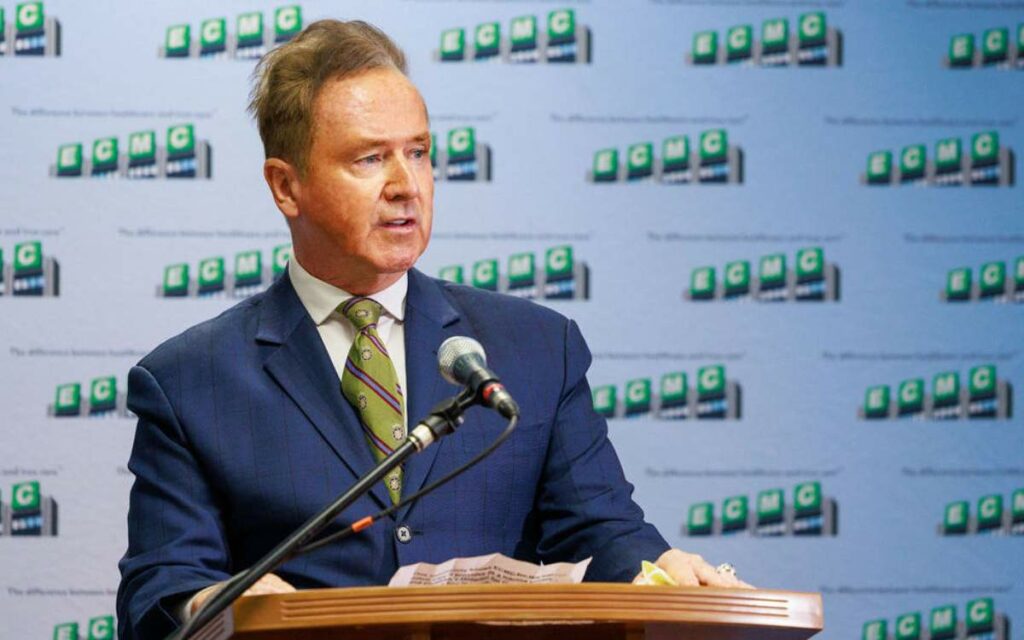 This isn't the first time Democratic representative for New York's 26th congressional district Brian Higgins has criticized the Trudeau government's policies. Photo credit: Facebook/Brian Higgins
Few American politicians were as critical of Justin Trudeau's "draconian" COVID travel policies as Democratic Congressman for Buffalo and Niagara Falls Brian Higgins. 
Throughout the pandemic, Higgins, who co-chairs the Canada-US Interparliamentary Group and the Congressional Northern Border Caucus under President Joe Biden, produced numerous open letters, press releases, and interviews excoriating the prime minister's border restrictions. The Congressman and his allies criticized the Papineau MP for, among other things, his lack of compassion in the face of suffering families, inconsistency in policy-making, refusal to "follow the science", and stubborn attachment to the failed ArriveCAN app. 
But with the pandemic and its associated restrictions now long gone, Trudeau continues to draw the ire of the local representative from New York – this time, for his new "discriminatory" taxation policy on American property owners in Canada. 
In a February 9 open letter to Secretary of State Antony Blinken, Higgins called the Trudeau government's imposition of its Underused Housing Tax "offensive", especially "after nearly three years of disjointed border policies."
"This tax is in violation of the non-discrimination provisions of the United States-Mexico-Canada Agreement, as well as long-standing tax treaties," argued Higgins. "The United States and Canada, and in particular the area I represent, Western New York and neighboring Southern Ontario, share integrated economies and cultures. Many of my constituents own property in Ontario and throughout Canada. During the summer months, Americans living along our Northern Border frequently cross into Canada to enjoy their cottages in binational beach communities."
The Underused Housing Tax is an annual one per cent levy on the ownership of vacant or underused housing in Canada. In most cases, the tax only applies to non-resident, non-Canadian owners. It took effect on Jan. 1, 2022 and the first payment comes due April 30 of this year. Failure to pay carries a minimum $5,000 fine.
On Jan. 1, 2023, the Trudeau government also installed a two-year ban on foreign home buyers. 
"At a time when encouraging cross-border travel and economic activity should be prioritized as both countries recover from the COVID-19 pandemic, this is an unnecessary burden and bad faith action by the Government of Canada," wrote Higgins. 
For several generations, Niagara's south coast has been a hot spot for American vacationers from Western New York. In fact, Fort Erie has the highest percentage of foreign-owned properties in the entire province, almost wholly due to the American influx during the summer months. Right around nine per cent of all properties in the small border town are foreign-owned. 
Port Colborne and Wainfleet boast similar numbers, with the latter's foreign-owned share of all homes at just under eight per cent. 
Higgins was apparently motivated to write his letter, in which he calls for the Secretary of State to address the tax during upcoming bilateral talks with Canada, upon receiving hundreds of communications from around the U.S. upset and confused by the new levy. 
The Biden Administration is expected to meet with its Canadian counterparts sometime in March.