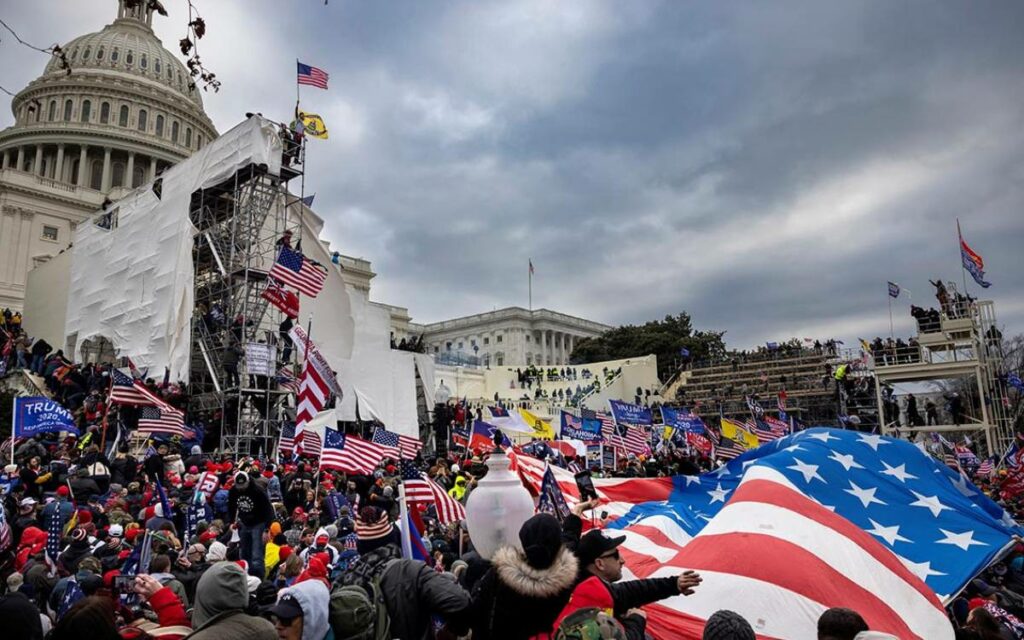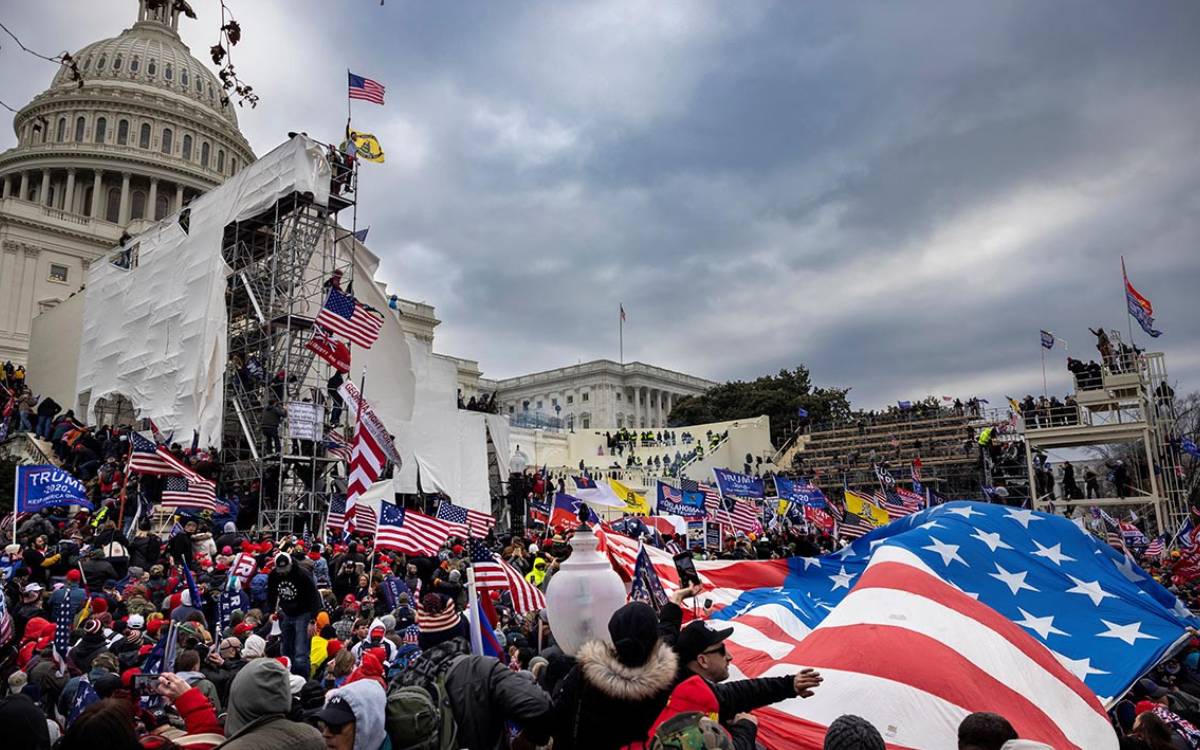 If the Congressional leaders had moved with speed and determination, brought forth witnesses, and had cooperative GOP partners, the 45th president would have been impeached, convicted for his unconstitutional crimes surrounding January 6 and been ineligible to run for office again. However, as it stands, it seems likely Trump will make another attempt at the presidency and American voters may have to suffer through a repeat of 2020. Pictured: Protestors clash with police and security forces outside the U.S. Capitol on Jan. 6, 2021. Photo credit: Getty Images/Brent Stirton
The Congressional hearings taking place in Washington reveal more calamity than a president violating the Constitution. They also represent a more foundational problem that was completely avoidable. The mismanagement of this catastrophe is reaping a harvest of regrettable difficulties and setting the stage for greater disaster in the future. 
When President Donald Trump decided to invest in the idea that the 2020 US National Election was stolen, he chose to believe what his erstwhile Attorney General Bill Barr had dismissed. Barr is a two-time attorney general and a credible partisan for the Republican cause. If Barr had seen anything untoward it would have been shared by now. 
Two Thousand Mules is a Dinesh D'Souza documentary about the harvesting of votes and alleged corruption in the 2020 election. Barr was unmoved by the content of this film.
Numerous other conservative stalwarts confirm that Trump became fixated on a lie and was unwilling to accept factual evidence. His daughter Ivanka, his close confidante Kellyanne Conway, Georgia Governor Brian Kemp, Georgia Secretary of State Brad Raffensperger (responsible for certifying the Georgia election results), campaign manager Bill Stepien and Trump's loyal Vice President, Mike Pence, top this list. 
The sheer volume of the players, the character of each, and the loyalty they shared for President Trump should have caused him to recognize his course was poorly chosen. Instead, he aligned himself with dubious individuals including allegedly oft inebriated Rudy Giuliani (his personal lawyer), Sidney Powell (unleash the kraken fame), Russell J. Ramsland (made the initial claims of voting machinery problems), John Eastman (who theorized VP Pence could simply reject electoral votes submitted from various states) and Charlie Kirk (Turning Point U.S.A. founder). 
Once the January 6 events were underway, Trump, while not ordering their actions, undoubtedly stood by and allowed it to unfold far beyond a mere protest. He could have intervened at any point to ensure that the uncouth riot did not take place. His passive agreement with the unruly crowd, his reticence to tell them to stop, his refusal to utilize the powers of his office to restore law and order, and his subsequent willingness to lend the authority of the presidency to an alleged conspiracy demanded swift action in the form of impeachment and conviction. 
The failure of the Democratic Congress to follow the procedures, call witnesses, and thoroughly prosecute President Trump, combined with the feckless determination of too many Republican legislators to defend his intolerable actions, has produced the present nauseating situation. If the Congressional leaders had moved with speed and determination, brought forth witnesses, and had cooperative GOP partners, the 45th president would have been impeached, convicted for his unconstitutional crimes and been ineligible to run for office again. His impending campaign in 2024 and potential return to the White House, as well as his accompanying assault on the presidency, his opponents, and the nation, were completely preventable. 
Trump is holding rallies while continuing to spew his delusional nonsense about the reversal/production of millions of votes. It is clear he plans another bid. This presents the nation with potentially ugly options. 
President Biden will be 82 by Inauguration Day. His present trouble with speech and cognitive issues are regularly manifested. Many find it hard to imagine him holding the post for another half-dozen years. 
The prospect of Trump defeating Biden in a rematch is not far-fetched. Biden might be the only Democrat Trump could defeat, and with some consolation for Democrats, Trump may be the only Republican Biden could defeat. This does not bring much comfort to the nation. And the nation, for all its faults, deserves better options than an aging and increasingly incoherent president, or the return of one who is pathologically obsessed with his alleged political enemies and other conspiratorialists. 
Trump's shadow over the Republican Party could prevent more vibrant candidates from running. Florida Governor Ron DeSantis is 43; former Secretary of State Mike Pompeo is 59; Senator Tom Cotton of Arkansas is 45. There are others, including a more diverse group led by Senator Joni Ernst of Iowa or Senator Tim Scott of South Carolina. 
The ramblings of this demagogue need not hold the Republican Party hostage, nor limit the choice of American voters to "the evil of two lessers" as Mort Zuckerman, panelist on the old McLaughlin Group, used to say. America is better and Americans deserve better. 
Consider the upcoming Congressional elections and the following 2024 candidacies announcements. A confluence of factors has put the ruling Democratic Party in a precarious position heading toward November. As a result, they are looking for ways to distract from predicaments such as inflation, rising interest rates, troublesome market jitters and national security blunders. 
One strategy is to identify a way to correct the errors made during the second impeachment hearings. The hope is to have Merrick Garland, Attorney General of the United States, bring legal charges against the former Chief Executive regarding the January 6th riots. Unfortunately, this attempt is likely an overreach because of many obstacles. 
The Democratic Party would be well-served if President Biden were to announce, shortly following the midterm elections, that he will not seek a second term. It would leave the Democrats in a quandary with potentially older nominee Bernie Sanders. At least, however, Sanders appears energetic and younger candidates could explore opportunities. 
Trump, on the other hand, could undermine Republican hopes for taking both Houses of Congress if he chose to announce his bid prior to the midterm elections. Nothing would motivate a moribund Democratic Party like a Trump candidacy. Nothing could be worse for the Republican Party or the nation. 
Trump might try this option to head off competition from Governor DeSantis, his biggest threat (more on that in a future column). A renewed Trump campaign would bring the usual hyperbole, empty charges, and nasty insults. He would likely claim the primaries were rigged upon losing a single one. 
If he wins the nomination there is no way the 2024 election ends without wild claims of fraud, cheating, and voter intimidation or disenfranchisement. The Republican Party will likely be torn apart and the nation scarred. Democrats will not accept a Trump victory and Trump would inevitably claim further theft if he lost. 
The mournful sight of courts deciding the election would arise. The possibility of a constitutional crisis would be significant. Civil War would be a distinct possibility. All this affliction was avoidable if Trump were an honourable man, if legislators had character, and if the tools to defend the nation from threats foreign and domestic had been properly applied. 
At the end of Watergate, President Ford's first speech to the nation included the following statement: "Our Constitution works. Our great Republic is a government of laws, and not of men. Here the people rule." The Constitution, the Nation, and its leaders had risen to the occasion. In 2024, once again, the American people will turn their eyes to Washington and hope its leaders can face down a menace which imperils the nation. Will a future president be able to restate Ford's wise assessment? 
Dave is a retired elementary resource teacher who now works part-time at the St. Catharines Courthouse as a Registrar. He has worked on political campaigns since high school, attended university in South Carolina for five years, and loves reading biographies.