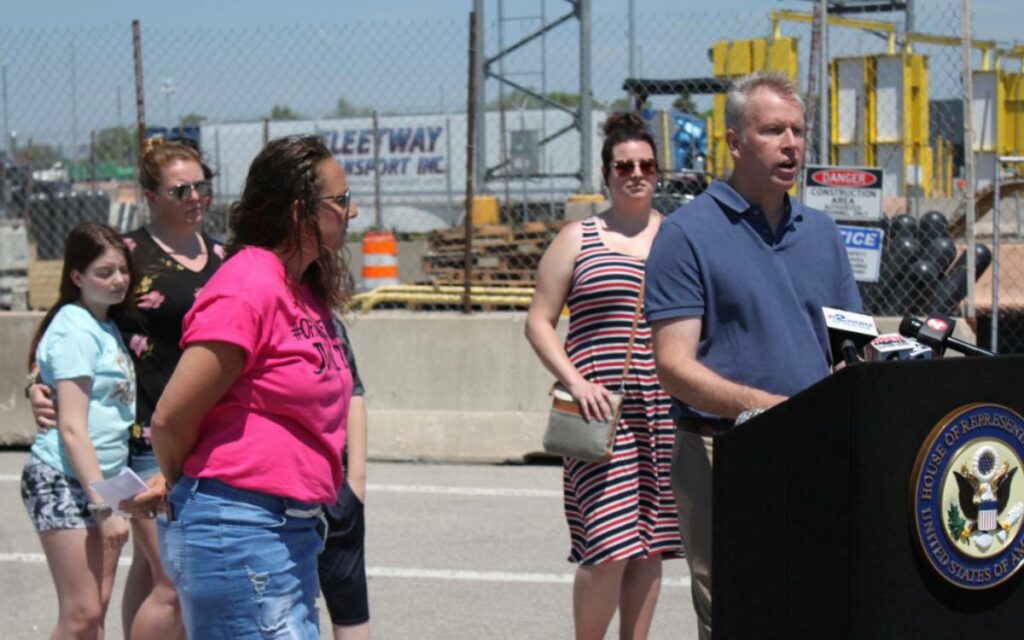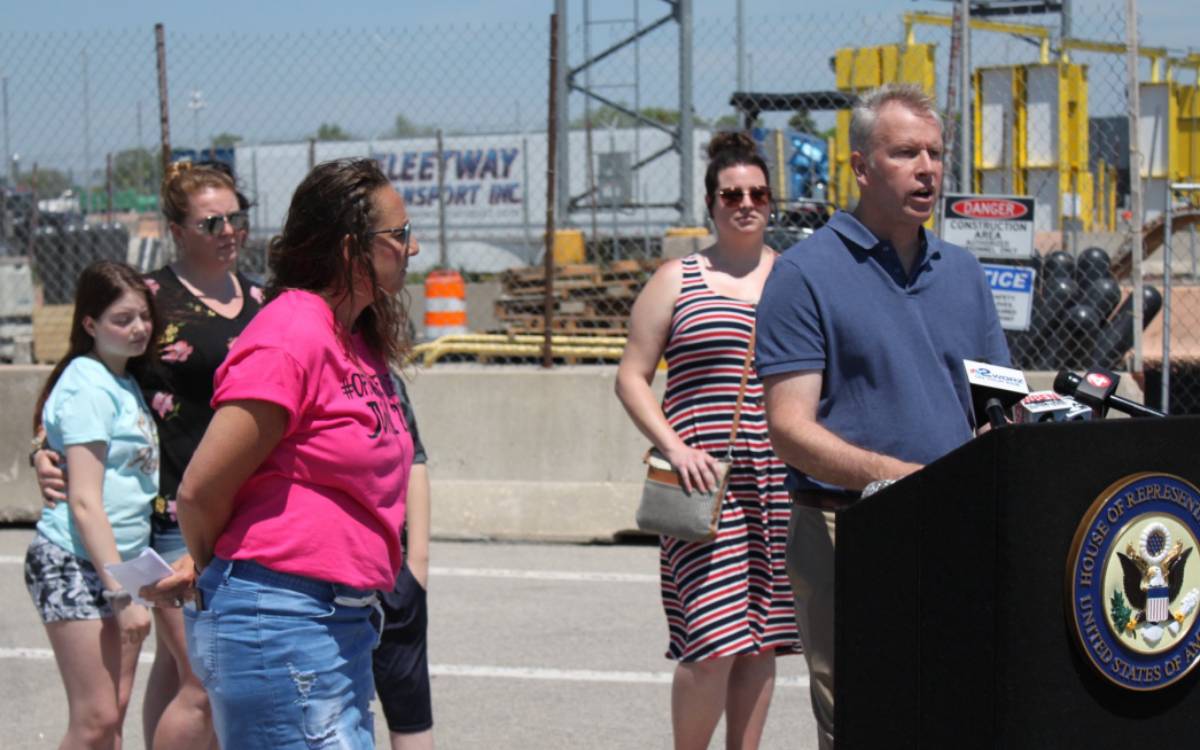 New York Congressman Chris Jacobs (right) with separated families at the Lewiston-Queenston Bridge in Niagara Falls, June 6, 2021. Jacobs recently added his name to a growing list of high-profile public officials actively campaigning to see the Canada-U.S. land border reopen. Photo credit: Twitter/Chris Jacobs
On Sunday, June 6, U.S. Congressman Chris Jacobs held a press conference on the American side of the Lewiston-Queenston Bridge in Niagara Falls.
At the announcement, Jacobs, who represents New York's 27th congressional district, said that "enough is enough" and called for the Canada-U.S. land border to reopen no later June 22, when the current travel restrictions expire.
"Over 16 months of family separations is simply unacceptable, and this cannot go on any longer. For months, these families have dealt with uncertainty and heartbreak while they wait to hear if they will be able to reunite," Jacobs said.
"Case rates are dropping in both nations and vaccines are rolling out – these continued, indefinite extensions are nothing short of a failure of leadership from both nations. Today I am calling for two specific things – answers and action."
According to COVID-19 Tracker, over 70 per of eligible Canadians have received at least one vaccine dose, with nearly 9 per cent now fully vaccinated. In the U.S., per the CDC, 61 per cent of Americans aged 12 or older have received at least one dose, with a full 50 per cent fully vaccinated.
"There can be no more inaction or stalling from the American and Canadian governments. I'm proud to stand with these families [and] call for the border to be reopened, and I will pursue every avenue possible to see that these families get answers," Jacobs concluded.
On hand for the press conference was Ken Bieger, CEO of the bi-national Niagara Falls Bridge Commission (NFBC). According to Bieger, his organization — which administers Niagara Falls' three international bridges — is prepared to welcome travellers, once given the word.
"NFBC is ready to open the land borders safely," Bieger said in an email exchange with The Niagara Independent.
"NFBC, along with the other border operators along the Canada-U.S. border, have been advocating for a safe opening plan for many months. We believe that with the improvement in the percentage of individuals receiving vaccine shots and the rapid improvement in COVID cases on both sides of the border, that there is enough data and information to make an intelligent and safe plan to open the border soon."
Representative Jacobs is just the latest figure in a series of high-level public officials from across the border and political spectrum to plead with the Trudeau and Biden governments to ease restrictions.
Congressman Brian Higgins of New York's 26th congressional district has championed the call for more refined travel regulations and the reunification of loved ones since last summer.
"Even though my district in Western New York sits just across the Niagara River to the Canadian province of Ontario, the distance to Canada is now further than it has ever been in my lifetime," Higgins wrote in a February letter to U.S. president Joe Biden. "This tears at the fabric of our community and is a critical problem for individuals, families, and businesses."
Higgins, who co-chairs Congress' 27-member Northern Border Caucus, most recently joined Canadian Liberal MPs Nate Erskine-Smith and Wayne Easter to call for an end to the border closure.
"Guidance from both the U.S. Centers for Disease Control and Prevention (CDC) and Canada's COVID-19 Testing and Screening Expert Advisory Panel is clear: individuals with proof of immunity can travel safely and should not be subject to quarantine requirements," the trio said in a joint statement published June 3.
"It is time for our governments to listen to the experts and together release an evidence-based plan to reunite families, safely resume normal border operations, and quickly restore our two countries' deeply interconnected economies."
Last month, Senate Majority Leader Chuck Schumer — the State of New York's highest-ranking federal official — held a press conference on the American side of the Rainbow Bridge in Niagara Falls. Like Jacobs and Higgins, Schumer called for a workable solution to reopening the Canada-U.S. land border to non-essential travel.
"The time has come to re-establish the cross-border connections which have served us so well over the centuries," Schumer said. "The longer we wait, the more damage will be done."