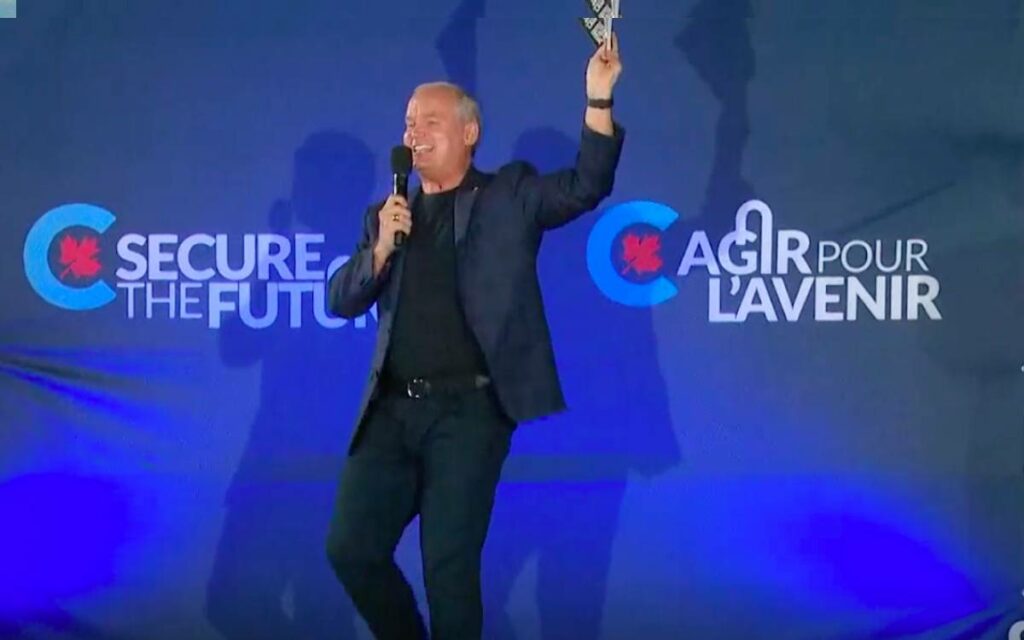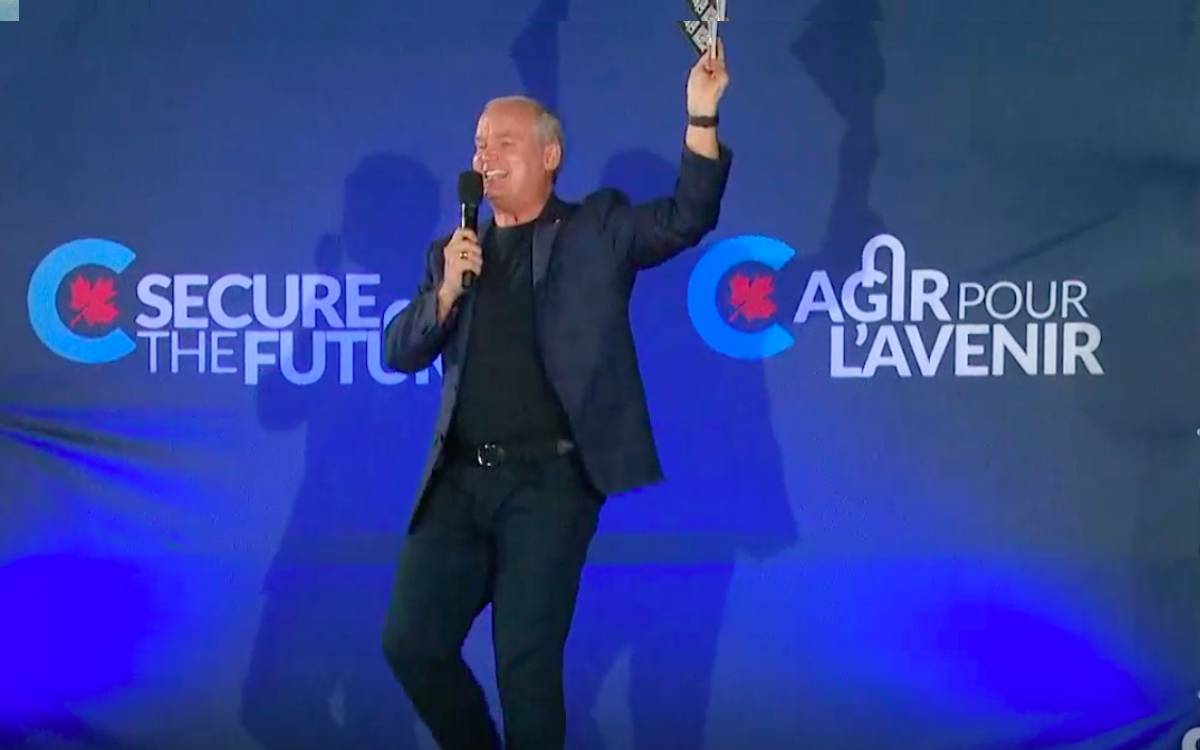 O'Toole speaking at Steelcon in St. Catharines on Friday, Sept. 17, 2021. Photo credit: CPAC
With Canadians set to hit the polls Monday, Conservative Party leader Erin O'Toole made one last campaign stop before the final weekend of the 2021 federal election in Niagara on Friday night.
Speaking before a capacity crowd outside of Steelcon's St. Catharines facility, O'Toole lamented the myriad hardships average Canadians face in today's economy. 
"Right now, our neighbours – here in St. Catharines and across Ontario – are struggling," said O'Toole. "There is a cost-of-living crisis for families, for seniors – wages are flat, prices are going up everywhere. Gas for the car: going up. Groceries for the home: going up. Back to school clothes for the kids: going up."
Indeed, just this past week Statistics Canada reported inflation rose by 4.1 per cent on a year-over-year basis in August, the fastest pace since March 2003. Gasoline prices rose by 32.5 per cent over the same period. While, the homeowners' replacement cost index continued its upward trend, rising 14.3 per cent year-over-year in August – another point highlighted by O'Toole Friday night.
"We have a housing crisis across Ontario, across all of Canada. Young families looking for their first home are getting priced out of their own community – Canada's Conservatives have a recovery plan for that."
Tackling housing affordability, a top issue in the 2021 election, has seen all three major federal parties put forward a litany of divergent solutions. The Liberals, for example, are unique in angling for a government tax on the capital gains of the sale of one's principal residence to address the affordability issue (something both O'Toole and NDP leader Jagmeet Singh unequivocally oppose). 
"We are wholly against such a tax," O'Toole told The Niagara Independent back in August.
Friday night's visit represents the second time in only six weeks the Conservative Party leader made a trip down to Niagara. Just before the election kicked off, O'Toole paid a visit to the region to talk to supporters and meet up with the four local Conservative candidates. 
Graham Speck, Conservative candidate for Niagara Centre, who hosted O'Toole in Welland last month, was in attendance for the leader's visit Friday. 
"The energy was incredible tonight! The crowd's excitement reflected the energy I'm getting at the doors," said Speck after the event.
"People are excited about a new Prime Minister and feel secure under the leadership of Erin O'Toole. Canada's Conservatives are the only party with a solid plan for Canada's recovery, and the people I speak to recognize that. We are very excited about Monday's results."
Also in attendance was Niagara Falls Conservative candidate Tony Baldnelli.
"It was a great sign that Erin [O'Toole] decided to come back to Niagara in the last couple of days of the campaign," said Baldinelli. "It's a real sign of confidence that we can do well in all ridings across Niagara this time, especially – coming to St. Catharines – it demonstrates O'Toole's confidence that Krystina [Waler] can pick up the seat from the Liberal incumbent."
Krystina Waler, the Conservative Party candidate for St. Catharines, is challenging Liberal Chris Bittle for the second time in two years, having faced off against the polarizing incumbent in 2019. 
Waler introduced O'Toole on Friday night. 
"We had an incredibly exciting rally with Erin O'Toole at Steelcon," Waler told The Niagara Independent. "We were at capacity with St. Catharines residents who are excited and motivated for change in St. Catharines on Monday." 
Asked about what residents' have been saying throughout the campaign, Waler was clear: people are not happy with Trudeau. 
"The top thing I'm hearing over and over: why did Justin Trudeau call this election? It costs $600 million of taxpayer money," said Waler. "We're still in a pandemic. School just started. He had a parliament that was functioning. The NDP is openly saying they were happy to pass the Liberal agenda. But that wasn't enough for the Liberals. They thought if they called an election during the summer they could sneak in an easy majority."
In accordance with Waler's observations at the door, a survey conducted by top pollster Nanos Research earlier this month showed that three out of four Canadians see the current election as unnecessary. 
"I'm hearing from constituents that they're mad. They're mad that taking a majority was Trudeau's priority; and they're really mad about how the Liberals have politicized the pandemic, health care and especially vaccines," said Waler. 
"The Liberals have turned this campaign into an us vs. them thing, and that's just not right."
Dean Allison, long-time incumbent and current Conservative candidate for Niagara West, agreed with Waler's assessment that Trudeau has moved away from any attempt to create unity and has, instead, embraced division. 
"People are asking what happened to Justin Trudeau's sunny ways," said Allison. 
"It seems like every night on the news Justin is angry, divisive and entitled. They are wondering why he is dividing family against family, friends against friends, and community against community. I often here that Justin Trudeau is the most divisive prime minister this country has ever had." 
Election day is this Monday, September 20. Polls are open from 9:30am to 9:30pm.