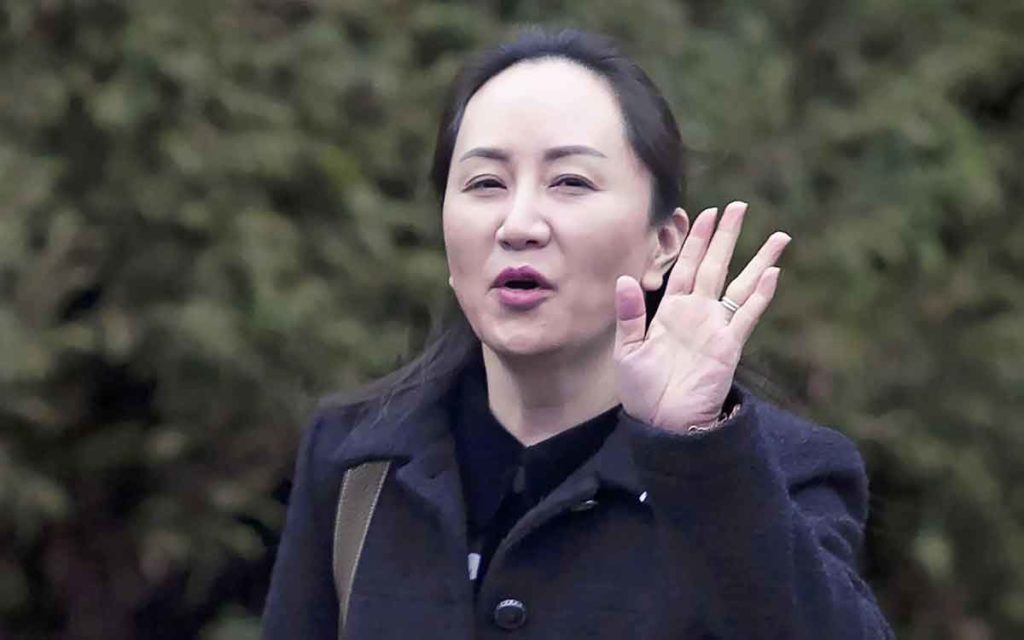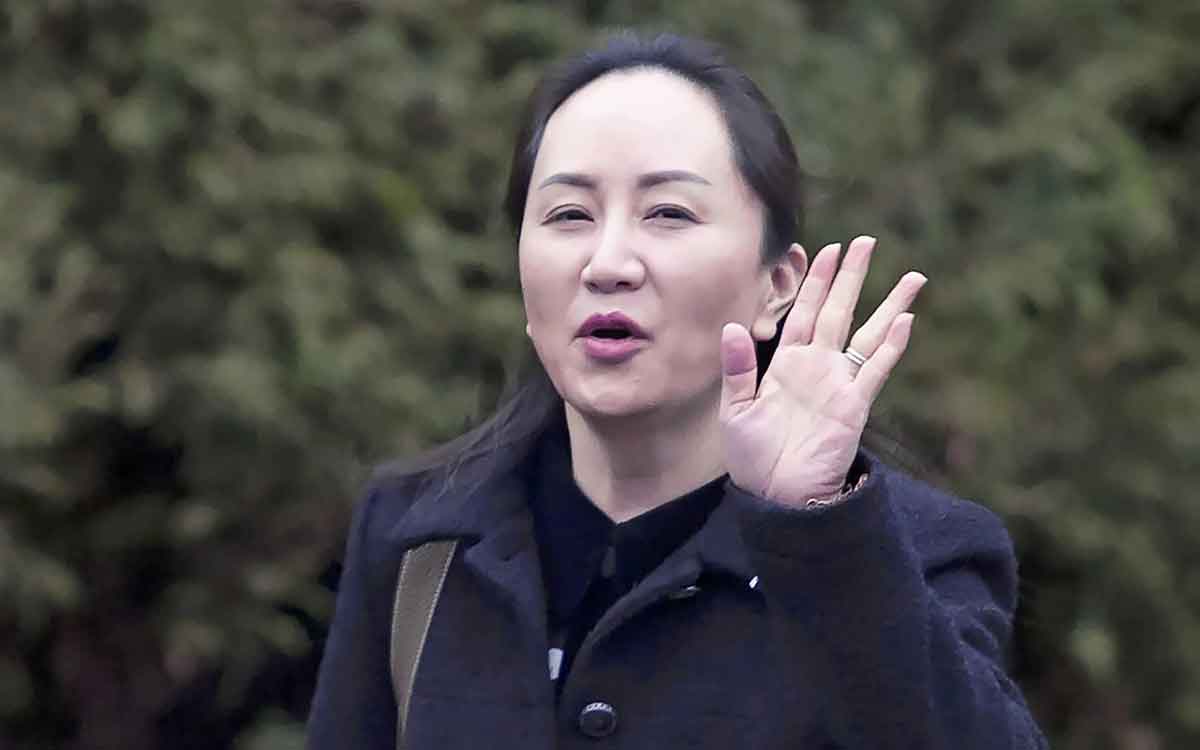 Huawei executive Meng Wanzhou. Photo: The Canadian Press/AP
If Conservative leadership candidates can get past their current preoccupations – which appear to be French proficiency, pride parades and yoga – they would do well to start staking out some policy positions to show they are fit and ready take over from our unshaven prime minister. If you have missed Justin Trudeau's whiskers and whispery lisp in recent days, it is because he is currently on a nine-day jet fuel and light bribery spree in Africa, the Middle East and Europe, in hopes of attaining a temporary seat on the UN Security Council.
"Better than Trudeau" might strike many Conservatives as too low a bar, but there are always many higher, invisible hurdles for Conservative leaders, as Peter MacKay is now bumpily re-learning, after four years of peaceful family and work life.
One such policy opportunity lies with whether to allow the Chinese predator telecom Huawei to supply equipment to Canada's 5G network. The Trudeau government is understandably reluctant to release a decision while China is holding our two hostages, Michael Kovrig and Michael Spavor, who were arrested in China shortly after Huawei executive Meng Wanzhou was arrested on an American extradition warrant in Vancouver in December 2018. They then blocked exports of Canadian soybeans, canola, pork and beef, though they eventually ended the pork embargo because of domestic pork shortages.
Maybe the Liberals are hoping that after the two Michaels are returned to Canada, and Meng's extradition case is out of the Canadian courts, they can quietly allow Huawei onto our 5G, as part of a return to the status quo ante in Canada-China relations. This is wishful thinking, to put it mildly. Whatever the outcome for Meng and the two Michaels, Canada's relationship with China will never be the same, for reasons that go beyond these three individuals and Huawei.
Canada's ambassador to China appeared before Parliament's special committee on China last week, where he reported that both Canadian and Chinese officials were shaking with anger during his first meeting with Chinese officials. "The first conversation I had was probably one of the most unpleasant conversations I have ever had," Dominic Barton told MPs. Despite this, Barton publicly clings to the line that allowing China into the world trading community two decades ago will yet lead to a freer, Westernized China: "China needs a lot of things that we have and I think we could play an influential role in how the society evolves."
I don't know how MPs stopped themselves from laughing out loud at that one. Since being admitted to the World Trade Organization, China has taken what they needed from the world, sold the world billions more (thanks to a devalued currency), and become a neo-colonial and military power, manifesting their credo to "make the foreign serve China." Within their borders, they have suppressed dissent and religion, and harvested organs from prisoners. They are jailing and re-educating Muslims, and attempting to reverse the limited freedoms they promised to permit in Hong Kong.
As for Huawei, Canada's original sin in the eyes of the Chinese is that Meng was arrested on Canadian soil in the first place. If Meng is turned over to the Americans, the Chinese will be even angrier. Even if Meng's extradition is tossed out by a Canadian judge, or later denied by the justice minister, they will be angry that she was arrested on what they will call bogus charges (never mind that bogus charges are a feature, not a bug, of China's regime – standards are for other nations to adhere to, not China).
Luckily, Conservatives enjoy the dubious freedom of opposition, and their outgoing leader Andrew Scheer has already aimed a stake at Huawei, having announced last May that a Conservative government would ban Huawei from Canada's 5G networks. Now all the leadership candidates have to do is drive that stake in.
Any (and preferably all) Conservative leadership candidate should announce that if and when he/she becomes prime minister, any Huawei equipment in Canada's 5G network will be ordered removed. The telecom companies will be compensated only for the equipment they have installed up to the date the Conservative leadership vote is announced, which is June 27th. Anything installed after that date, they install at their own risk.
By doing so, leadership candidates would be doing the Trudeau government a favour, by lowering the stakes of its own decision, which might be rendered moot by cautious Canadian telecoms.
Liberal China sympathizers (of which there are many) are probably waving around the UK's recent decision to permit Huawei partial access to its 5G. Former Canadian ambassador to China David Mulroney has warned that the British decision may "provide an easy out for those in government who are seeking one" because they can now "pretend that we can 'manage' the China risk" at the 5G level. "What is surreal about this is that we have experienced more than a year of Chinese bullying and coercion, all because of legal action taken by Canada against a Huawei executive," Mulroney said. "Have we learned nothing?"
Mulroney is right, of course. Arguments about Huawei's obligation to aid the Chinese regime, or Canada's membership in the Five Eyes, or the warnings from our military and intelligence services are good arguments, but they are all gravy.
We do not have to consider any of that, or Huawei's ownership structure, their executives, their facilities, their code, their record in other countries, or even whether their equipment is being used to aid the Chinese regime in surveilling, controlling, oppressing and jailing their own citizens. All we have to remember is how the Chinese regime reacted when an executive of a purportedly arms-length company was arrested in Canada on a US warrant. They brought the house down on a weaker country that they were accustomed to benignly exploiting. They will never forget. Neither should we.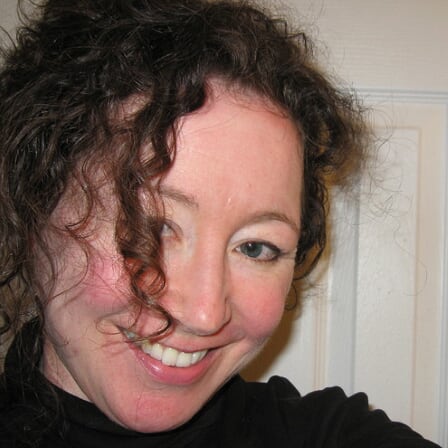 Joan Tintor is a writer and researcher. Her political experience includes having served as legislative assistant to Ontario transportation minister Al Palladini, and as a writer/researcher for the Ontario PC Caucus. She earned a degree in journalism from Ryerson Polytechnic University in 1994.