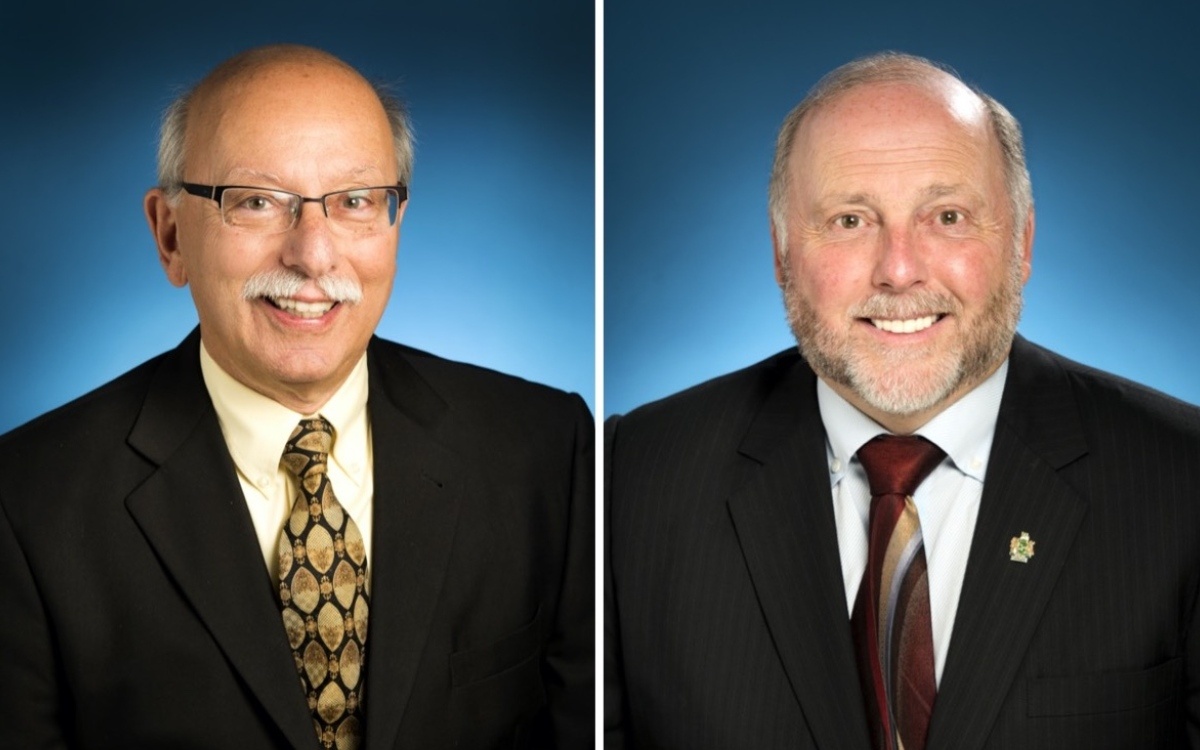 Emails seem to indicate that the St. Catharines regional councillor (left) sought and received assistance in filing an unfounded Integrity Commissioner complaint against fellow councillor Bob Gale (right) from Niagara Region CAO Ron Tripp. Photo credit: Niagara Region
Last Thursday, at Niagara Region's final regular council meeting before Ontario's municipal elections, councillors reviewed the municipality's annual Integrity Commissioner Report for the 2021/22 billing period.
Per the report, services billed between mid-August 2021 and mid-August 2022 cost Niagara taxpayers just over $60,000. 
Though invoiced items are anonymized in the report, it was revealed at Thursday night's council meeting that one of the costly complaints was made by a current regional councillor against a colleague.
Speaking to the report in council last week, Niagara Falls representative Bob Gale said he was the member investigated and maintained the complaint came from an internal collaboration between a fellow councillor and senior staff person. 
Though the Niagara Falls councillor made a "personal choice" to not name names at the council meeting, The Niagara Independent has learned that the complaint was filed by St. Catharines regional councillor Brian Heit. 
What's more, internal emails reviewed by The Niagara Independent appear to indicate Councillor Heit inappropriately solicited assistance from regional staff, specifically CAO Ron Tripp, to gather information for his complaint to the Integrity Commissioner involving Gale.   
In an email dated Feb. 7, 2021, Councillor Heit wrote to then-acting CAO Ron Tripp with the subject line "RE: Bob Gale" and said, "Attached is a copy of a few statements Bob Gale made in his Facebook. I have highlighted a few of his statement (sic) that I need answered. Let me know if I can use your answers in my complaint to the Integrity Commissioner?????". 
Heit then sent a second email on Feb. 11, 2021 to Tripp with the following, "Hello Ron I am still looking for the 1st date Bob tried to interfere with procurement process by want(ing) AGP to present."
Tripp then responded, "First was Dec 8 (Public Works Committee), I have more detail, just need to put together in an email."
The Niagara Independent searched Councillor Gale's Facebook page for references to "APG" and found a post that read, "Those facts include APG-Neuros saving taxpayers $300,000 according to (APG-Neuros CEO) Hammond, 'I feel sorry for the taxpayers in Niagara. They trust these people (councillors) to do the right job'." The post then provides a link to an article published by The Niagara Independent entitled CEO Speaks Out Against Region's Procurement Process.
For context, regional staff recommended that Public Works sole source equipment from a company for implementation at a water treatment plant. Councillor Gale was advocating Niagara Regional Council to vote down the staff recommendation and source the same equipment from another company, saving taxpayers $300,000.
Gale confirmed to The Niagara independent earlier this week that Heit was the councillor who filed the complaint. 
"I can confirm that Councillor Heit did file a complaint against me with the Integrity Commissioner, and that the report is completed," said Gale. "The report concluded I did not violate the Code of Conduct, however I am unable to comment on the details of the report as the Integrity Commissioner has classified his report as 'confidential'."
Interestingly, when an Integrity Commissioner finds a violation in the Code of Conduct by a councillor, he or she must send the report to the Region's clerk in order to make it publicly available. However, if the Integrity Commissioner concludes no violation has occurred, it is the sole discretion of the investigator on whether to publicly report his or her findings. In this case, for whatever reason, the commissioner chose not to publish his findings. 
It is unknown how much taxpayer money was used to investigate Heit's unfounded complaint. 
Earlier this year, Councillor Gale tabled a motion at Regional Council that for any councillor who filed a complaint that was investigated and concluded as unsubstantiated, the councillor who filed the complaint should personally pay for the investigation, not taxpayers. Councillor Heit, among others, turned down the motion.
What is known is there are several emails exchanged between Councillor Brian Heit and CAO Ron Tripp that appear to show some kind of cooperation between the two in formulating a complaint against Gale. 
It also appears Heit wanted his colleague to "sweat a little" during the investigation. 
Though his exact motives for filing the unsubstantiated complaint remain unknown, in one email from Heit to then-acting CAO Ron Tripp on Nov. 19, 2020, the councillor wrote, "I thought I would make gale (sic) sweat a little". 
Both Gale and Heit are up for re-election in their respective municipalities of Niagara Falls and St. Catharines this fall. Voters hit the ballot box Oct. 24, 2022.