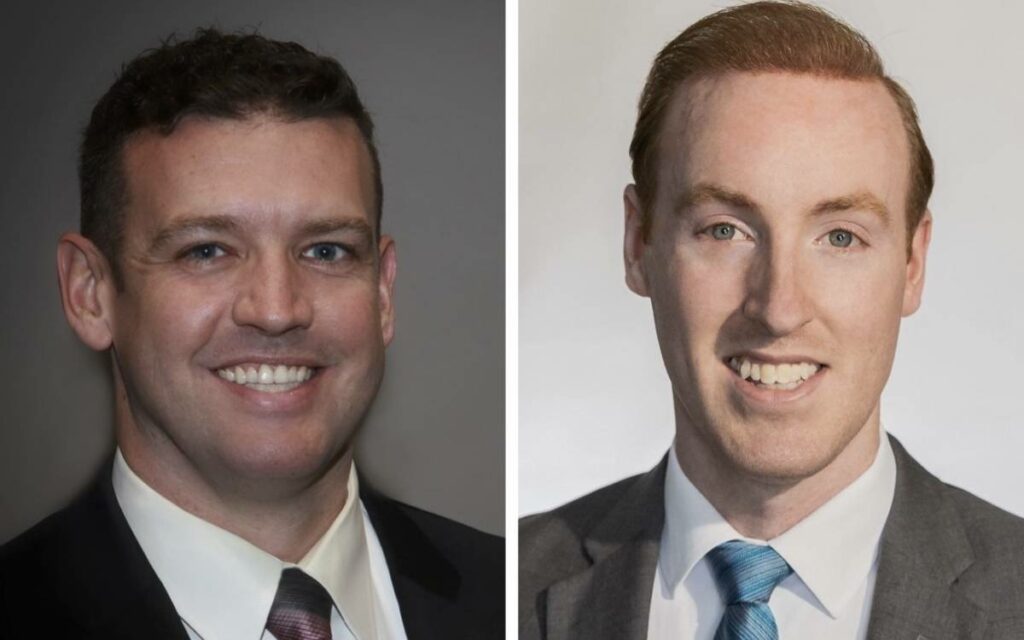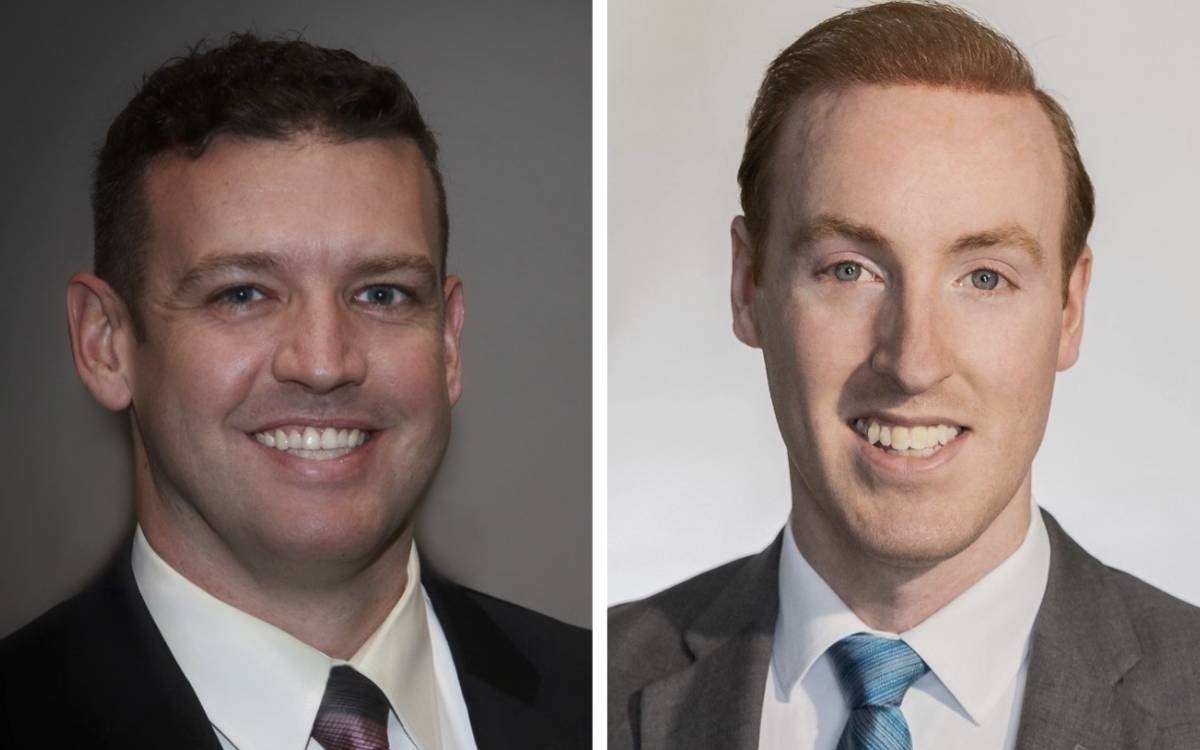 Current St. Catharines city councillor Mat Siscoe (left) and former city councillor Mike Britton (right). As the 'next-place-finisher' in the 2018 St. Catharines regional councillor race, precedent and policy would have seen Britton selected to fill the regional seat vacated by the passing of Sandie Bellows. However, St. Catharines city council – in contravention of the law, it's alleged – decided to recommend Siscoe. Niagara Regional Council will approve or disapprove of the recommendation on Jan. 6, 2022. 
After sitting empty for nearly three months, Niagara Regional Council is ready to fill the vacant seat left open by the Oct. 11 passing of Sandie Bellows.
On Wednesday, The Niagara Independent confirmed with regional clerk Ann-Marie Norio that a special council meeting has been scheduled for Jan. 6, 2022 to address the issue of filling the vacancy. 
However, at present, it's not certain who exactly will fill the seat. 
Per Niagara Regional Council corporate policy C2-001, in the event of a vacancy:
Regional Council shall request the local municipality to advise the Region of their recommendation on whether a qualified elector should be appointed or if a by-election should be held; and 

Regional Council would approve the recommendation of the local municipality provided it was in compliance with all provisions in the Municipal Act and the Municipal Elections Act.
In accordance with the policy's first section, Regional Council previously asked the City of St. Catharines – the municipality Bellows represented – to recommend an appropriate candidate.
St. Catharines did so, however, city council decided to ignore precedent, staff's recommendation, and its own policy for filling vacancies – which all endorsed 2018 'next-place-finisher' Mike Britton – and nominated one of its current city councillors, Mat Siscoe. 
However, the vote to nominate Siscoe was not unanimous. At its Dec. 13 meeting, St. Catharines city council was deadlocked 6-6 and Mayor Walter Sendzik broke the tie in favour of his Ward 4 councillor. But councillors Kushner, Harris, Sorrento, Dodge, Garcia, and Williamson all voted in favour of recommending Britton and following city policy.
Councillor Joe Kushner declared, "To deny (Britton) the opportunity to serve is to deny the democratic process and what residents voted for." 
"We have very clear processes here, it must be followed…No one is above the law," echoed Councillor Bruce Williamson. "In a truly democratic government people in power have to respect the will of the people."
The highly controversial decision by St. Catharines triggered a community petition, condemnation across social media, and a legal challenge from Mike Britton himself.
In regard to the latter, Britton's legal representative sent a letter to Regional Council on Dec. 16 outlining the alleged illegality of the recommendation. 
As stated in the letter by attorney Asher Honickman, the recommendation was unlawful as Mat Siscoe was "in a clear conflict of interest pursuant to s.5 of the Municipal Conflict of Interest Act", first voting against Britton's appointment and then voting in favour of himself. 
"Secondly," stated Honickman's letter, "as Mr. Siscoe is currently a member of St. Catharines Council, he is precluded under s. 261 of the [Municipal Act] from also becoming a member of the Regional Council. Section 261 plainly states that '[e]xcept where otherwise provided, no person may hold more than one office governed by the Municipal Elections Act, 1996, at the same time anywhere in Ontario.'" 
"Finally, pursuant to St. Catharines own policy, being Policy # LCS 2015-9 (the "Policy"), which St. Catharines Council adopted and has never repealed, St. Catharines Council was required to appoint Mr. Britton to fill the vacancy," the letter continued. "The Policy plainly states if 'a vacancy occurs within the last year if a new Regional and City Council's term, the next place finisher shall be appointed if this individual received 70% percent of the votes that were achieved by the sixth-place finisher in the case of Regional Council…' (emphasis in original). The use and emphasis of "shall" is properly interpreted as an imperative…meaning that St. Catharines Council has no discretion in the matter." 
As Honickman concludes, St. Catharines' own director of legal services came to the very same conclusion in a report from Nov. 5, 2021, ultimately recommending council select Britton to fill the vacant seat. 
In an email sent to The Niagara Independent earlier this week, Regional Chair Jim Bradley's executive officer Daryl Barnhart said Honickman's letter was received and is being considered, but did not give specifics regarding a possible decision.
"I can confirm that the Regional Chair has received the letter in question and appropriate consideration is being paid to its contents," said Barnhart. "This consideration includes seeking advice from our legal department."
"The only insight I can share with you is that I can assure you that Regional Council will fill the vacancy following the provisions outlined in the Municipal Act, 2001, as well as our existing policies." 
Recall that the Region's corporate policy C2-001 states: "Regional Council would approve the recommendation of the local municipality provided it was in compliance with all provisions in the Municipal Act and the Municipal Elections Act." 
As it stands, St. Catharines was not "in compliance will all provisions in the Municipal Act and the Municipal Elections Act," at least according to attorney Asher Honickman. 
Thus, given Barnhart's assurance – and assuming Honickman's assessment is indeed correct – Niagara Region would be prudent to deny St. Catharines city council's recommendation to appoint Mat Siscoe. 
Should that happen, and Niagara Regional Council disapprove of Siscoe's appointment, it's not yet known if Mike Britton will then be automatically propped up in his stead.