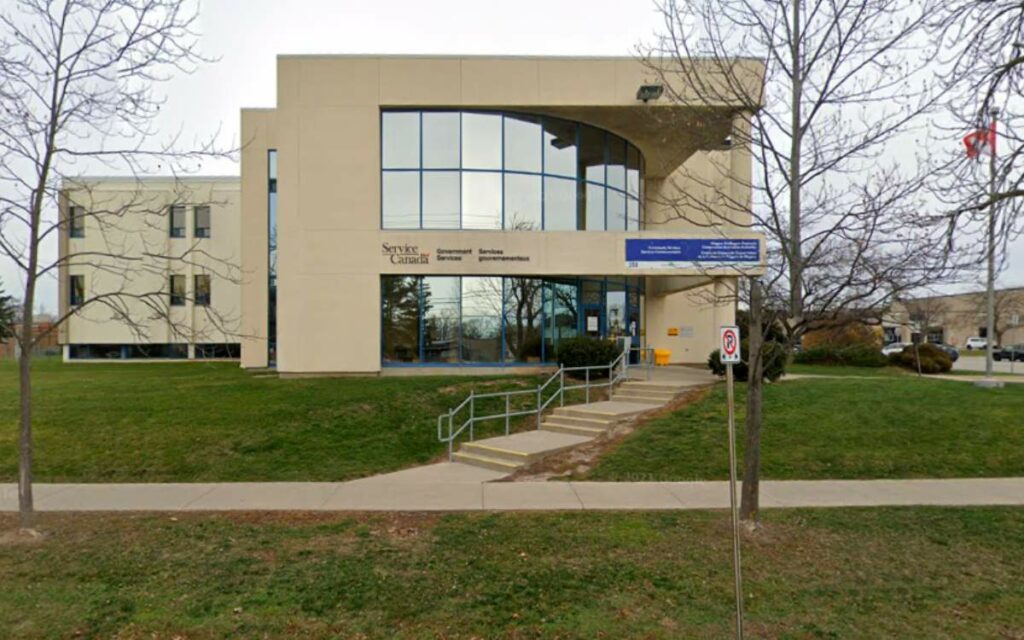 In a seemingly desperate attempt to thwart pending provincial legislation aimed at building more homes, at the last Board of Directors meeting of the previous term's tenure, the NPCA pre-approved a 17 per cent increase to the 2023 budget and tripled some of their permit fees. Pictured is NPCA headquarters at 250 Thorold Rd. in Welland. Photo credit: Google Maps
At the last meeting of its four-year term back in November, the 2019-22 Niagara Peninsula Conservation Authority (NPCA) Board proposed to increase its annual budget by a whopping 17 per cent. This is the highest single year rate increase in the history of the regulatory agency.
At the same meeting, the NPCA increased its fees, with some of the permit costs tripling. For example, for a standard zoning bylaw amendment, the NPCA tripled the permit fee from $504.42 to $1,500.00. The NPCA also introduced over 20 new permit fees, including a new $6,000 'major development fee'. 
A new Climate Change Action Plan Framework and a 10-year Land Securement Strategy were also introduced, as well as a proposal to spend $54,000 to retain a consultant in order to review management wages. The associated report cited that the salary review was necessary for "…fair compensation structure that is aligned with the corresponding job market and geographical area".  
Many of these actions and their associated costs approved or reviewed at the November meeting appear to overtly push back against provincial legislation aimed at building more homes, which, among other things, significantly reduces the NPCA's non-mandated programs and services.    
New Legislation
In October last year, the provincial government introduced Bill 23 entitled "More Homes Built Faster", which included the authority of the Minister of Environment, Conservation and Parks  "to direct an authority not to change the fees it charges for a specified period of time."  
The legislation also restored governance over all Ontario's 36 conservation authorities and changed regulation to ensure at least 70 per cent of Board members were elected representatives of Council to ensure accountability to the taxpayer.
Most importantly, the legislation further defined the conservation authorities' mandate to prevent scope creep (introduction of non-mandated programs, policies and services) that interfered in a municipality's planning process.  
The entire point of the legislation is to cut down red tape, simplify the development process, increase supply by getting more homes built faster, and make buying a home more affordable. 
A History of Delays
According to many local municipalities, the NPCA has a long history of being the primary cause of delaying development projects throughout the watershed. The NPCA had engaged in "scope creep" interfering with development projects outside of its mandate, providing non-mandatory comments to many local housing projects.
In 2014, under the leadership of former regional councillor Bruce Timms, the NPCA hired Carmen D'Angelo (who later became Niagara Region CAO) as its Chief Administrative Officer to change the anti-development culture. D'Angelo doubled the number of planning staff, and introduced new planning software, all designed to decrease the amount of time required in approving housing permits that complied with various environmental legislation.  
D'Angelo also corrected the municipal funding model to ensure all three municipalities (Haldimand County, City of Hamilton, and Niagara Region) were paying their fair share of the NPCA budget as per provincial statute. The City of Hamilton challenged D'Angelo's funding model in Ontario courts and subsequently lost on both the initial legal challenge, and thereafter, on an appeal to Ontario's highest court. The NPCA's CAO was further vindicated when his interpretation of the municipal funding formula was replicated throughout Ontario's 36 conservation authorities.
Back then, by increasing operational efficiency and appropriate funding allocations, the NPCA commenced processing permits for legal housing projects at an effective pace. Anti-development groups cried foul and accused D'Angelo of a host of crime related activities. An OPP investigation dismissed all of the allegations. 
Subsequent to the allegations, a majority of non-elected members were then appointed to the NPCA Board in an effort to change all the progress initiated by Timms, D'Angelo, and their democratically elected 2014-2018 Board. With overall governance control, the non-elected new members then selected a new CAO who had access to all of the NPCA's accounts and files. However, according to the new CAO at the time Gail Wood, she turned over "every stone" and found no errors in D'Angelo's tenure.  
Nonetheless, the 2018 NPCA Board then reverted back to its old ways, creating obstacles in new home development in association with a resurgence of scope creep.
The Present Situation
The new provincial rules start this year. As a result, the 2023-26 NPCA Board will be governed by a new makeup, with representatives from Haldimand County who have appointed two Councillors (Patrick O'Neill and John Metcalfe), the City of Hamilton who have selected two councillors (Mark Tadeson and Brad Clark), in addition to one citizen appointee, and the Region of Niagara who have selected four Councillors (Brian Grant, Michelle Seaborne, Diana Huson and Robert Foster), in addition to one citizen appointee.
The new NPCA Board will be joined by an agricultural representative as appointed by the provincial government, forming a manageable 11-member regulatory body – down from 21 last term, of which 13 were non-elected members. 
Together, the new governing Board will need to determine why the NPCA budget increased 17 per cent when the province reduced their non-mandated programs and services. They will also have to untangle the tripling of permit fees and a plethora of new permit costs which all sit in direct contrast to several initiatives of Bill 23.