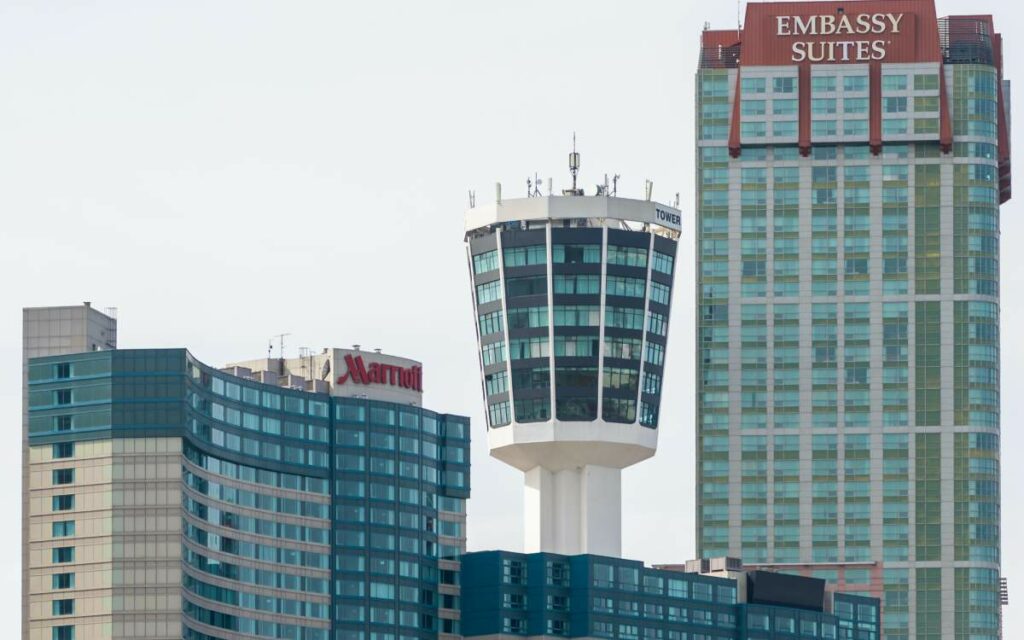 Niagara Falls has taken in over 4,300 illegal border crossers since the federal government started transferring people from Quebec to Ontario last June. Having rose well above the initial 87 asked for in the summer, migrants now occupy over 2,000 of the city's hotel rooms. Photo credit: Wikimedia Commons
Mayor of Niagara Falls Jim Diodati has joined local Conservative MP Tony Baldinelli in calling on the federal government for both resources and answers when it comes to migrants transferred from Quebec's Roxham Road to the Honeymoon Capital.   
As reported by the Canadian Press (CP) earlier this week, Diodati and his counterparts in Windsor and Cornwall are looking to Ottawa for not only federal funding, but clarity regarding what's next for the thousands of illegal border crossers who have been relocated to their respective communities over the last several months. 
"Don't just tell us the plan, let's develop it together," Diodati told CP in an interview.
Located 45-minutes south of Montreal, Roxham Road is an unguarded rural border crossing connecting Quebec and New York State. In recent years, it's become the infamous site of tens of thousands of illegal border crossings into Canada. 
In 2021, 4,246 migrants entered Canada from the U.S. via Roxham Road. Last year, that number grew nearly ten-fold.
Since Immigration, Refugees and Citizenship Canada started moving migrants from rural Quebec last June, over 7,000 people have been moved to four cities in Ontario, with Niagara Falls receiving the lion's share – some 4,300 migrants.  
As Diodati explained to CP, the federal government reportedly approached Niagara Falls last summer and initially said only 87 hotel rooms were needed for asylum seekers. However, that number expanded rapidly in the months that followed. 
"They didn't want this to be public so we thought that's fine, we'll do our part," said Diodati. "Then it quickly went to 300, then 687, 2,000, and it's gotten much bigger."
Niagara Falls is apparently asking Ottawa for $5 million to help cope with the excess demand.
At the end of February, Conservative MP for Niagara Falls Tony Baldinelli told The Niagara Independent that service providers "can't keep up" with the strain being put on the local system. 
"You would think in a country that prides itself on being a compassionate and welcoming refuge for asylum seekers, the government would ensure that their local partners are adequately provided with resources", said Baldinelli. "When I speak to my municipal/regional counterparts, they are sharing that they absolutely need more help than they have been getting."
Speaking on CHCH Morning Live Tuesday, Mayor Diodati also stressed the fact tourism season is right around the corner and that any solution needs to be agreed upon sooner than later. 
"What's the long-term plan?", asked Diodati. "We have all these hotel rooms in Niagara Falls, but the tourists are coming back. Victoria Day weekend to Labour Day is when 80 per cent of our 14 million visits arrive – we're going to have some supply issues, I think, if we don't address it with a plan."
As Diodati pointed out, 2023 is the first full post-COVID tourism season without any restrictions in place and the city, after three years of "devastation", is finally expecting a return to normal. 
"Last summer domestic tourism resumed, (but) international tourism was about half of where it should be. Now that the ArriveCAN app is gone at the borders we are expecting this to be our big comeback year." 
President Joe Biden and Prime Minister Justin Trudeau are expected to discuss the issue of illegal border crossings when the American leader travels to Canada later this month.
Immigration, Refugees, and Citizenship Canada told CP that the government is working with the U.S. on strengthening the Safe Third Country Agreement.
The agreement prevents people who come to Canada from the U.S. via official land border crossings from claiming asylum in Canada. But if asylum seekers cross through unofficial border crossings, like Roxham Road, they avoid the application of the agreement and can proceed with a claim for asylum.
Many observers, including Diodati, have criticized the method of crossing at places like Roxham Road as a "loophole" that allows people to "jump the line" in front of migrants who have followed the appropriate channels.