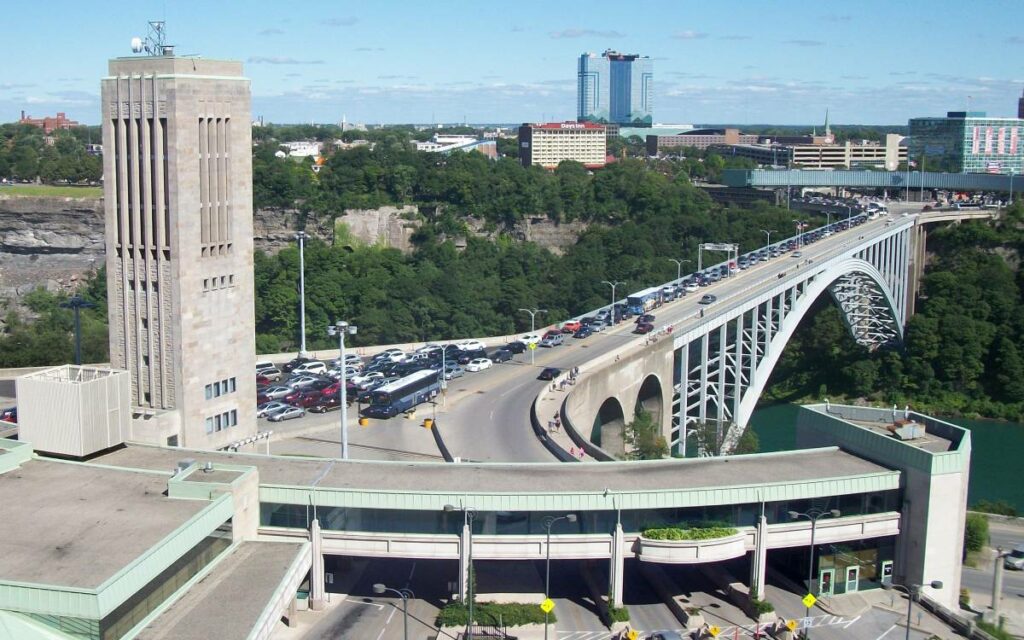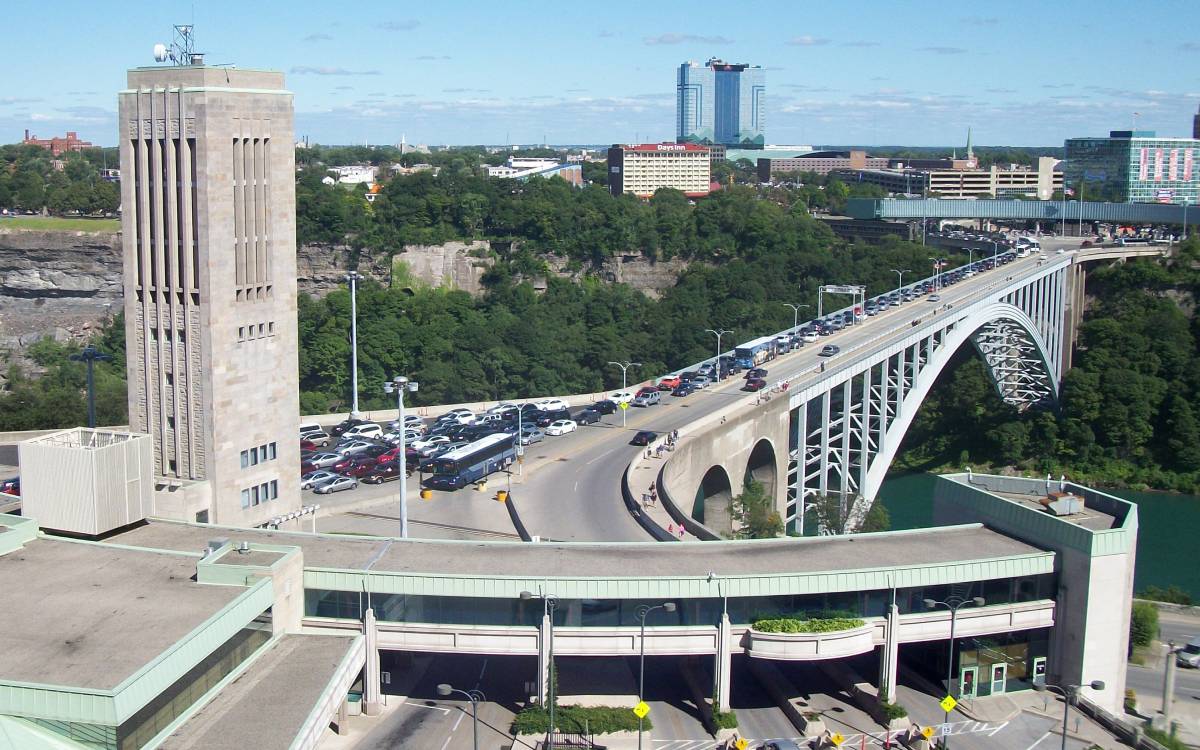 The Rainbow Bridge connecting Niagara Falls, Ontario to Niagara Falls, New York. Photo credit: Wikimedia Commons
A group of 15 border community mayors from across Canada penned a joint letter to Prime Minister Justin Trudeau on Thursday, urging for an immediate end to COVID testing requirements for fully vaccinated travellers at the U.S.-Canada border.
Amongst the signatories were Mayor of Niagara Falls Jim Diodati and Mayor of Niagara-on-the-Lake Betty Disero. 
The letter reads, in part:
"Your government has led the fight against the Covid-l9 pandemic and imposed numerous measures to protect Canadians. As you know, border communities have been at the forefront of the federal strategy and have paid a heavy price with the border being closed to all but essential travel for 20 months. Even now, the border remains under very strict testing guidelines that are not justified by current science and are out of line with public health officers' mandates.
Your health minister has spoken publicly about these border requirements being under constant review and consideration, however, department officials are telling border industries that these in fact, will not be reviewed until the end of March 2022. The time to end testing at the land border is now. ln March, Canadians will soon witness full capacity in NHL games with 20,000 fans with no testing requirement, but fully vaccinated American tourists will not be able to cross over the border in their own family car without an unnecessary, expensive test administered by a health professional. This absurdity will undermine Canadians' confidence in all levels of government."
At present, anyone travelling into Canada must submit a rapid antigen test prior to entry. Though somewhat less cumbersome and more economical than the previous PCR test requirement, many officials, including some of the mayors who signed the open letter, have argued that any kind of testing at the border is a major travel deterrent. 
"The practicality of the loosening of this restriction really means nothing to the average traveller," said Mayor of Windsor Drew Dilkens in news conference last Friday. 
"I think what we need to do is trust Canadians to make smart decisions. We've asked people to get vaccinated, that is the high water mark here of the pandemic. But having a requirement for a test is really an optical illusion for safety. It really is providing no real protection."
The call for Canada to drop testing for fully vaccinated travellers comes only days after two local U.S. lawmakers urged the Biden administration to end proof of vaccination requirements for Canadians at the border. The U.S. does not have testing requirements for people entering at land ports of entry.
Speaking on the floor of the House of Representatives Tuesday, Higgins said border measures have caused "devasting" economic and emotional consequences for many people in both Canada and the U.S. over the last two years, stating now is the time to lift all remaining restrictions. 
"Incredible progress has been made in the fight against COVID and it's time to remove the remaining disjointed and prohibitive restrictions at the U.S and Canadian borders," said Higgins, who serves as co-chair of the Northern Border Caucus and the Canada-U.S. Interparliamentary Group.
"Increased vaccination rates in the United States, Canada and around the world show that communities who have done the right thing and followed the science can return to a watchful sense of normalcy. Today I am calling on the United States and Canadian governments to follow the science-based directives of their health agencies and to fully reopen the Canadian border to travelers without COVID restrictions."
From east to west, Thursday's joint letter was signed by the following Canadian mayors:
Arthur Slipp (Woodstock, New Brunswick)
Lucie Dagenais (Frelighsburg, Quebec)
Glen Grant (Cornwall, Ontario)
June Caul (Fort Frances, Ontario)
Jim Diodati (Niagara Falls, Ontario)
Betty Disero (Niagara-on-the-Lake, Ontario)
Mike Bradley (Sarnia, Ontario)
Drew Dilkens (Windsor, Ontario)
Judy Swanson (Boissvain, Manitoba)
Dave Carlson (Emerson-Franklin, Manitoba)
Roy Ludwig (Estevan, Saskatchewan)
Marcel Roy (Weyburn, Saskatchewan)
Jim Willett (Coutts, Alberta)
Ron Toyota (Creston, BC)
Sue McKortoff (Osoyoos, BC)